THE DIRTY NIL mark album release day by 'Blowing Up Things In the Woods'
Upcoming UK tour, in association with the Music Venue Trust and National Lottery, sees ticket holders able to bring a friend for free, with proof of any Lotto purchase.
New album, 'Free Rein To Passions', is out today!
Photo Credit: Steph Montani
Ontario's rock 'n' roll torchbearers, The Dirty Nil, release their fourth album, Free Rein to Passions, today via Dine Alone Records. Click here to stream + order the record now.
Following up on the previously shared "Nicer Guy" and "Celebration" visuals, the trio have also dropped a new music video for "Blowing Up Things In The Woods," an ode to the simple joys of fireworks, explosions, and pyrotechnic annihilation and an homage to their adolescence.
Watch The Dirty Nil's video collaboration with Hamilton's Iggy Pop, B.A.Johnston, on YOUTUBE now.
THE DIRTY NIL – 'Blowing Up Things In The Woods' (Official Music Video)
"We may still attempt to return that mannequin to Amazon," frontman Luke Bentham laughs. "A good reminder of why we gave up on our pyro dreams for the comparably tame life of rock and roll."
On Free Rein to Passions, the band followed their instincts down to the note to produce their most authentic work to date. The Nil's back-to-basics approach was a direct reaction to their previous record, 2021's Fuck Art, a creative process that brought too many industry people whispering in the band's ears, telling them how to polish and tweak their songs to fit on the radio or streaming playlists or whatever other arbitrary whims the modern music machine demands.
"There were all these expectations and pressures, people telling us to try this or that," says Bentham. "We're by no means the biggest band in the world, but in our ecosystem it became hard to try to make all these people happy. We were given challenges, and I think we met them, but getting to that place, it made me realise: 'If we go any further in this direction, then I don't know what we're doing anymore.'It had gotten to a point where the creation wasn't very fun."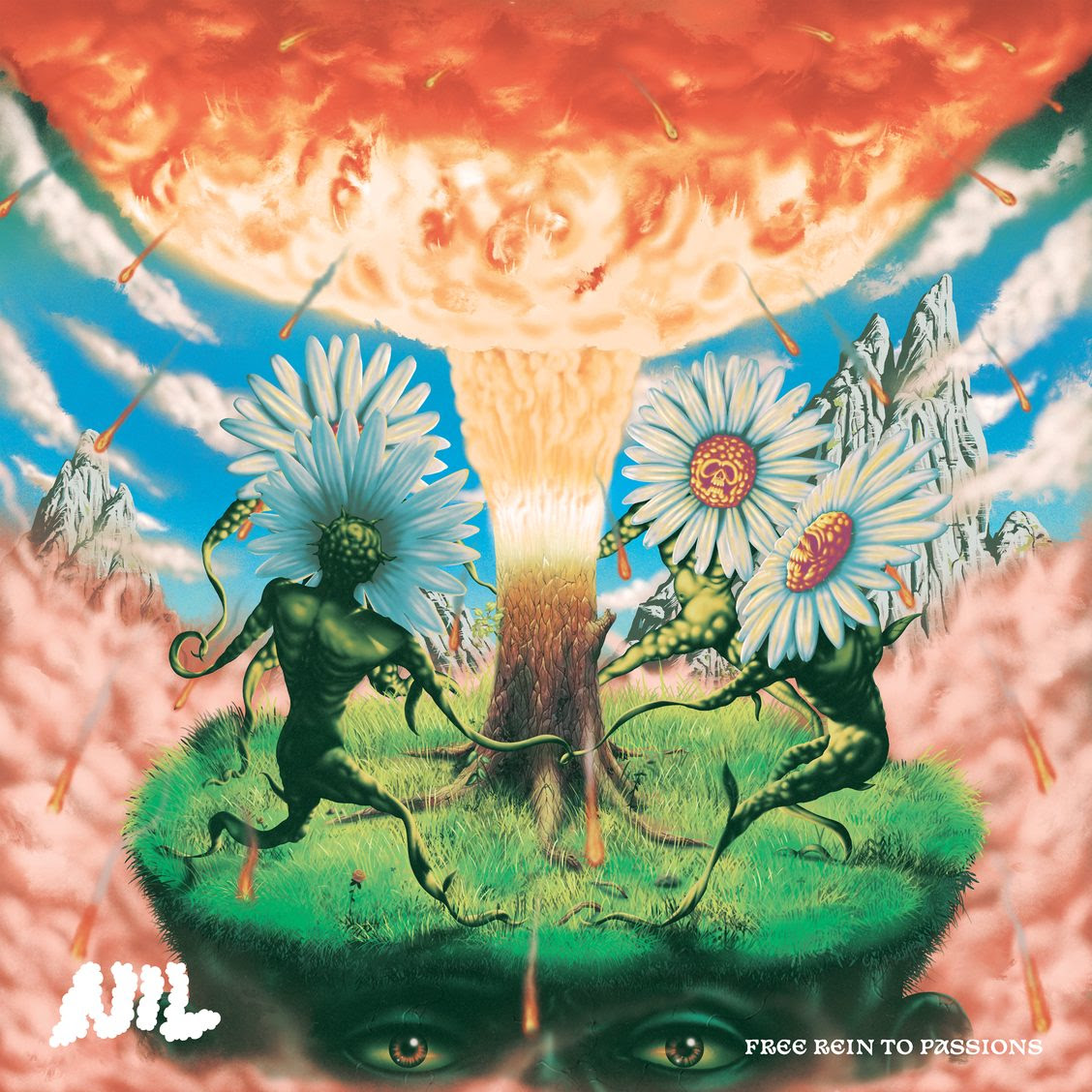 In order to incinerate their apparatus, they had to destroy it completely. So as soon as Fuck Art was in the can, The Nil got back to having fun and doing what they love. They jammed away in their practice space for weeks, not overthinking anything or taking any external input. They didn't sweat the small details or fret over transitions and arrangements. Less second guessing, more reckless abandon.It's the same approach to rock they've taken since they were kids. "We had the best time pulling these songs together. It made me feel like a teenager in my parents' basement again," Bentham says.
Staring into the abyss of entertainment serfdom, the trio spat on it. They smashed the chalice of poison brought to their lips, grinding the shards under their heels. A rock and roll band is part religion, part small business and part pirate ship. Sabres were wielded and planks were walked for The Dirty Nil to bring Free Rein to Passions into this world. It was a battle well worth fighting.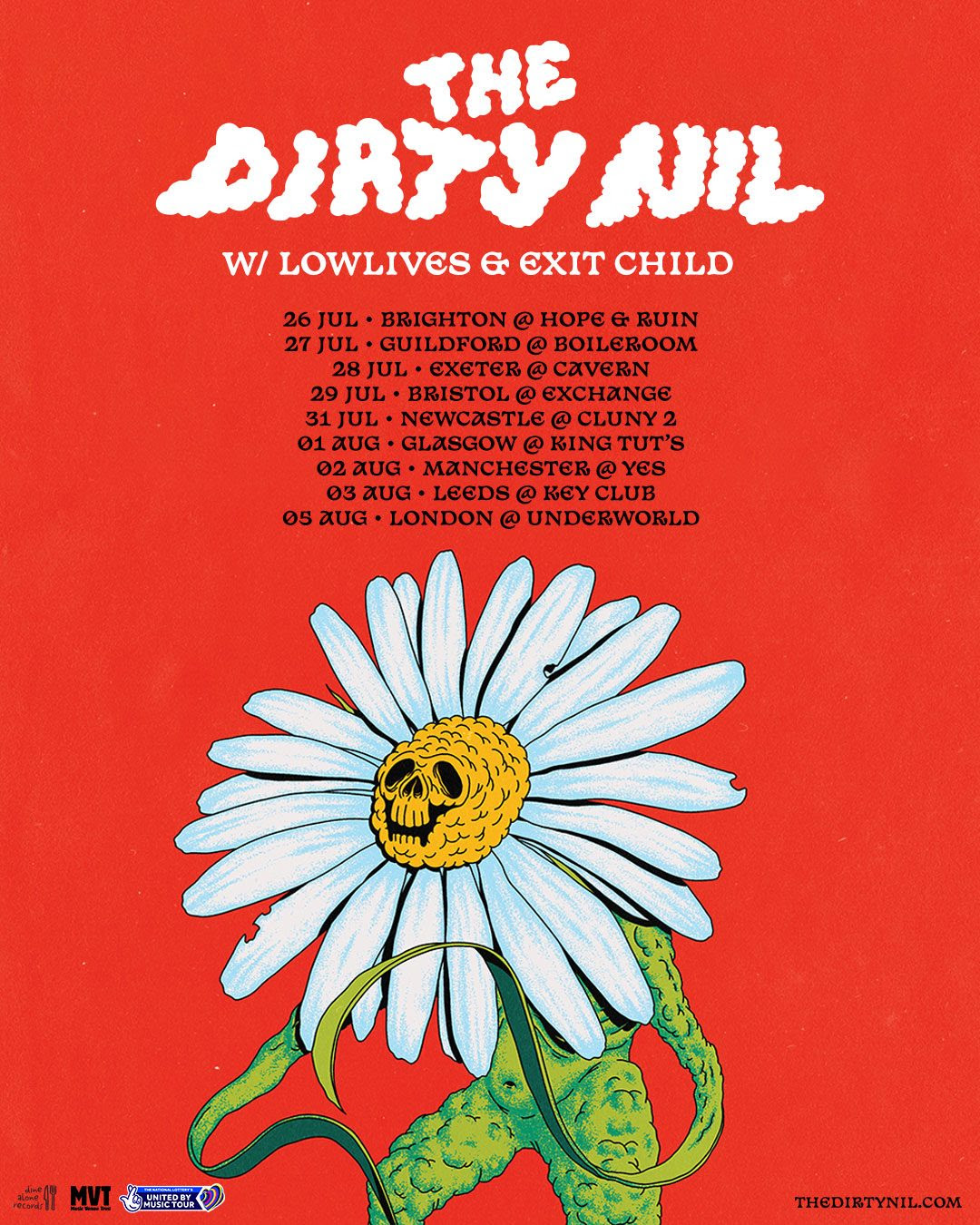 The band's upcoming UK tour, in association with the Music Venue Trust and The National Lottery, sees fans able to buy a ticket to any of the shows and bring a friend for FREE (with any Lotto Product). T+C's apply.
UK HEADLINE SHOWS
JULY
26: BRIGHTON Hope & Ruin
27: GUILDFORD Boileroom
28: EXETER Cavern
29: BRISTOL Exchange
31: NEWCASTLE Cluny 2
AUGUST
01: GLASGOW King Tuts
02: MANCHESTER Yes
03: LEEDS Key Club
05: LONDON Underworld
Tickets on sale at:
https://www.ticketmaster.co.uk/united-by-music/artist/5416319