Since the band's formation in 1990, Sigh has been one of Japan's best exports. Being one of the leading Avant-garde Black Metal bands with a rich catalogue of releases in their now 30+ years career.
During the pandemic in August 2022, the band released a very stellar live stream. It features tracks ranging from classic early material to their modern-day Peaceville records releases.
'Live The Eastern Forces of Evil 2022' will be released on a 2-disc CD/DVD set / LP / Digitally respectively.
The CD/DVD edition includes both audio and visual presentations of the show, and also features 2 extra tracks, including a cover of the Death classic, 'Evil Dead'. The DVD also includes 3 additional promo video tracks in the shape of 'Mayonaka No Kaii', 'Satsui', and 'Shoujahitsumetsu'. So a jam-packed release for any Sigh fans.
"Touji No Asa" opens the album, an eerie prelude intro to what is about to succumb to the listener. "A Victory of Dakini" from the band's first release "Scorn Defeat" blasts open the performance. A thick thunderous bass & vocals from band leader Mirai Kawashima. As the track reaches its chorus climax the power is there, Organ keys push the track into the ethereal plain. This is a snapshot of the perfect Japanese black metal.
"The Transfiguration Fear" roars open with classic heavy metal style. Fist-pumping drums with triumphant backing vocals from the band really help blur that line of heavy metal & black metal. The raw but clean production on this live album gives the tracks a hard-hitting power and shows how technically precise the band can be. Even using the tracks Saxophone & lead guitar sections to push the sound of the track, and not letting them get buried in the mix is great.
One of the most furious SIgh tracks "Shoujahitsumetsu" is in the set. A nice halfway balance to keep the pulses high. From the "Shiki" really has that Norwegian influence through its DNA but through the lens of Sigh in a live setting is even more ruthless. Lead guitar solos soar on this track thanks to guitarist Nozomu Wakai. A real merging of cultures & sounds on this track. Full blasting & elevated metal make this track a stand out in the set!
Closing out the release is a great little treat. A cover of the classic Death track "Evil Dead". Getting to hear it through the Sigh spectrum is fantastic. It sticks by the covers original sound but with Mirai Kawashima's signature vocal tone it gives it even more of a punch i think Chuck would have approved of! A great way to close a fantastic live record.
"Live: The Eastern Forces Of Evil 2022" is a stand out live album. Where a lot of live albums can either be too raw & unlistenable to too polished here Sigh have captured their tune live sound & have created a great little time capsule that spans their whole career, celebrating their now iconic sound & presence within the metal genre.
Joseph Mitchell
Live: The Eastern Forces Of Evil 2022 is out via Peaceville Records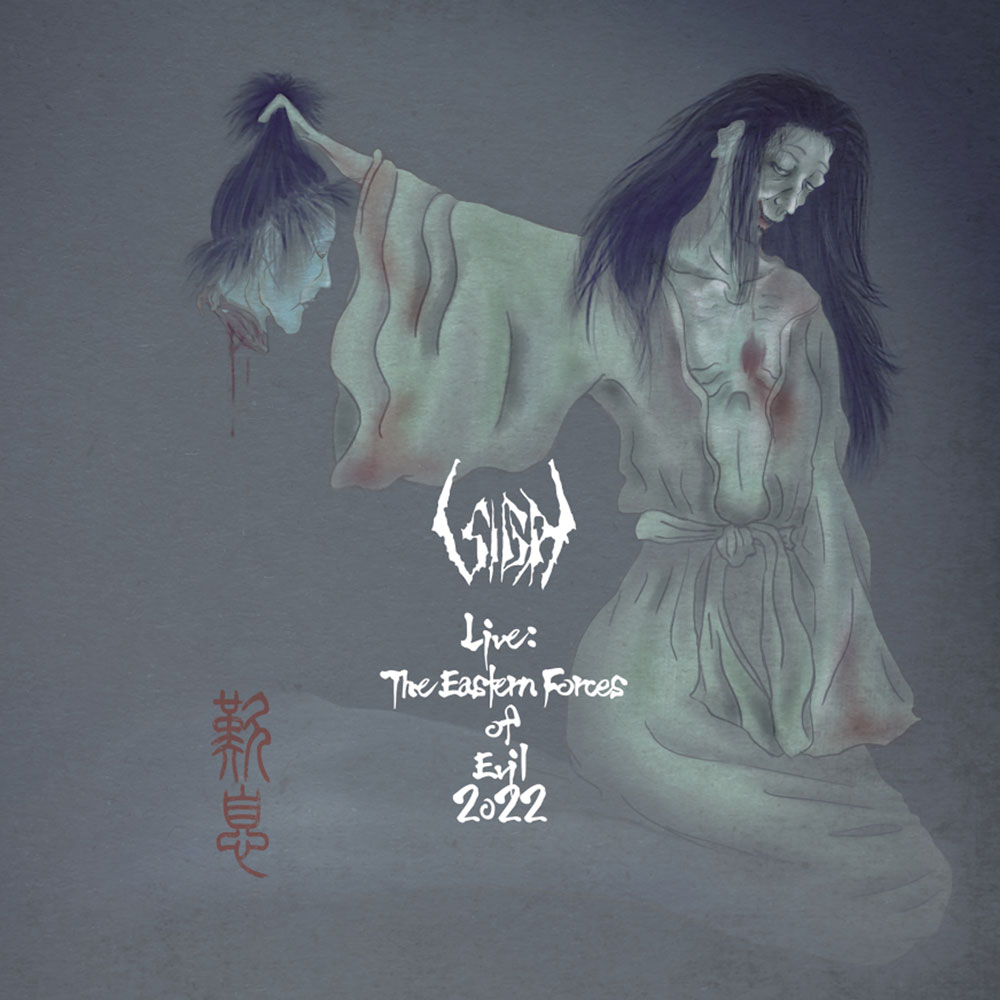 'Live: The Eastern Forces of Evil 2022' track listing: 
OPENING-Touji No Asa (live) [01:31]
A Victory of Dakini (live) [05:59]
Purgatorium (live) [04:48]
The Transfiguration Fear (live) [04:00]
Kuroi Kage (live) [07:46]
Shingontachikawa (live)[04:51]
Mayonaka no Kaii (live)[05:39]
Shoujahitsumetsu (live)[03:54]
The Soul Grave (live)[04:04]
Introitus (live)[03:04]
Inked In Blood (live)[03:07]
Me-Devil (live)[03:06] Satsui (live)[04:27]
Evil Dead-ENDING (live)[04:07]
­­­The band have announced they'll be performing at two festivals later this year – Netherlands Samhain Festival and UK's Damnation Festival (2 different sets) including 'Scorn Defeat' in its entirety.
28 / 29. 10. 2023 – NL – Samhain Festival – Muziekgieterij, Maastricht
03 + 04.11/23 – UK – Damnation Festival – BEC Arena Manchester
Cult Japanese black metal legends Sigh formed in 1989/90, featuring mainman Mirai Kawashima, Satoshi Fujinami & Kazuki Ozeki. Following initial demos, Shinichi Ishikawa was brought in to the band. It was following this shift that Sigh set about recording the masterpiece debut 'Scorn Defeat' for the then-Mayhem guitarist Euronymous' Deathlike Silence Productions, going on to become one of the country's greatest and most revered metal exports. With a journey through the strange and the psychedelic, incorporating a whole eclectic mix of genre styles & experimentation throughout their career, Sigh has remained a vital creative force in the avantgarde field. However, at its core, Sigh has always remained true to its roots of old school metal, and 2022's 'Shiki' album represented a new high point for the band, encapsulating all that was endearing about Sigh, with a perfect mix of styles and injection of eastern flair.
Sigh online: 
https://www.facebook.com/SIGH-official-page-227550909275/
https://www.instagram.com/sighofficialjapan/
https://peaceville.com/bands/sigh/
https://open.spotify.com/artist/4VUguuy2qoVGDMwH1tL7Qr?si=FlPEHEkITWaTgjP9PSj_vg