SAMURAI PIZZA CATS
RELEASE FEROCIOUS DEBUT ALBUM
"YOU'RE HELLCOME"
+ DROP NEW SINGLE
"HAVE A G.O.O.D DAY"
FEAT. EMMY MACK OF REDHOOK
OUT NOW 
VIA EASTHAVEN RECORDS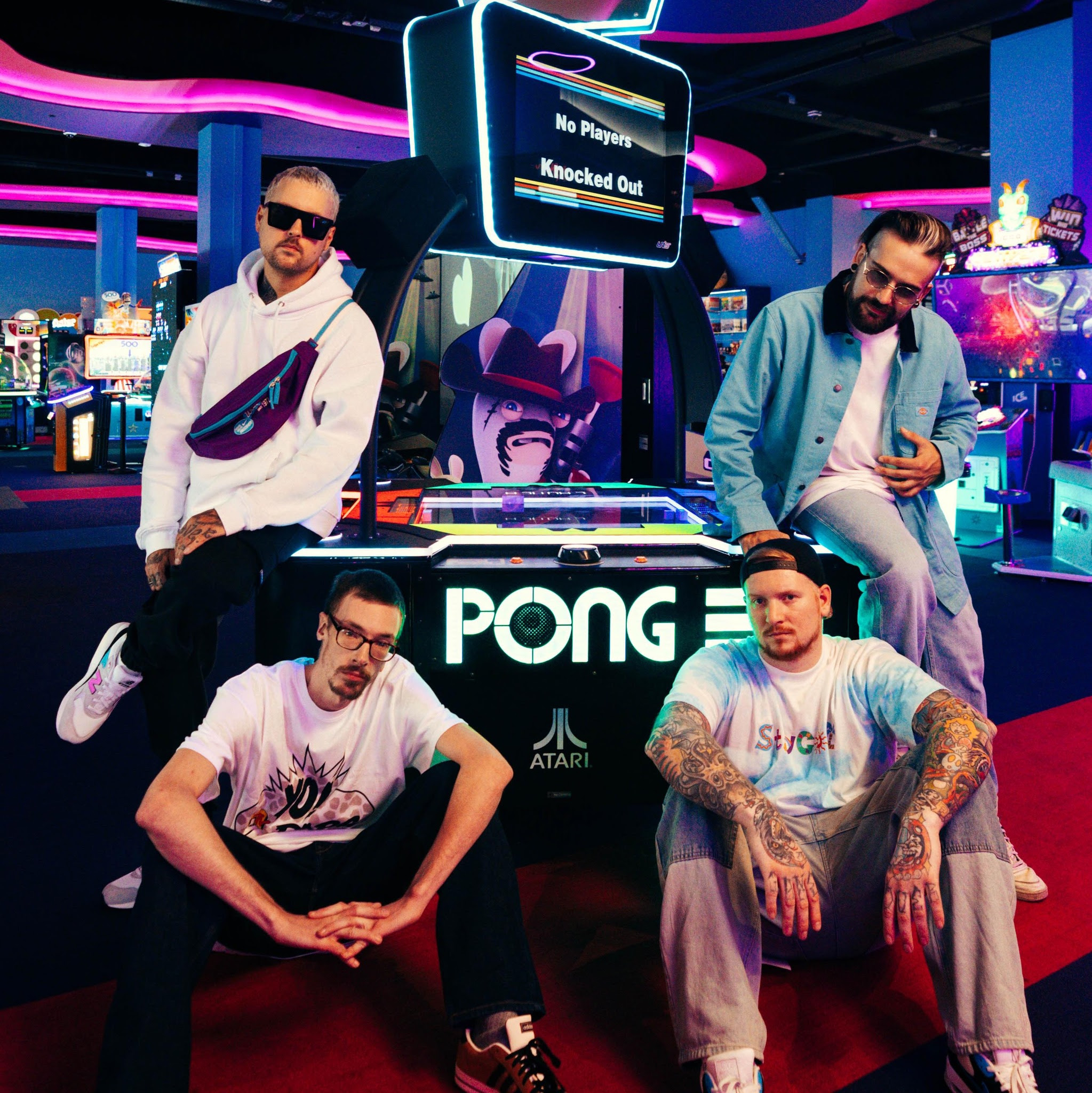 Photo Credit: Robert Nowell
Release day has finally come for the "Catcore from Castrop" enthusiasts, SAMURAI PIZZA CATS, but it wouldn't be SPC without one last big surprise up their sleeves as today they also unveil their new single, "Have A G.O.O.D Day!" (featuring Emmy Mack of Aussie pop-punk outfit Redhook)!

via Easthaven Records
Listen to the debut album, "You're Hellcome" HERE now.
The brainchild of guitarist, songwriter and producer Danskimo (aka Daniel Haniß, ELECTRIC CALLBOY) and Sebastian Fischer (FALL OF GAIA), both go way back and originally worked together on HER SMILE IN GRIEF, the group which would create lifelong ties between both and serve as the pre-formation for current chart-topping, arena packing, HMA Award winners ELECTRIC CALLBOY. 
The supergroup, completed out by fellow FALL OF GAIA member Stefan Buchwald and ex-ELEVEN YEARS drummer Stefan Reufer, are only just getting started but already have a huge cult following. Previous singles taken from their rapidly approaching debut, "The Wolf In Me", "Outcast", "You're Hellcome (feat. Alma)", "Alpha (feat. Mrs Nina Chartier)", "Freakshow (feat. Future Palace)", "Welcome To The Fightclub" and recent smash "Pizza Homicide (feat. Electric Callboy)" already finding their way into fans hearts and malevolent debut live show infront of 12,000 fans at last year's Escalationfest and packed out performance at this year's Full Force Festival are providing mere glimpses of what fans can expect as they join ANNISOKAY as lead support on their upcoming UK/EU tour kicking off in a matter of weeks!
"You're Hellcome" is no ordinary first offering by any stretch, and they've brought in all their pals for the ride – we're talking ELECTRIC CALLBOY (naturally), FUTURE PALACE, FOR I AM KING, REDHOOK and more to create a punch-packed ride of a full-length. Crafted from its inception all the way to final result in a custom studio nestled in the quaint outskirts of Castrop-Rauxel, Germany and holding absolutely nothing back, this album sounds exactly as you'd hope to expect for a band almost a decade in the making; comprised of celebrated musical minds, and masterminded by Danskimo who sprinkles his unique blend of deathcore meets futuristic-techno into this collection of brutal, hilarious, atmospheric, bludgeoning rip-roars ready to make you smash up a house and dance in equal measure. These boys aren't afraid to step out of the box and present to you exactly who they are – colourful in every way.
If you haven't already checked out their accompanying music videos, each "episode" lends itself to only further take you down their twisted rabbit hole – "Pizza Homicide" being a firm fan favourite (would you kill someone for putting pineapple on YOUR pizza?), currently sitting at just over 2 mil views on YouTube and memed into oblivion by internet favourites like Jake Holland, Nik Nocturnal and TankTheTech.
#SAMURAIPIZZACATS #YOUREHELLCOME #HAVEAGOODDAY