I spoke with Laurence Jones a few years back and then he talked about how much he admired the likes of Old Brown for having the balls to step outside of his comfort zone and make that transition from the traditional Blues scene to Rock, fast-forward to 2022 and we find Laurence himself making that bold journey into the unknown with his latest offering 'Destination Unknown' which dropped Sept 9th courtesy of Marshall Records. 
Jones like many up-and-coming young players have always been on my radar, picking up accolades left, right and centre they are the kind of player who is always in your periphery and occasionally for one reason or another will grab your attention for the right reasons. An extremely talented musician, guitarist and songwriter he certainly doesn't need my 30 cents to validate his credentials in any shape or form, but a bit like the aforementioned Old Brown for me Brown really made his mark with his last blues album (Here I Am – 2012) before making that leap across to rock. This right here right now feels like one of those moments, where Jones is stepping out and cutting his teeth with the big boys and it will be remembered as a seminal moment in his career. 
Right from the off you know this is an album with real purpose, one that is made to grab your attention and pull you right in. The album's opener 'Anywhere With Me' has that gritty edge to kick the doors off the bloody hinges! Whilst 'Can't Keep From Loving You' has that early classic rock vibe from the '60s and '70s that is a beautiful homage to his musical heroes, 'Give Me That Feeling' keeps up that gnarly vibe and pace that ensures this album makes its mark, 'Gave It All Away' has a nice 80's feel which is right on point right now with so many artists touching on that magical era and an equally magical solo to match. The big hitters don't stop there, track after track the album is packed with quality, 'Tonight' providing another fan favourite no doubt on the live scene as you can just imagine that booming chorus ringing out over a packed room. 
It is great to see and hear the growth from Laurence and his progression as a musician, it can't be easy coming to the fore at such a young age with so much expectation resting on your shoulders, growing up publicly trying to forge yourself a musical career with #gluebags like myself throwing their 30 cents in for sure you need tough skin, but I am glad to see that as the years go by there is an ever-increasing maturity to Jones playing and songwriting that shows what he is really all about. His recent collaboration with PRS guitars also opens him up to a fresh new audience beyond the shores of the UK also and add's a more contemporary feel to his overall look, marry that with a British giant in Marshall and the future is bright indeed for Laurence Jones. 
Destination Unknown is for me Jone's best work to date, a gritty collection of songs that resonate from the off and will no doubt translate to the live stage even better, especially with tracks like 'In Too Deep' building its way to a crazy crescendo live it's just going to blow to roof off! Jones for sure has come of age with 'Destination Unknown' a quality album from start to finish. 
Destination Unknown is out now via Marshall Records and available from all purveyors of fine music. 
Recorded at Marshall Studio at the unofficial home of Rock (sorry Birmingham!) in Milton Keynes, the record was produced by LAURENCE JONES, engineered by Marshall's own Adam Beer, mixed by Chris Sheldon before the piece de resistance which saw the record mastered in the hallowed grounds of Abbey Road by Christian Wright.
 Order HERE

'Destination Unknown' artwork
Destination Unknown track list:
1 – Anywhere With Me
2 – Can't Keep From Loving You
3 – Give Me That Feeling
4 – Gave It All Away
5 – Tonight
6 – I Won't Lie Again
7 – Holding Back
8 – In Too Deep
9 – Said And Done
10 – Destination Unknown
Following the album's release LAURENCE JONES will also be heading out on an extensive UK tour in October, see the dates below: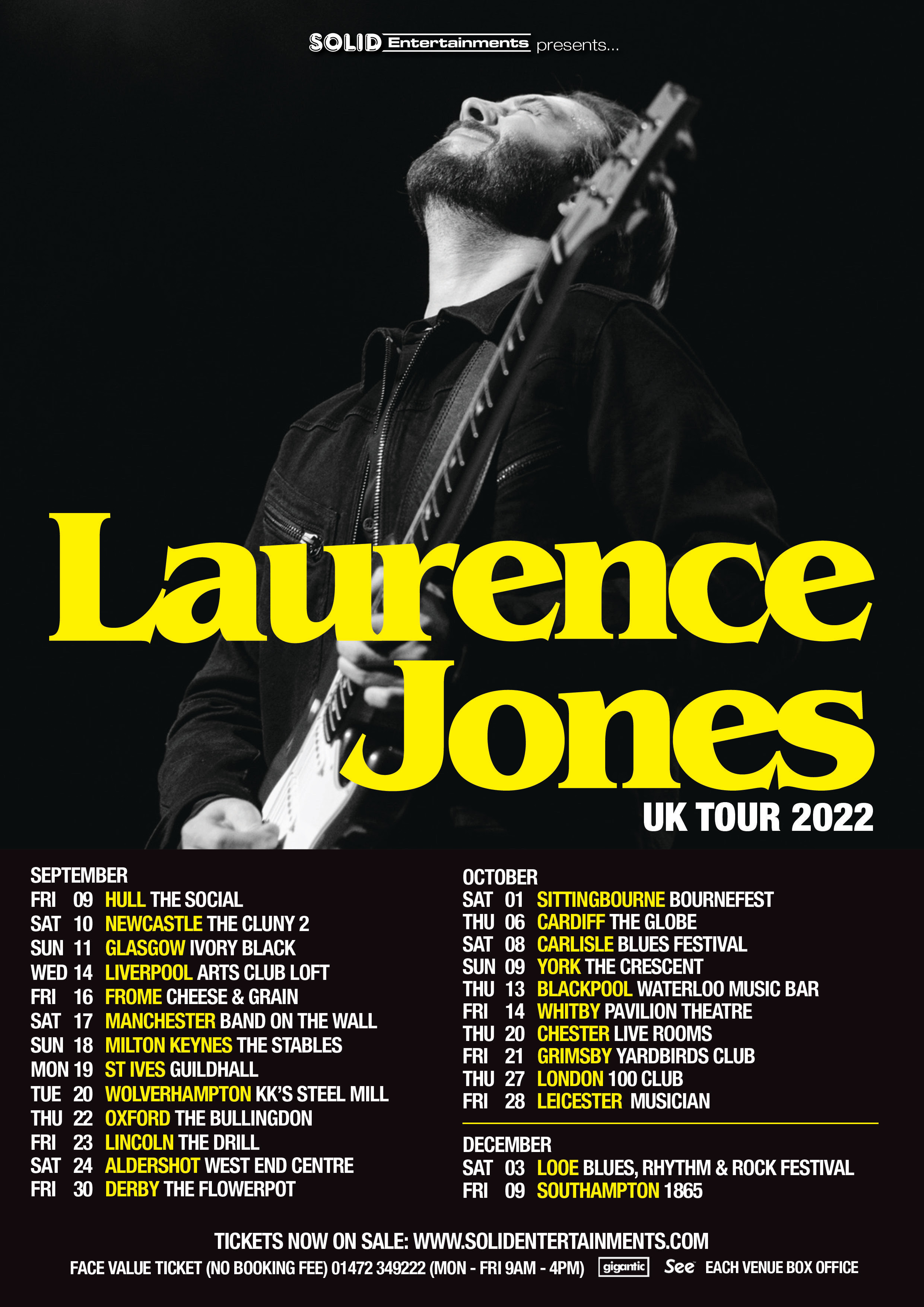 09/09/2022 – Hull, The Social
10/09/2022 – Newcastle, The Cluny 2
11/09/2022 – Glasgow, Ivory Black
14/09/2022 – Liverpool, Arts Club Loft
16/09/2022 – Frome, Cheese & Grain
17/09/2022 – Manchester, Band on the Wall
18/09/2022 – Milton Keynes, The Stables
19/09/2022 – St Ives, Guildhall
20/09/2022 – Wolverhampton, KK's Steel Mill
22/09/2022 – Oxford, The Bullingdon
23/09/2022 – Lincoln, The Drill
24/09/2022 – Aldershot, West End Center
30/09/2022 – Derby, The Flowerpot
01/10/2022 – Sittingbourne, Bournefest
02/10/2022 – Swindon, TBC
06/10/2022 – Cardiff, The Globe
07/10/2022 – Southampton, 1865
08/10/2022 – Carlisle, Blues Festival
09/10/2022 – York, The Crescent
13/10/2022 – Blackpool, Waterloo Music Bar
14/10/2022 – Whitby, Pavillion Theatre
20/10/2022 – Chester, Live Rooms
27/10/2022 – London, 100 Club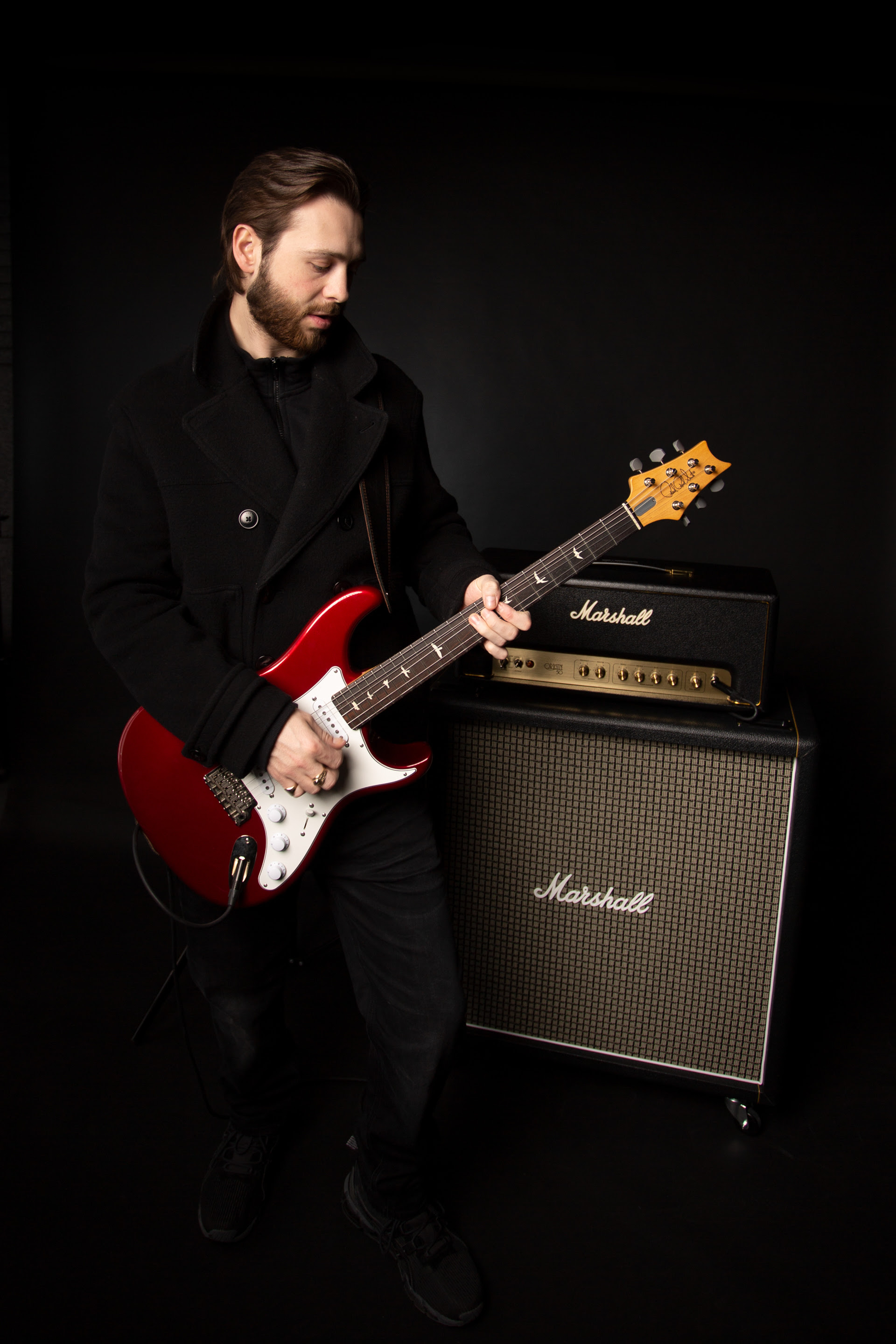 LAURENCE JONES is:
Laurence Jones – Vocals, Guitars
Bennett Holland – Backing Vocals, Hammond, Piano, Synth
Jack Alexander Timmis – Bass Guitar
Samuel Jenkins – Drums, Percussion
LAURENCE JONES online:
Facebook
Twitter
Instagram
Site