If you were a teenager back in the early 2000's then it's unlikely that the Emo phase passed you by. It was an era filled with many incredible bands who to this day have stood the test of time, even if some have grown and changed with the times. One of the bands at the height of this era was Hawthorne Heights with their dark and moody sound and they are one of those to stand that time test while remaining true to who they started as. Although I have admittedly not kept up to date with their releases, when I saw that a new EP was due out this week, the 14-year-old in me screamed at the chance to give it a listen!
 As mentioned, I must be honest and say that I have not kept up with the band's music over the years but the moment that I pressed play on 'Lost Lights', I was instantly transported to those days when "Ohio is for Lovers" was a repeat on my iPod. The whole EP keeps in the style that the band have made their own, that's not to say that this is a band stuck in the past. There is a definite growth in the band's writing while remaining true to that signature sound. Musically, the band's style remains very similar however lyrically, is where we hear that growth that is expected as we all age and our lives change. JT Woodruff has always had a poetic way of putting together lyrics which are both easy to listen to yet also hit home and having written this during the pandemic those feelings of escape that we felt have now been put to music. The EP is still full of catchy choruses however that are undeniably Woodruff's melodic vocal style and there are injections of the more aggressive growl/scream vocals lifting the tracks and their meaning. The driving riffs keep the EP moving from those softer melodies to the more upbeat ending with "Empty" and "We Were Never Lost" which are a definite highlight.
This is quite simply the essence of who Hawthorne Heights is and will be enjoyed by all fans of the band whether they have remained up to date or are a fond memory of a past era. Every track on the EP has its own sound while keeping with the band's general style. Essentially there is everything to love about these 5 tracks and the whole thing leaves you wanting more.
Review: Emmie Ellis
HAWTHORNE HEIGHTS  
NEW EP 'LOST LIGHTS'
OUT 8TH SEPTEMBER 2023 VIA PURE NOISE RECORDS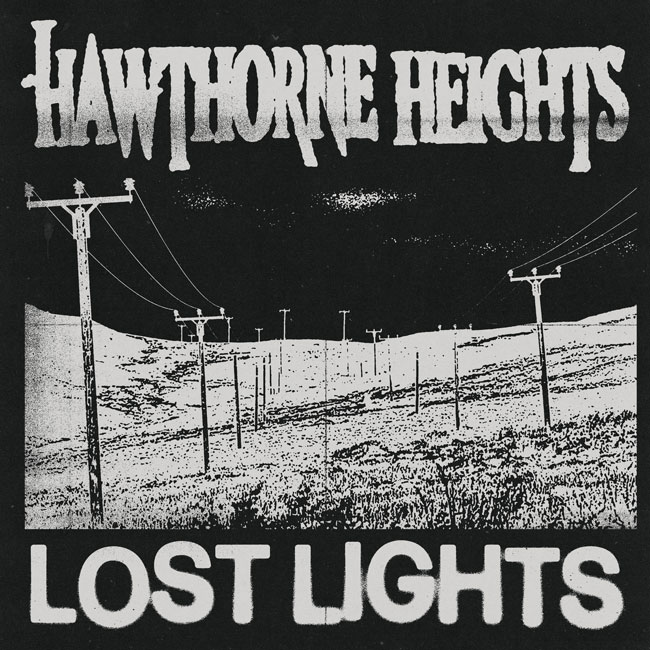 The band will be on the road this Summer at "Is For Lovers' festival and the headline run this fall.  Full details below:
9th September 2023 – Is For Lovers Festival 2023 Cincinnati, OH
10th September 2023 –  Is For Lovers Festival 2023 Pelham, TN
12th September 2023 – Delmar Hall Saint Louis, MO
13th September 2023 – Deluxe Indianapolis, IN
15th September 2023 –  Riot Fest 2023 Chicago, IL
17th September 2023 – Is For Lovers Festival 2023 Mansfield, MA
27th September 2023 – Taft Theatre Cincinnati, OH
28th September 2023 – Marathon Music Works Nashville, TN
1st October 2023 – Atlanta Symphony Hall Atlanta, GA
4th October 2023 – Patchogue Theatre for the Performing Arts Patchogue, NY
5th October 2023 – Bergen Performing Arts Center Englewood, NJ
6th October 2023 –  Warner Theatre-Torrington, CT Torrington, CT
7th October 2023 – Keswick Theatre Glenside, PA
12th October 2023 –  Warner Theatre-DC Washington City, DC
13th October 2023 – Portico at del Lago Resort and Casino Waterloo, NY
14th October 2023 – Ovation Hall at Ocean Casino Resort Atlantic City, NJ
18th October 2023 – Sunrise Theatre Fort Pierce, FL
20th October 2023 – Goodyear Theatre Akron, OH
22nd October 2023 – Roxian Theatre Mckees Rocks, PA
24th October 2023 – The Louisville PalaceLouisville, KY
25th October 2023 – Murat Theatre at Old National Indianapolis, IN
26th October 2023 – Staphanie H. Weill Center for the Performing Arts Sheboygan, WI
27th October 2023 – Genesee Theatre Waukegan, IL
28th October 2023 – James W. Miller Auditorium Kalamazoo, MI
30th October 2023 – Fitzgerald Theatre West Saint Paul, MN
2nd November 2023 – Capitol Theatre Davenport, IA
3rd November 2023 – Hoyt Sherman Place Des Moines, IA
5th November 2023 – The Astro Theatre Omaha, NE
9th November 2023 – McCallum Theatre Palm Desert, CA
11th November 2023 – Fox Theater Oakland, CA
https://hawthorneheights.com/tour/
###
Hawthorne Heights is composed of JT Woodruff (Vocals, Guitar), Mark McMillon (Guitar, Backing Vocals), Matt Ridenour (Bass, Backing Vocals), Chris Popadak (Drums). 
Throughout their long and storied career as one of the most iconic emo acts of the new millennium, the quartet have overcome obstacles at every turn – but these roadblocks always seemed to come from external forces, from unscrupulous record labels and the shifting whims of fickle audiences to unimaginable personal tragedy threatening to derail them.
Despite the odds, Hawthorne Heights have overcome it all: earning two Gold albums (2004's The Silence In Black And White and 2006's If Only You Were Lonely), penning some of the genre's most well-known songs ("Ohio Is For Lovers," "Saying Sorry"), and remaining a hard-touring act nearly two decades after forming in Dayton, Ohio.
Pre-order new EP 'Lost Lights'– HERE