Rising from Belfast, Northern Ireland, ,were originally formed in early 2021 by Ethan Beatie and following the debut EP Still See Ghosts the band got calls to open for artists such as Priest (ex-ghost) and Doyle (Misfits).
Following some line-up changes at the start of 2022, the now four-piece are set to release their debut full-length album and retain their shock rock approach whilst taking influences from further afield.
The album itself is 9 tracks long and spans approximately 34 minutes and whilst the band openly acknowledge the influences of Alice Cooper and Rob Zombie, there is far more to the sound – not that are any issues with either of these. I understand that some people may not want to publicly acknowledge specific influences at the moment, however, some of the tracks also have a little Marilyn Manson sound to them.
Opening with 'Endless Hope' the high octane sound matched with the huge sing-along moments and that Shock Rock angle that sets itself apart from generic anthemic rock songs.
As the album progresses, you hear more influences in the sound and what you soon realise is that this is very enjoyable you will be playing a lot of air guitar to join in with massive riffs and anthemic choruses that would not sound out of place being sung back at the band by an eager audience.
When I listen to Echoes Of A Dreamless Life, I can only imagine that whilst this album and the sound has a Shock Rock edge to it – it has the feeling that it would have been a lot of fun to make and perform these tracks.
From start to finish, this debut is one that stands out from the rest. With a top performance by all involved, the result is something that you will want to listen to over and over again.
I can only imagine that if this album gets the exposure it deserves, EB & The Deadlights will be a name that people start to hear far and wide.
If you are a fan of Rock music then please give this a whirl, you may just find a new take on a sound that isn't overly performed anymore but when it sounds as good as this you wonder why not.
Echoes Of A Dreamless Life will be released Friday, 16th June 2023.
Ed Ford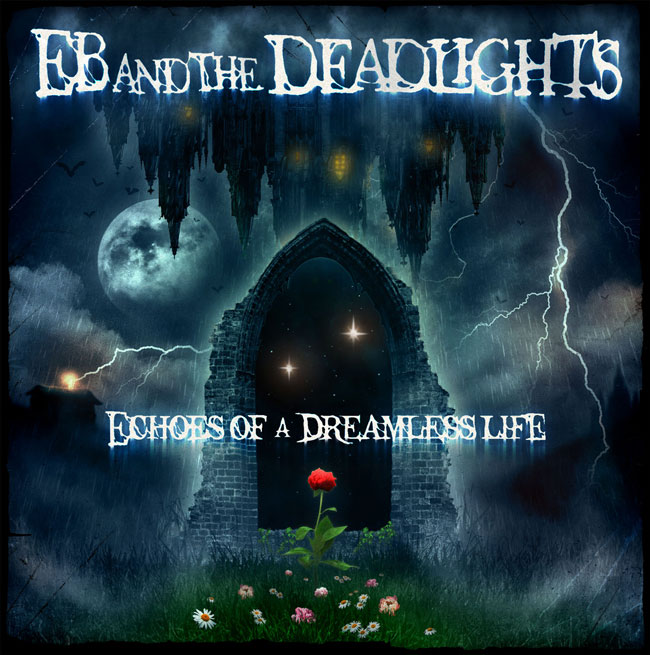 Tracklist
Endless Hope
Falling Away
Pain That I Need
Heaven Into Hell
Hollow Eyes
Art Of Death
Kill Your Answers
Fatal Violence
Dreamless Life.
Online
https://twitter.com/DeadlightsN
I https://www.facebook.com/e.b.andthedeadlightsband
https://www.instagram.com/e.b.andthedeadlightsband/