Cast your mind back to February 2009, a Slipknot that hadn't yet headlined Download festival, had not long released All Hope Is Gone had arguably the most influential lineup of the 9 and everyone was still raging after IOWA.
So this album documents the headline show at the world-renowned Maddison Square Garden and includes some of their best-known and in my opinion, still best tracks that the band have ever created.
Flying through what would now be classed as a Best Of, you get the joy of hearing tracks from the debut self-titled album, IOWA, Vol.3 and All Hope Is Gone and quite simply it reminds me why Slipknot was the band that I always listened to to and went to see.
The emotion, the energy and the raw aggression transmits through the speakers and will take you back to those intense and at times, brutal shows and if you were there for those, be prepared to have you head blown and see what Slipknot was all about.
Opening with '(sic)' you are just thrown back to an age of carnage and unpredictability as the 9 just completely let loose on you and in return, the entire building would shake. What a time to be alive.
It doesn't take long for 'Wait and Bleed' to land, 'Before I Forget' and 'The Blister Exists' before a more recent (at the time) track from All Hope Is Gone lands by way of 'Dead Memories.'
I could happily list each track but that is listed at the bottom of the review – however, be assured that there is no filler in this live display and in many ways, if you listen to this you will hear the exact reason why Andy Copping took a punt on a 9 piece and led to the infamous Disaster Pieces show that tore Download apart.
Forget any opinions of Slipknot now, they are so big and relevant because of this kind of show and through tragedies, line-up changes, and life events the band have evolved but this is and will always be the foundation for which the Slipknot juggernaut was built upon and that will always be something incredibly special.
For and fans of Slipknot, old or new, you will not be blown away by the blistering collection of live tracks and please press play and be prepared to get smashed to pieces.
Live at MSG was released Friday 18th August 2023.
Ed Ford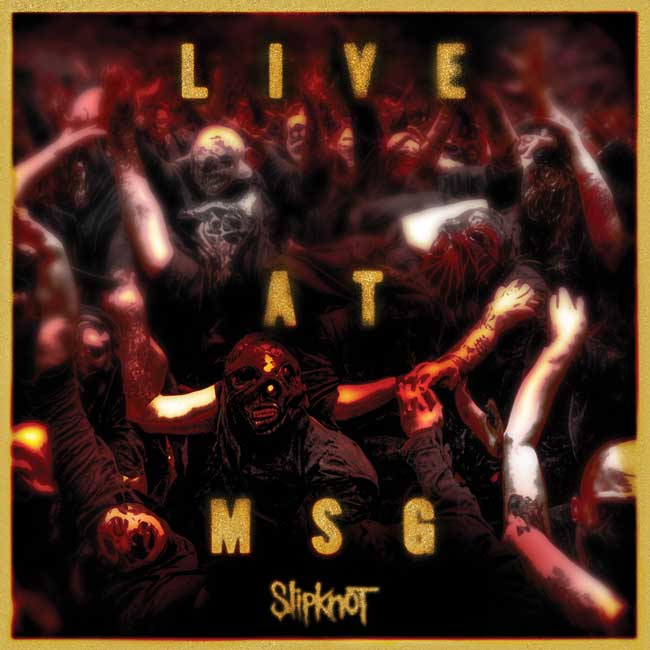 Tracklist
SIDE A:
A1. (sic)[3:55]
A2. Eyeless [4:15]
A3. Wait And Bleed [2:44]
A4. Get This [4:28]
SIDE B:
B1. Before I Forget [4:22]
B2. The Blister Exists [6:37]
B3. Dead Memories [4:03]
B4. Left Behind [3:28]
SIDE C:
C1. Disasterpiece [5:09]
C2. Purity [6:26]
C3. Everything Ends [4:22]
C4. Psychosocial [5:41]
SIDE D:
D1. Duality [5:26]
D2. People = Shit [4:10]
D3. Surfacing [4:49]
D4. Spit It Out [7:35]
Online
https://slipknot1.lnk.to/LiveAtMSG