The majestic, Covet, return April 7th with their new album Catharsis and for many, it will be a very welcome return. After emerging onto the scene way back in 2014 Covet has forged a path that has won over an army of fans both for the band as a whole and for the magnificent Yvette Young as an instrumental guitar player with her sublime finger tapping technique which blends the most delicate melodic quality as well as technical proficiency.
The album opens up with 'Coronal' with its wailing vocals and it's not quite what I was expecting from my previous journey with Covet, but I am confident that is exactly the reaction Covet wanted from the off.  "We did a lot of risk-taking on this album," states Yvette. "I try to follow what excites me without heeding anybody's expectations. I'm leaning into melodies, tones, and textures and trying to use them to transport listeners. The whole concept is escaping into a fantasy realm where the songs depict different characters and their worlds. Each song is like its theme song. It's mostly instrumental, but when you close your eyes, I hope people will be transported into the character's story. Music has always been escapism for me and a great source of therapy. My hope for this music is that it will take people somewhere and stir their imaginations, or at the very least, make them feel something."
The track is backed with a melodic guitar run and thrashing drums all encompassed in a wall of distortion, it blows the cobwebs off for sure, and it has a gnarly Seattle vibe that immediately grabs your attention.
'Firebird' takes us back to those glorious clean tones and wispy melodic runs that expect from Yvette before she adds a little drive into the equation, it is an explosive beauty of a track that is easy on the ear like a warm blanket on a cool evening provides the perfect balance, sonically it is slightly reminiscent of an Eric Johnson number with its delicious chord phrasing and melodic quality. 'Bronco' has that disjointed math-rock quality with its continually changing time signatures and quirky vibe, it is everything you would expect from a band of this quality, prog-rock goodness all wrapped up in 3mins 12 seconds before it seamlessly blends into 'Vanquish' and a subtle change of pace occurs with a more mellow and free flowing vibe carries you through the track before transforming into an almighty crescendo before it ends.
'interlude' is just that, a vocal and piano breather to allow you to catch your breath and reset before 'Smolder' which has a darker sound initially, grinding at you as it gradually gets heavier, darker, more angst-ridden, challenging you as a lister to sit up and pay attention. Thankfully 'Merlin' brings back the sunshine with a far more chilled and tranquil feeling although you can feel the tension grow throughout. 'Lovespell' wraps up a beautiful recording in an uplifting track and reminds us all how much we missed Covet.
They bring their own take to the modern prog-rock scene with bands like Polyphia and co. changing the musical landscape forever within this genre, the days of Satriani and Vai as pure shredders have been somewhat replaced by a more melodic, calmer generation of guitar players, but like everything in life, these things are cyclical and no doubt we will have our guitars gods in front on a full stack soon enough, moving the air the only way they know how.
For now, I am more than happy to see the progression of instrumental music and the ever-changing landscape in which it sits providing more than enough inspiration for artists such as Covet to explore.
Catharsis is yet another fine recording from this very talented trio and will sit beautifully alongside Effloresce (2018) and Technicolor (2020)
Catharsis is released Friday, April 7th courtesy of  Triple Crown Records
catharsis tracklist:
1. coronal
2.firebird
3. bronco
4. vanquish
5. interlude
6. smolder
7. merlin
8. lovespell
Album pre-orders, which include several limited-edition vinyl variants, CD, and digital pre-saves are available here:https://triplecrown.ffm.to/covet-catharsis.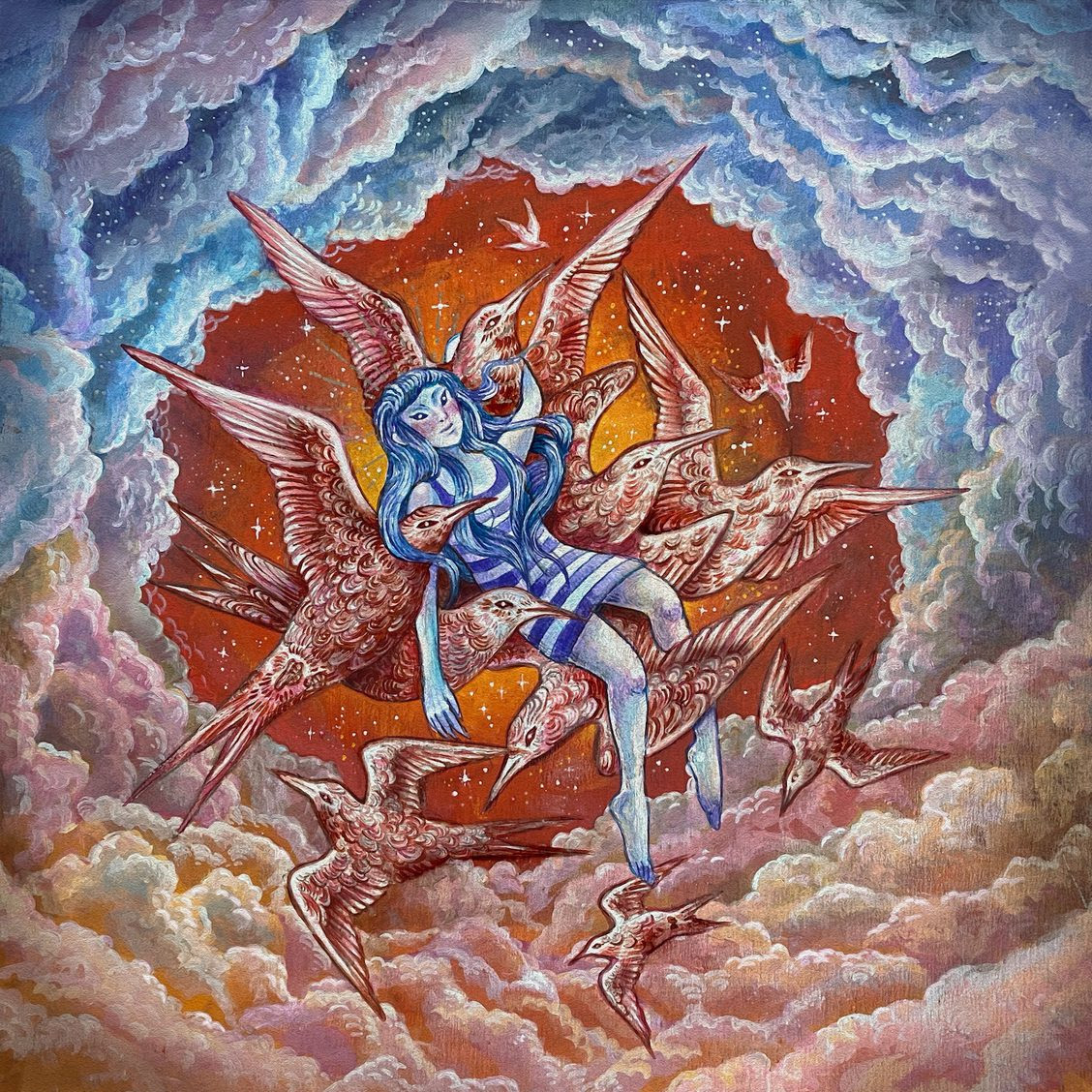 COVET – 'lovespell' (Official Music Video)
Covet is Yvette Young (guitar/vocals), Brandon Dove (bass) and Jessica Burdeaux (drums). The Bay Area-born band released their debut album,efflorescein 2018, followed bytechnicolorin 2020.Exclaimsaidtechnicolor"sparkles with the wonder of creativity,"Treble Zinedescribed the 10-song collection as "engaging" and "dynamic," whileBrooklyn Vegansaid the band thrives on "sugar-sweet melodies."
https://covetband.bandcamp.com/
https://www.instagram.com/covetband/
https://facebook.com/covetband