TOMMY EMMANUEL ANNOUNCES NEW ALBUM ACCOMPLICE TWO
OUT APRIL 28 VIA CGP SOUNDS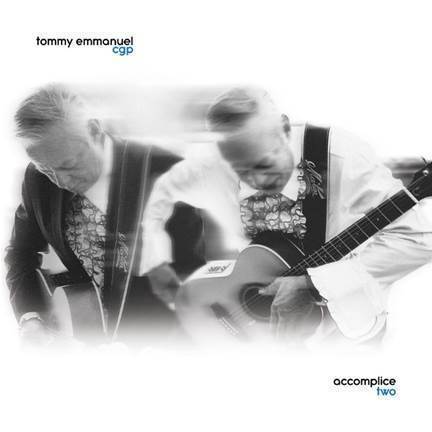 FIRST SINGLE OUT MARCH 3  
"WHITE FREIGHT LINER BLUES"
DUET WITH MOLLY TUTTLE
COLLABORATIONS ALBUM FEATURES AN "A" LIST OF MUSICIANS
INCLUDING BILLY STRINGS, MOLLY TUTTLE, MICHAEL MCDONALD,
JAMEY JOHNSON, RAUL MALO AND MANY MORE GREATS
Artist: Tommy Emmanuel:
Photo Credit: Simone Cecchett
Grammy-nominated acoustic guitarist extraordinaire, composer and global touring artist TOMMY EMMANUEL has released the video for "White Freight Liner Blues," his collaboration with Grammy-winning guitarist and singer Molly Tuttle, ahead of the song's digital release on March 3. The song, a cover of the Townes Van Zandt classic, is the first single from EMMANUEL's much-anticipated full-length collaborations album ACCOMPLICE TWO (see the track listing below), due out April 28 via CGP Sounds as the follow-up to his Accomplice One album in 2018.
WATCH the sheer musical joy in this video as both artists record "White Freight Liner Blues" together. It was filmed in Nashville and directed by Joshua Britt and Neilson Hubbard for Neighborhoods Apart Productions.
"My accomplices on this album are all in a league of giants to me," says TOMMY. "They all inspire me to reach for the stars; to give my best while supporting them as they give their best. We all have a chemistry and electricity together when we play music. I wanted to capture this power in songs and performances that will stand the test of time."
Playing with TOMMY was a dream come true for Tuttle, winner of the Best Bluegrass Grammy 2022, for the album Crooked Tree made with her band Golden Highway. She says: "I've been a big fan of Tommy's music since I was first learning to play guitar as a kid. I got to see him play a few times growing up and felt so inspired by his virtuosity on the instrument as well as his spirit as an entertainer. It was a dream come true to get to jam with Tommy on stage a few years back when he asked me to sit in with him during his set on Cayamo Cruise. That was the first time we played 'White Freight Liner Blues' together and I was thrilled when Tommy called and asked if we could cut it for his new album!"
Produced lovingly by EMMANUEL, regarded by guitar great Chet Atkins as "one of the best guitar players I've ever seen," the 16-track ACCOMPLICE TWO is a spirited mix of new takes on indelible classics and brand-new originals from TOMMY. His collaborators are some of the most remarkable musicians on the planet, including Billy Strings, Molly Tuttle, Michael McDonald, Jamey Johnson and Raul Malo.
The album is alive with the spontaneous, timeless joy created by inspired virtuosos. The combined artistry contained on these tracks is stunning, as is TOMMY's cheerful ease at connecting naturally with this vast spectrum of musicians.  Like the first volume Accomplice One, he merges the presence of beloved, legendary musicians—such as Jorma Kaukonen, Nitty Gritty Dirt Band, Little Feat, Sam Bush, the Del McCoury Band and Jerry Douglas—with the bright spirit of acclaimed young artists breaking through with a true reverence for the power of song.
"I love the word 'accomplice'," explains TOMMY, "because it's deeper in meaning than `partner' or `duet.' I feel that the artists that are on this project are all so unique and gifted that all we had to do was find the right song, work up the arrangement, then record it live and its magic will appear!"
"This album takes risks and is unpredictable," says TOMMY. "Hopefully it will delight the people who are ready to receive it in their open hearts, minds and ears. I love the fact that Raul Malo sings `Faraway Places' so beautifully calm, powerful, yet true to Sam Cooke's original version. Then Sam Bush and I become Homer & Jethro, on `Yeller Rose of Texas,' a total spoof on the original."
The album starts with TOMMY's duet with Billy Strings, the Michigan-born guitarist who won the 2021 Grammy for Best Bluegrass for his album Home. Like TOMMY, Billy honours his roots while also expanding always as a musician. His energy combined with TOMMY's is what launches this journey, on a two-song medley that celebrates his hero, Bluegrass legend Doc Watson. It starts with Doc's own song "Doc's Guitar" and segues into the "Black Mountain Rag," an old fiddle tune that was Doc's signature song.
TOMMY has often said that Michael McDonald is one of his favourite singers and songwriters. He's played Michael's songs through the years and recorded a beautifully tender version of "I Can Let Go Now" on his Heart Songs album with John Knowles. Now he's got both—a song and the voice—on "Someone Like You," co-written by Michael with Dennis Morgan. TOMMY, singing through the strings of his guitar, said he's emulated the soulful warmth of McDonald's vocals for decades, and is thrilled to have that sound on his album. Michael, like the other accomplices, was greatly moved by his inclusion. "After being a fan for so many years now," says McDonald, "the chance to work with an artist and musician of Tommy Emmanuel's capacity and stature is an immense honour."
On his own song, "Mombasa," TOMMY duets with Yasmin Williams, a unique solo guitarist who also plays kalimba, and plays both instruments here. "Mombasa," she says, "is one of her favourite solo guitar songs ever." They made the track alone, with no other musicians, which was surreal for her, she said, because he made it fun and easy. "Even though Tommy is one of the best guitarists in the world," she adds, "the recording session wasn't daunting at all because he made me feel super-relaxed throughout the session, and comfortable adding my own unique touches."
In the U.S., TOMMY's concert special "Accomplice LIVE!"—featuring such guests as Emmylou Harris, Rodney Crowell, Sienna Hull and Yasmin Williams—debuts this month on PBS. Known to deliver shows that are truly a head-spinning experience, TOMMY will be on the road throughout 2023 in America, Europe and Australia, with UK dates due in 2024. His current tour dates are HERE.
Here's the track listing for ACCOMPLICE TWO:
Doc's Guitar Black Mountain Rag FeaturingBilly Strings
White Freight Liner Blues FeaturingMolly Tuttle
Daddy Frank (The Guitar Man) FeaturingJamey Johnson
*4. Precious Time Featuring Sierra Hull
Cajun Girl FeaturingLittle Feat & Sam Bush
Another Man Done A Full Go Around FeaturingJorma Kaukonen
*7. Son Of A Gun Featuring Richard Smith
Someone Like You FeaturingMichael McDonald
*9. Mombassa Featuring Yasmin Williams
Everybody Loves You FeaturingLarry Campbell & Teresa Williams
*11. Mama Knows Featuring Jerry Douglas
Sweet Temptation FeaturingThe Del McCoury Band
Yeller Rose Of Texas FeaturingSam Bush
Tennessee Stud FeaturingNitty Gritty Dirt Band
Seven Come Eleven FeaturingDavid Grisman
Far Away Places FeaturingRaul Malo
*Original TOMMY song
Accomplice Two Cover Art
ABOUT TOMMY EMMANUEL:
TOMMY EMMANUEL has achieved enough musical milestones to satisfy several lifetimes. At the age of six, he was touring regional Australia with his family band. By 30, he was a rock n' roll lead guitarist burning up stadiums in Europe. At 44, he became one of five people ever named a CPG (Certified Guitar Player) by his idol, music icon Chet Atkins. Today, he plays hundreds of sold-out shows every year from Nashville to Sydney to London. He's piled up numerous accolades, including two Grammy Award nominations, two ARIA Awards from the Australian Recording Industry Association (the Aussie equivalent of the Recording Academy); repeated honours in the Guitar Player magazine reader's poll including a cover story for their August 2017 issue; a cover feature for Vintage Guitar's July 2020 issue; and was Music Radar's reader's poll #1 winner of the Ten Best Acoustic Guitarists in The World (December 2019). A noted fingerstyle guitarist, EMMANUEL frequently threads three different parts simultaneously into his material, operating as a one-man band who handles the melody, the supporting chords and the bass all at once. His talents, which translate in any language, carry him to the far corners of the globe, but EMMANUEL never plays the same show twice, and he improvises big chunks of every date. That leaves him open to those technical imperfections, though they also provide some of the humanity to an other-worldly talent. On May 8, 2020, he released a newly recorded career-spanning double album, THE BEST OF TOMMYSONGS, via CGP Sounds/Cruzen Street Records). Watch the album trailer here which focuses on TOMMY's unique ability to tell stories without words: https://www.youtube.com/watch?v=-SOQEMWYAQ4&feature=youtu.be. EMMANUEL subsequently released three EP's with different collaborators, Accomplice Series Vol. 1, 2 and 3, the last of which was in 2022.
For more information on TOMMY EMMANUEL, visit: