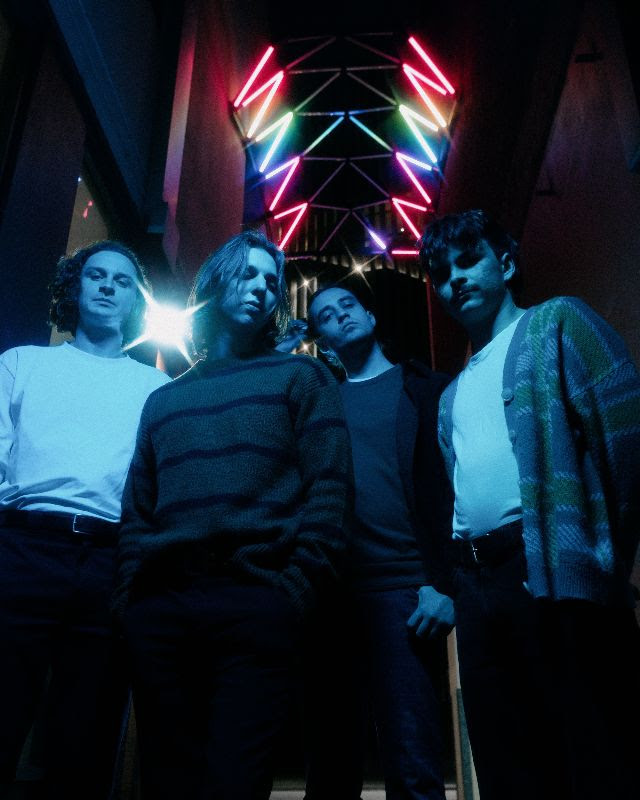 THE FAIM – HI-RES PROMO
SUPPORT FOR DEBUT ALBUM 'STATE OF MIND'
"One of the hottest bands to emerge over the last 12 months." Rock Sound (UK)
"Arena-sized". Billboard (USA)
"The Perth natives have a craving for growth and finding new ways to express their thoughts and feelings." Alternative Press (USA)
"Get in early on the hype because early indications suggest that The Faim is going to take off."
Forbes (USA)
"'State of Mind' tracks the evolution and growth of The Faim; a multi-faceted band with something special going on." Pilerats (AUS)
Australian rock band The Faim share their new single "Me Because Of You". The self-produced track will appear on the band's forthcoming album Talk Talk out July 8 via BMG.
"'Me Because of You' was written about embracing change and letting go of a past version of yourself," says bassist and keyboardist Stephen Beerkens. "The lyrics recognize the huge impact that someone else can have on the process. This song was a huge milestone for us, as it's our first release that has been self-produced!"
The track follows the previously released captivating track "The Alchemist," the celebratory "ERA," the adrenaline-charged "The Hills," and the driving pop-rock anthem "Ease My Mind."
CHECK OUT "ME BECAUSE OF YOU" NOW LISTEN
The stunning new video premieres at 6pm GMT Friday, 27th May
The Australian four-piece is gearing up to release their sophomore album this summer which touches on themes of nostalgia, celebration, escapism, and self-discovery. Recorded between Los Angeles and Perth, The Faim worked with several producers on Talk Talk including Zakk Cervini (Bring Me The Horizon, Yungblud, Machine Gun Kelly), Erik Ron (Panic! At the Disco, Godsmack, Set It Off), and Matthew Pauling (Palaye Royale, 5 Seconds of Summer, State Champs) to showcase the band's vast range of styles and tones.
TALK TALK TRACKLISTING
madly, badly, fixed
You (and my Addiction)
Life in a Cinema
Faith in Me
Me Because of You
Flowers
Jealous Love
Known for non-stop touring and playing hundreds of shows, The Faim are eager to get back on the road after the pandemic lull. The band will embark on a UK & EU headlining tour this summer that will include performances at major festivals Rock am Ring, Download Festival, Rock in Werchter, La Nuit De l'Erdre, Musilac, and more. For more information, visit http://thefaim.com/. 
HEADLINE TOUR & FESTIVAL DATE:
TUES 31 MAY | L'ETAGE, RENNES, FR
WED 1 JUNE | NINKASIKAO. LYON, FR
THU 2 JUNE | LA LAITERIE, STRASBORG, FR
FRI 3 JUNE | ROCK AM RING, MENDIG DEU
SUN 5 JUNE | ROCK IN THE PARK, MENDIG DEU
TUE 7 JUNE | LE TRABENDO, PARIS, FR
WED 8 JUNE | THE BLACK LAB, LILLE, FR
FRI 10 JUNE | HOBOS BRIDGEND, UK
SAT 11 JUNE | DOWNLOAD FESTIVAL, LEICESTERSHIRE UK
SUN 12 JUNE | STEREO, GLASGOW, UK
TUES 14 JUNE | REDS BAR, NEWCASTLE, UK
WED 15 JUNE | OMEARA, LONDON, UK
THUR 16 JUNE | ENGINE ROOMS, SOUTHAMPTON, UK
SAT 18 JUNE | ROCK FOR PEOPLE, HRADEC KRÁLOVÉ CZE
MON 20 JUNE | HYDROZAGADKA, WARSAW, PL
TUES 21 JUNE | HOLE 44, BERLIN, DE
WED 22 JUNE | LOGO, HAMBURG, DE
FRI 24 JUNE | LUX, HANNOVER, DE
SAT 25 JUNE | NAUMANNS, LEIPZIG, DE
SUN 26 JUNE | LEGEND CLUB, MILAN, IT
TUE 28 JUNE | RAUBAR KOFMEHL, SOLOTHURN, CH
THU 30 JUNE | LA NUIT DE L'ERDRE FESTIVAL, NORT SUR ERDRE, FR
WED 6 JULY | MELKWEG, AMSTERDAM, NL
THU 8 JULY | MUSILAC 2022 AIX-LES BAINS, FR
SAT 10 JULY | LED DEFERLANTES FESTIVAL CERET, FR
They will also tour Australia 15th-31st July
Tickets on sale now – HERE
ABOUT THE FAIM
Since forming in Perth, Australia in 2014, The Faim (French for "the hunger") ​​have built up a strong global following. They have performed at major festivals including Reading & Leeds Festival, Slam Dunk Festival, Lollapalooza Berlin, and have sold-out headline shows around the world. They have accumulated over 150 million streams globally, having written and worked with the likes of Pete Wentz (Fall Out Boy), Mark Hoppus (blink-182), Josh Dun (Twenty One Pilots), and Ashton Irwin (5 Second of Summer). The band's 2018 single "Summer Is A Curse" was featured in an advertising campaign for Jeep, while the likes of Coca Cola and MTV have licensed the band's music as well. To date, the band have released one EP (Summer Is a Curse, 2018) and one debut full-length album (State Of Mind, 2019) receiving praise and support from Spotify, Apple Music, Amazon Music, Deezer, BBC Radio 1 (UK), Idobi Radio (USA), Kerrang! (UK), Rock Sound (UK), Billboard (USA), Forbes (USA), Alternative Press (USA), and more.
The Faim have proven themselves as a group of musicians who are all about making genuine songs that bring people together and create a community. "Our hearts and souls are on our sleeves 100 percent of the time" shares Beerkens. "The goal is to play music we love for our entire career."
The Faim is Josh Raven (vocals), Stephen Beerkens (bass/keyboard), Samuel Tye (guitar), and Linden Marissen (drums).
Talk Talk is released 8th July via BMG- pre-order now
FOLLOW THE FAIM
FACEBOOK | TWITTER | INSTAGRAM | TIKTOK | SPOTIFY | APPLE MUSIC | AMAZON MUSIC | YOUTUBE
TALK TALK ALBUM ARTWORK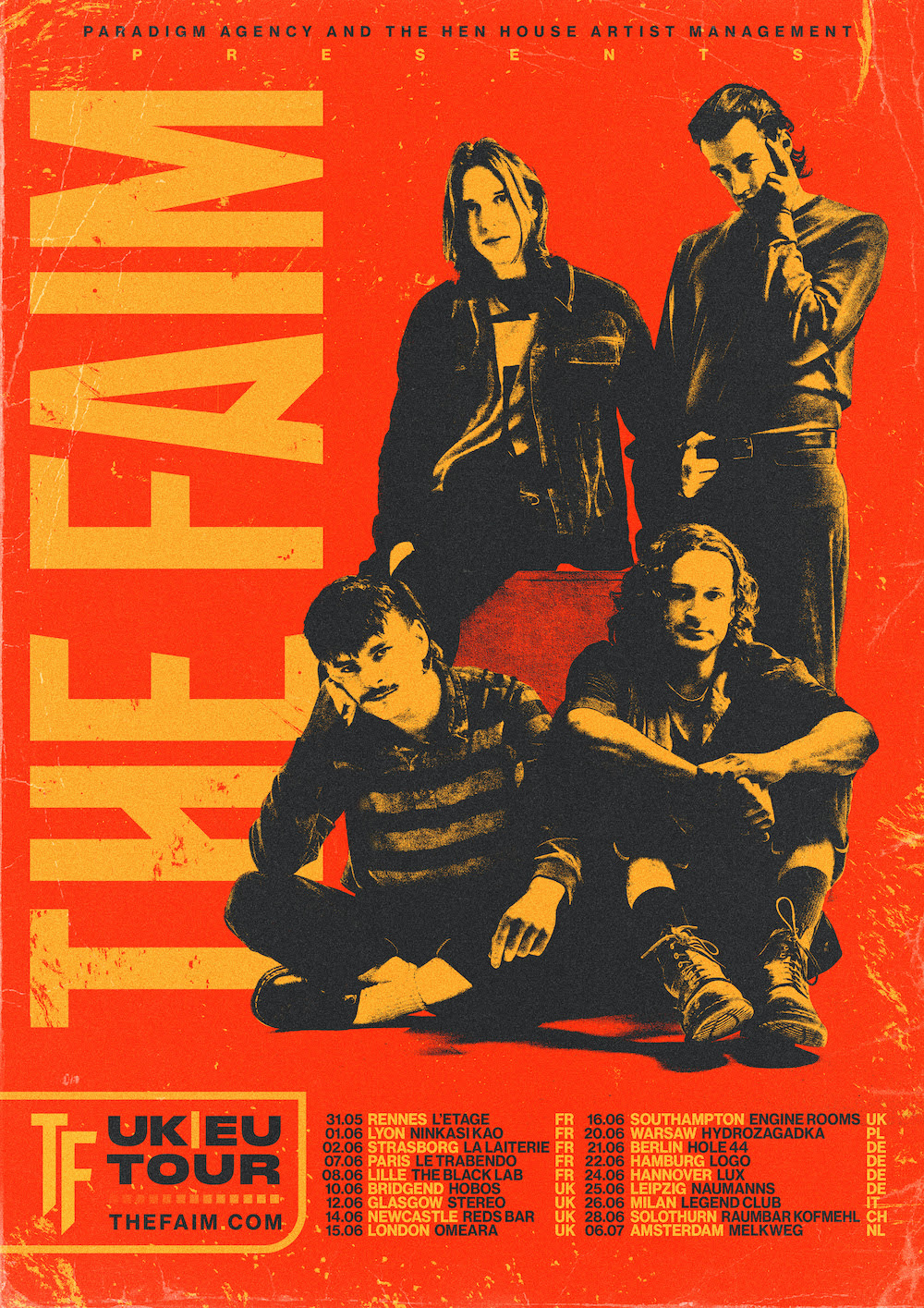 TOUR ART