STRAY FROM THE PATH announce UK headline tour for November!
Support on the tour comes from Make Them Suffer, Void of Vision and Knosis
New album, 'Euthanasia', is out now on UNFD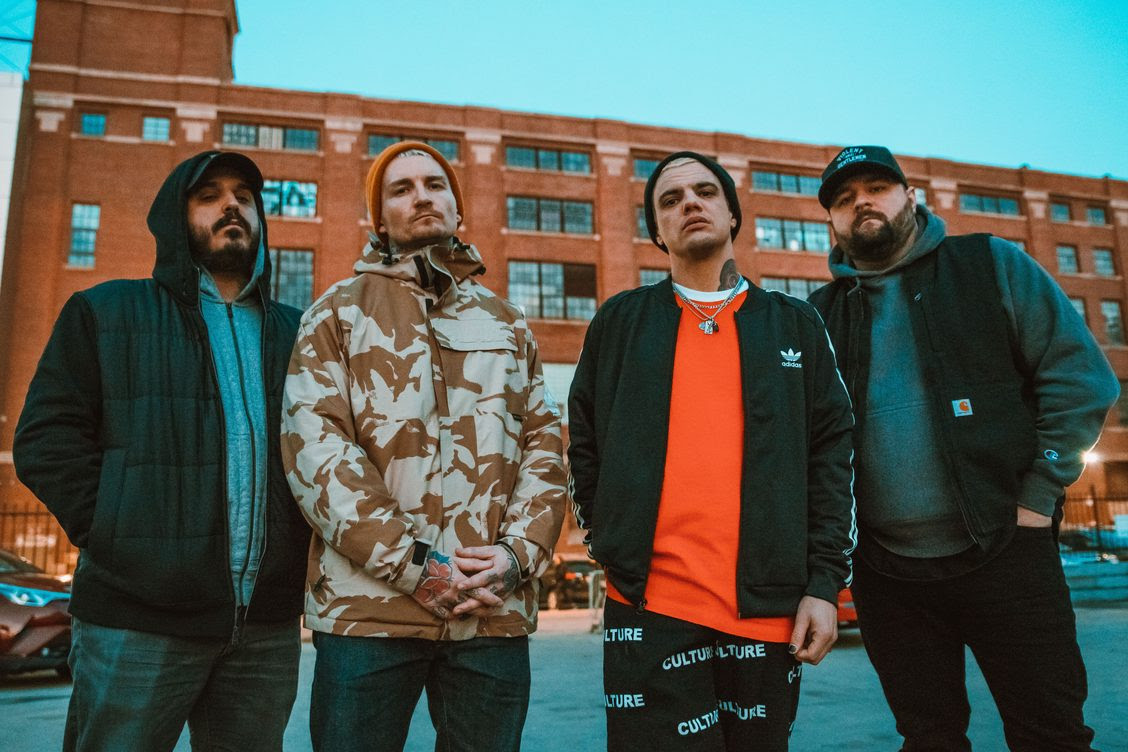 Stray From The Path, who are set to perform at this weekend's Download Festival, have announced details of a UK headline tour for November. The six-date run, features support from Make Them Suffer, Void of Vision and Knosis.
UK HEADLINE SHOWS
NOVEMBER
06: BRISTOL SWX
07: BIRMINGHAM The Mill
08: MANCHESTER Academy 2
09: LEEDS Stylus
10: GLASGOW Garage
11: LONDON Electric Brixton
Tickets on sale:
June 12th at 10AM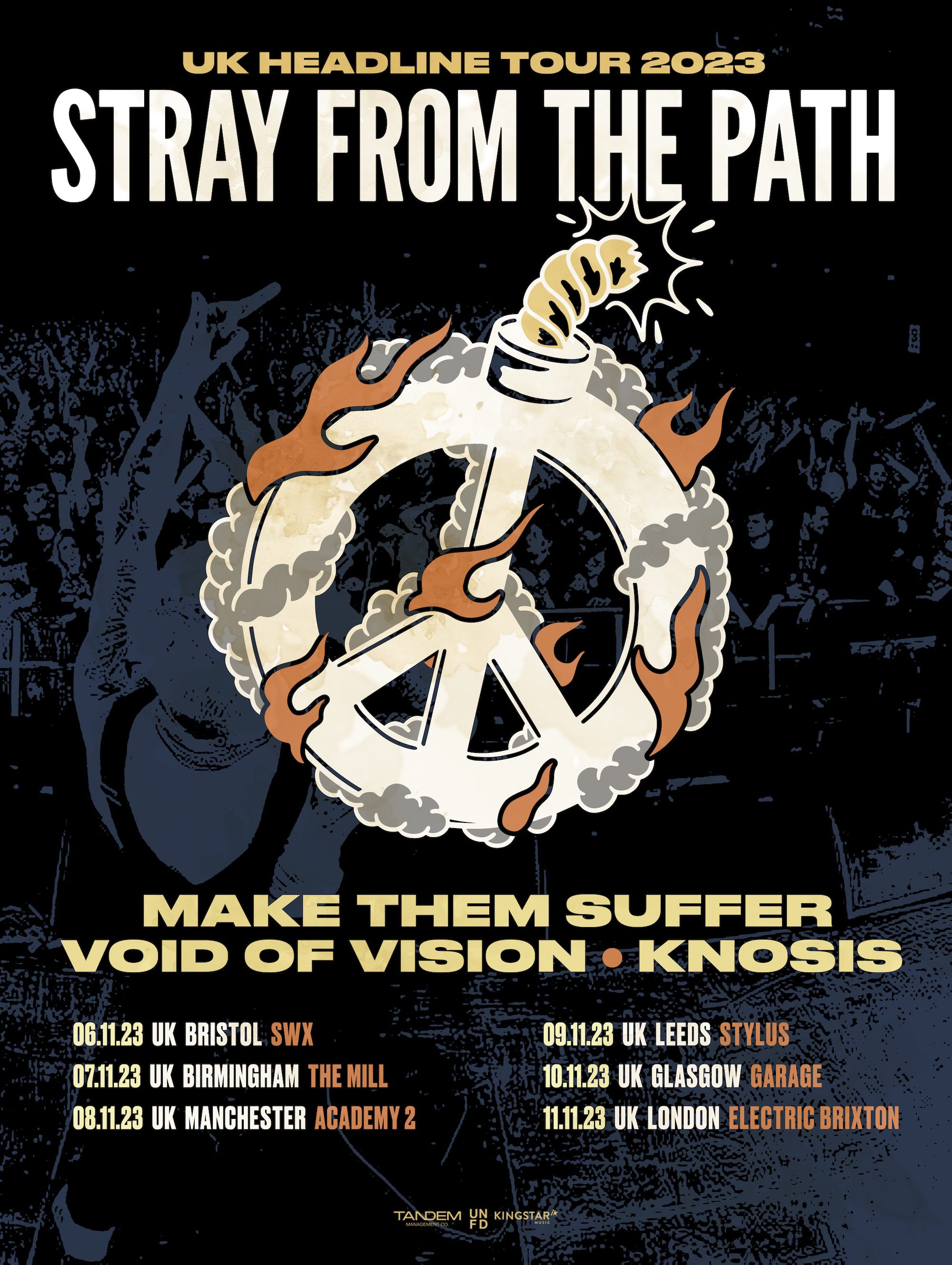 The band's new album, Euthanasia, is the darkest and heaviest work of the band's career, drawing on challenging circumstances to create a record that pulls no punches sonically or lyrically. The album pushes Stray From The Path's signature blend of groove and aggression into adventurous and ominous new territory, proving that the long-running group are just as fiery as ever.
Stray From That Path's drummer, Craig Reynolds, recently celebrated the album's release in New York City, sitting in for band leader Fred Armisen as part of the long-running rotating drummer program on Late Night With Seth Meyers. The highly accomplished musician, who also hosts the acclaimed Downbeat Podcast, performed all week with the 8G Band, with the episodes airing weeknights on NBC.
STRAY FROM THE PATH – 'Neighborhood Watch' (Official Music Video)

BIOGRAPHY:
Stray From The Path have been unleashing their furious blend of hardcore aggression and outspoken socio-political lyricism for over a decade, striving to be the kind of band that can offer an entry point to both heavy music and radical ideas, and achieving an impressive level of longevity in the process. New album, Euthanasia, finds the NY/UK-based group in significantly darker territory. Fractured by unprecedented circumstances, physical distance, and even a literal broken back–Stray From The Path managed to turn these challenges into their most ferocious and compelling record to date.
It's easy to understand why Stray From The Path–guitarist Tom Williams, vocalist Drew Dijorio, bassist Anthony Altamura and drummer Craig Reynolds, have a grimmer outlook, Euthanasia comes from a place of personal and external frustration for the band members. "We were watching the world fall apart, stuck at home, not able to tour–which was the least of the problems of course, but we were just starting to feel deflated," Williams says. "Sometimes I would hit up Craig with a riff and he wasn't even sure if he wanted to play drums anymore, or he would send me drum parts and I'd be like, 'I haven't even touched the guitar in two months.'" Reynolds agrees that things were looking bleak, adding, "I was in a really bad place personally, and with no jobs, no shows, no nothing–I was just miserable." As so many did during the peak of the pandemic, Reynolds and Williams turned to the internet to bridge the gap of interpersonal connection, and to try to find the creative spark again.
"Tom convinced me to try streaming on Twitch," explains Reynolds. "I started playing drums on there and from the very first stream I just immediately remembered why I love doing this. Something about being able to interact with an audience again really reignited the fire in my belly for playing." Williams soon began playing guitar on streaming as well, and it wasn't long before the two had built a following on the platform. "We started to get the idea that maybe it would be interesting to let people watch us try and write a new record," he says. "Craig would wake up in the UK, stream himself working on new drum parts for me, then I'd wake up and start messing with what he'd sent. We even had people throwing out ideas in the chat." Slowly but surely an album began to come together, with an unexpected community of fans along for the ride. "It was really cool for people to see us trying things," Reynolds says. "Even if it didn't get used or we made mistakes, the chat was always really positive."
This unusual writing process was creatively revitalising, but the pandemic and distance weren't the only roadblocks to making Euthanasia. Right before the band were set to return to the studio with longtime collaborator Will Putney, Reynolds suffered another massive setback: "I was in London getting my visa sorted so I could go to the studio the next month, and I fell off an embankment and broke my back." The injury instantly derailed all studio plans and left the band in yet another purgatory while Reynolds worked to get back into playing condition. "It was the most minor way you can break your back, but it's still breaking your back. I was mobile but I couldn't twist," he explains. "Luckily, a former drum student of mine helped me get into physio ahead of schedule. I probably ended up playing sooner than I should have but that was the situation." When all four members of Stray From The Path finally convened together with Putney, it had been just shy of two years since they'd last been in the same room.
The resulting album is clearly the work of a more weathered and visceral Stray From The Path, as evidenced by Euthanasia's ominous opener, 'Needful Things.'  "That was the first song we wrote," explains Williams. "Craig sent me that crazy drum beat and it took me a really long time to write something to it, but eventually I landed on this evil sounding riff and that really set the tone." The song explodes with mind-bogglingly heavy guitars and Reynold's impossibly intricate drumming, as Dijorio's instantly recognisable voice–equal parts hip-hop-influenced cadence and biting hardcore roar–spits out a rejection of the ultra-capitalist system that creates so much human suffering. "This system wants people to fail," says Williams. "There's people who don't even have the most basic things they need to live and then people in positions of power who just keep making it harder and harder. Sometimes you have to be willing to give up a little bit to make sure other people have what they need, but there's a lot of people who aren't willing to do that."
Rarely offering the listener a chance to catch their breath, Euthanasia rips through track after track of sinister riffs, gut-shaking bass, and powerhouse drumming that defies both reality and the seriousness of Reynold's injury. Dijorio manages to sound unhinged throughout, while still providing genuine hooks amongst all of the aggression and no-punches-pulled lyrics. Many of the songs seek to shine a spotlight on elements of modern life that have become disturbingly normalised, like the insidiousness of copaganda ('III'), the predatory tactics of military recruiters in the United States ('Chest Candy'), or the unmitigated greed of major corporations ('Guillotine').
But Euthanasia doesn't deal exclusively in vitriol. On mid-album standout 'Bread & Roses.' the band teams with Stick To Your Guns vocalist Jesse Barnett to stretch their creativity in a different direction. "This song was inspired by people, like Jesse, who do mutual aid work and make sacrifices in their own lives for the betterment of their communities," explains Williams. "We knew we wanted to have him on the track, and it ended up being the first time we've ever had clean singing on a Stray song." The unexpectedly melodic guitar work of the song's verses builds up to a tidal wave chorus powered by Barnett's soaring harmonies; it's a glimmer of sonic brightness that fittingly matches the song's plea for compassion in an increasingly selfish world. The respite doesn't last long, however, as Euthanasia hurtles through vicious tracks like 'Law Abiding Citizen' and 'The Salt In Your Spit'–the former a groove-laden airing of grievances aimed at countless unpunished societal bad actors, while the latter interweaves spaced-out dynamics with Dijorio's vein-bulging condemnation of political complacency.
The album comes to a close with 'Ladder Work,' which is a descent into some of the bleakest and most intense territory Stray From The Path have ever entered. Clocking in at a sprawling six and a half minutes, the track churns and twists from discomfortingly quiet atmospherics into walls of distortion, all blending with turntable gymnastics provided by Vein.fm's Benno Levine. It's a fittingly apocalyptic ending to a record that takes a hard look at the many missed opportunities to steer towards a better and more equitable world. "Over the pandemic there was this brief moment where it kind of seemed like there could have been a turning point," says Williams. "It seemed like something could have changed. But instead sometimes it just feels like it's the end of the world. This song was coming from that place of frustration, the feeling that maybe everything is so messed up that we need to scrap it and try again." As the song's final towering breakdown slowly fades into the sound of roaring flames, the only option is to hit play again, and start building something new from the ashes.
STRAY FROM THE PATH – 'III' (Official Music Video)