LIKHEIM – ALT SKAL SVINNE HEN…
Launching 
Underground Kvlt Records
, the new subsidiary of renowned black metal label, 
Odium Records
, are 
Likheim
 – a chilling distillation of the essence of harsh, atmospheric Norwegian black metal – with their debut EP, 
Alt Skal Svinne Hen…
, meaning 'all shall disappear'. With Underground Kvlt being created to help unearth the dark treasures of the black metal underground, there couldn't be a more fitting first release than Alt Skal Svinne Hen… with its ice storm of unrelenting riffs and enthralling atmosphere of isolation and solitude.Originally formed by vocalist 
Gretn
, who still shapes the band's vision to this day, Likheim summon the mesmerising intensity of black metal's frozen heart. Assisted by guitarist 
Umarlak
 (
Eradication
) and bassist 
Gamle Erik
 (
Carpathian Forest
, 
Svarttjern
) Gretn has brought his dreams to life and made Alt Skal Svinne Hen… a formidable, elemental force of nature's cruellest aspects. The experience begins with the sky-borne charge of the title track, rampaging through portentous storm clouds, on into the raw wickedness of '
Smerte
' and the cold embrace of '
Taakens Kall
' before the overwhelming magnificence of '
Stormen
' provides the perfect climactic conclusion. Equal parts harsh, skin-flaying ferocity and haunting, all encompassing atmosphere Alt Skal Svinne Hen… is a staggering start for both band and label.
Underground Kvlt will unleash the tempest of Alt Skal Svinne Hen… on May 30th, bringing a new and endless winter to the world. Likheim will thunder across the frozen landscape, a bone-shattering howl of triumph and vengeance echoing in their wake. And already they plot to plunge the world into even deeper darkness, as a full length album and new label are stirring in the shadows. There is no end in sight…
Hear the title track of Alt Skal Svinne Hen… now at the Odium Records YouTube channel…
https://www.youtube.com/watch?v=umxmGYnBn3Q
Visit Likheim on Facebook
For more information on Likheim click here
Visit Odium Records/Underground Kvlt Records here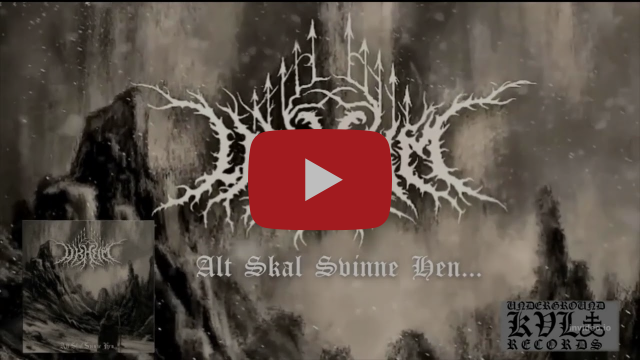 LIKHEIM – ALT SKAL SVINNE HEN…