IMPERIAL TIDE SHARE VIDEO FOR NEW SINGLE "OFF THE LEASH"
Via Mascot Records / Mascot Label Group
Check out the video HERE
Stream 'Off The Leash" HERE
Also check out previous single "Slip."
Imperial Tide – "Off The Leash" (Official Music Video)
L.A and Las Vegas-based hardcore outfit IMPERIAL TIDE — Landon Hill, vocals; William Barber, guitar; Keene Dadian, guitar; Tanner Galambas, bass; and Russel Schoenbeck, drums — have shared the video for their crackling-with-intensity new single "Off the Leash." Watch it here.
The video is meant to grab your attention — and keep it — minus any BS or artifice. "We wanted to make a music video that the audience could immediately identify who we were as a band," says Hill about the visual. "No glitz or glamour — just raw, black and white, and in your face. We made the point to film this video entirely by ourselves, with no filter between us and the fans."
Regarding the deeper meaning behind the song, Hill continues, "'Off the Leash' is about cutting off those around you with disingenuous motives. We build a support system through life and sometimes those we surround ourselves with don't have the drive or intentions to match. The lyric 'All Bark, No Bite' explains how some people just want to talk about what they want…but we're here to take action 'with nothing left to lose.'"
"Off the Leash" follows last year's "Slip."  An unholy union of crunchy riffs, booming bass, and breakdowns, Imperial Tide champion an independent mindset in all aspects of their music. The group has built itself from the ground up. They screen-print their moniker on their own t-shirts, hang it on the banisters they build from scratch, and conceptualize it in visual metaphors they film themselves.
Comprised of five childhood friends with a range of experience in the music industry — musical production degrees, experience with web design and animation, hands-on merchandise production, and more — Imperial Tide have mined the depths of emotional turmoil and existential crisis in order to create music that challenges convention and alters perceptions, screaming in defiance at any and all who would try to oppose their reign. Early live appearances have included Rockville 2021 and the SO WHAT? Music Festival, as they gear up to take the US by storm in 2023.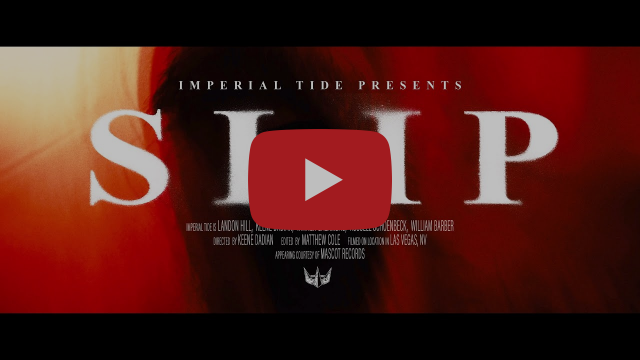 Imperial Tide – "Slip" (Official Music Video)