2000TREES FESTIVAL 2023 announces a further 50 bands for the 2023 event including Skindred, Deaf Havana, Empire State Bastard, The Bronx, Kid Kapichi, Chelsea Grin, Martha, Casey, One Step Closer, Meat Wave, The Xcerts, High Vis, Witch Fever and many more
These artists join an already stacked line up that includes main stage headliners Frank Carter & The Rattlesnakes, Hundred Reasons, Rival Schools, The Wonder Years, Bob Vylan, Loathe, Holding Absence, Cancer Bats, Joyce Manor and more
DATES FOR 2023 ARE:
WEDNESDAY 5TH/ THURSDAY 6TH / FRIDAY 7TH / SATURDAY 8TH JULY
TICKET LINK IS HERE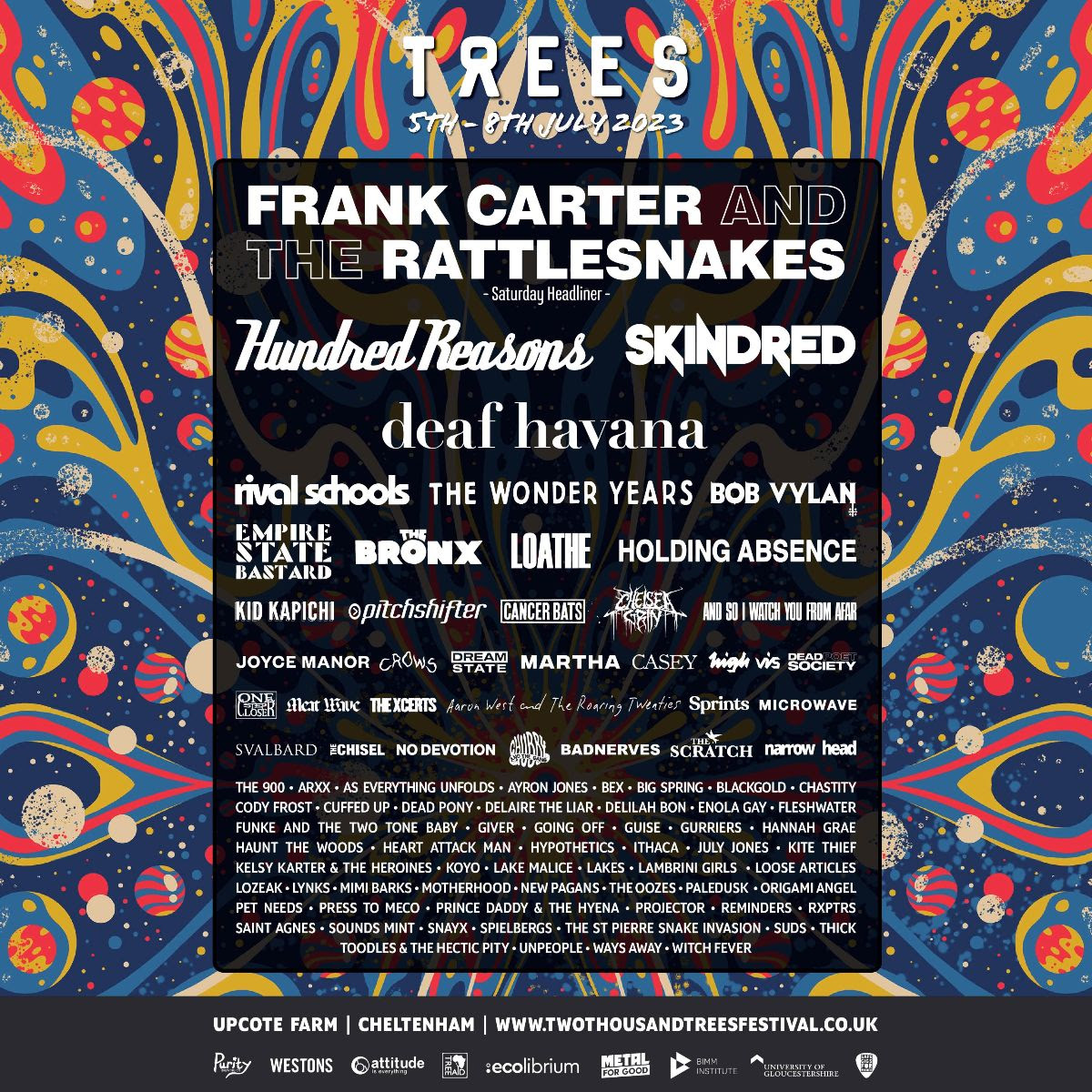 2000trees Festival 2023
Today, January 31st 2023, the brilliant multi award winning 2000trees Festival can announce a whopping 50 further artists, acts and bands for their 2023 event. The festival takes place between Wednesday 5th July and Saturday 8th July at Upcote Farm near Cheltenham and followed up its 2018 Festival Award for Best Medium Sized festival with the same award in 2022.
Joining an already brilliant line up include Welsh party starters Skindred, who are unbelievably playing their first ever 2000trees, returning heroes and 2000trees favourites Deaf Havana.  Also announced are Empire State Bastard, a band that features Simon Neil from Biffy Clyro and Mike Vennart from Oceansize. One of the finest modern punk bands ever, The Bronx will be performing at the festival, Hastings 4 piece Kid Kapichi return with a brilliant debut album 'This Time Next Year' under their belts and Salt Lake City metalers Chelsea Grin make their festival debut.
Also announced today include some of 2000trees most beloved UK acts (Casey, The Xcerts, Martha, New Pagans), some rising stars of rock and hardcore (High Vis, One Step Closer, Fleshwater, Bad Nerves), some exciting new artists from across the genres (Witch Fever, Mimi Barks, As Everything Unfolds, Lake Malice, Cody Frost, Lynks) and some must not miss US acts (Prince Daddy & The Hyena, Meat Wave, Narrowhead).
From 2000trees Festival organiser James Scarlett – "Not only have we added some huge bands in Skindred, Deaf Havana and instant-legends Empire State Bastard, but we're stoked to be bringing even more of the most exciting up-and-coming artists to 2000trees 2023. It's just going to get bigger and better, don't sleep on it if you want to join us. 4 Day Tickets will be the first to go and that'll be sooner rather than later!"
The full list of bands being announced today (Jan 31st) are:
 Skindred / Deaf Havana / Empire State Bastard / The Bronx / Kid Kapichi / Chelsea Grin /  Martha / Casey / One Step Closer / Meat Wave / The Xcerts / High Vis / Witch Fever / As Everything Unfolds / Cody Frost / Prince Daddy & the Hyena / Cuffed Up / Narrow Head / New Pagans / Dead Poet Society / Mimi Barks / Fleshwater / Lake Malice / Lynks / Ayron Jones / Bad Nerves / The 900 / ARXX / BEX / BLACKGOLD /Funke and The Two Tone Baby / Giver / Going Off / GUISE / Hannah Grae / Haunt the Woods / Kelsy Karter & The Heroines / Kite Thief / Lakes / Loose Articles / Lozeak / Motherhood / Origami Angel / Paledusk / PROJECTOR / Reminders / RXPTRS / SUDS / unpeople/ Toodles & The Hectic Pity
And the FULL list of currently announced bands for 2000trees Festival 2023 so far:
Frank Carter & the Rattlesnakes / Empire State Bastard / Hundred Reasons / Skindred / Deaf Havana / Rival Schools / The Wonder Years / Bob Vylan / The Bronx / Loathe / Holding Absence / Kid Kapichi / Pitchshifter / Cancer Bats / Chelsea Grin / And So I Watch You From Afar / Joyce Manor / Crows / Dream State / Martha / Casey / One Step Closer / Meat Wave / The Xcerts / High Vis / Witch Fever / Aaron West and The Roaring Twenties / Sprints / Microwave / Svalbard / The Chisel / No Devotion / Chubby & the Gang / The 900 / ARXX / As Everything Unfolds / Ayron Jones / Bad Nerves / BEX / Big Spring / BLACKGOLD / Chastity / Cody Frost / Cuffed Up / Dead Poet Society / Dead Pony / Delaire The Liar / Delilah Bon / Enola Gay / Fleshwater / Funke and The Two Tone Baby / Giver / Going Off / GUISE / Gurriers / Hannah Grae / Haunt the Woods / Heart Attack Man / Hypothetics / Ithaca/ July Jones / Kelsy Karter & The Heroines / Kite Thief / Koyo / Lake Malice / Lakes / Lambrini Girls / Loose Articles / Lozeak / Lynks / Mimi Barks / Motherhood / Narrow Head / New Pagans / The Oozes / Origami Angel / Paledusk / Pet Needs / Press to MECO / Prince Daddy & the Hyena / PROJECTOR / Reminders / RXPTRS / Saint Agnes / The Scratch / Sounds Mint / SNAYX / Spielbergs / The St Pierre Snake Invasion / SUDS / THICK / unpeople / Ways Away/Toodles & The Hectic Pity
TICKETS HERE / 2000Trees Festival Information
———————-
WHERE:
2000trees Festival is located on Upcote Farm, near Cheltenham,
Gloucestershire. GL54 4BL
WHEN:
Wednesday 5th / Thursday 6th / Friday 7th / Saturday 8th July 2023
———————-
SKINDRED
DEAF HAVANA
MARTHA
THE BRONX
CODY FROST
MIMI BARKS