WILLIAM THE CONQUEROR 
NEW SINGLE 'THE PUPPET AND THE PUPPETEER' OUT NOW
NEW ALBUM 'EXCUSE ME WHILE I VANISH' OUT 28TH JULY ON CHRYSALIS RECORDS 
UK HEADLINE TOUR IN OCTOBER
UK FESTIVALS & EU SHOWS WITH NATHANIEL RATELIFF & THE NIGHT SWEATS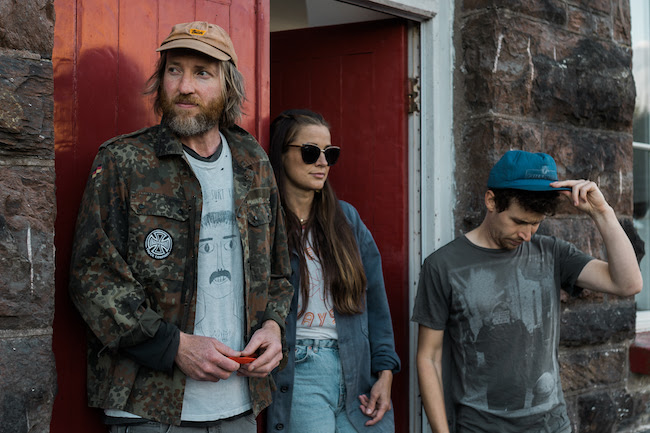 William The Conqueror have today unveiled their new single 'The Puppet and the Puppeteer'. Taken from their forthcoming album 'Excuse Me While I Vanish', out 28th July on Chrysalis Records, the track is the follow-up to last month's single 'Somebody Else'. Produced by the band in a playground of vintage gear and mixed by Barny Barnicott (Arctic Monkeys, Sam Fender, Kasabian), the ten tracks on 'Excuse Me While I Vanish' marry earworm tunes with insistent, imperious, soaring rock shapes, punctuated by chorus hooks that are simultaneously nuanced and anthemic. William The Conqueror, who played an intimate and sold-out album preview show last week, have confirmed a full UK tour in October. The band will also appear at The Great Escape in Brighton on Thursday 11th May.
LISTEN TO NEW SINGLE 'THE PUPPET AND THE PUPPETEER'
WATCH NEW SINGLE 'THE PUPPET AND THE PUPPETEER' (RECORDED AT MARSHALL STUDIOS)
"'The Puppet and the Puppeteer' could be a Jekyll and Hyde or Frankenstein's monster story—about wrestling with or losing control of your creation—who controls whom," explains frontman Ruarri. "I definitely feel like William has the upper hand sometimes." Harry and Nae add, "It's a favourite for us in our live shows. It deserves to be played loud, on a big sound system. You can bring the hustle, the mosh and the lighter sway to this party."
'Excuse Me While I Vanish', very nearly didn't happen. Following the imposition of lockdown restrictions, Joseph found himself cocooned at home in Cornwall, ruminating on an uncertain creative future, watching on as his wife Mandy, a valiant mental health social worker, engaged with the all-too-real dilemmas of the pandemic-riven here and now. Her example motivated Joseph to become a temporary care worker, an experience which would provide renewed focus and influence the songwriting on the new album.
"My wife was insomniac for the first six months of lockdown, which made it impossible for me to moan or grieve the fact that everything I'd been working on for the last five years had come to a standstill. It was a much-needed perspective and made me realise what a selfish undertaking William had been – navel-gazing with my head in the clouds when what people needed was boots firmly on the ground, preferably on the feet of someone like Mandy."
William The Conqueror's fourth album finds the indie-rock trio firing on all cylinders as Joseph confronts the thin line between creativity and madness, inspired by compassion for the real-life angels of the world. Ruarri's compelling semi-spoken vocals and swamp-blues-Seattle-scuzz guitars are propelled by the rhythm section of Naomi Holmes (bass) and Harry Harding (drums) as 'Excuse Me While I Vanish' delivers an effortlessly winning blend of melody and ensemble dynamics, the most accomplished and undeniable William The Conqueror album to date.
William the Conqueror live:
Fri 26 – Bearded Theory Festival – Catton Hall, UK
JUNE
Tue 20 – Live Music Hall – Cologne, Germany *
Wed 21- Huxley's – Berlin, Germany *
Fri 23 – Arena – Vienna, Austria *
Sun 25 – Backstage Werk – Munich, Germany *
Mon 26 – Kaufleuten – Zurich, Switzerland *
Wed 28 – Cabaret Sauvage – Paris, France *
*with Nathaniel Rateliff & The Night Sweats
OCTOBER
Fri 6 – Princess Pavilion – Falmouth, UK
Tue 10 – Cavern Club – Exeter, UK
Wed 11 – Green Door Store – Brighton, UK
Fri 13 – Lower Third – London, UK
Sat 14 – Esquires – Bedford, UK
Sun 15 – Yellow Arch Studios – Sheffield, UK
Tue 17 – Sneaky Pete's – Edinburgh, UK
Wed 18 – Cluny 2 – Newcastle, UK
Thu 19 – Deaf Institute – Manchester, UK