VUKOVI have announced their biggest headline
UK and European tour for October 2022
The bands brand new album 'NULA', released on October 7th, 2022 through LAB Records, pre-order HERE
Scottish 2 piece VUKOVI have today announced their biggest headline tour for UK and Europe for this October. The band also recently announced details on their new album NULA, which is out the 7th October via LAB Records.
Speaking about the tour Janine said 'Equally excited, proud and apprehensive having our biggest headline tour to date go on sale during such economically hard times but we believe in our music, our message and our fans. It is going to be an unforgettable experience'
You can see the band at the following dates:
12th October- Stylus, Leeds – Tickets
13th October – Academy 2, Manchester- Tickets
14th October – Garage, London- Tickets
16th October – Chalk, Brighton- Tickets
17th October – Fleece, Bristol- Tickets
19th October – Institute 2, Birmingham- Tickets
21st October – Goldener Salon Hafenklang, Hamburg- Tickets
22nd October – Privat Club, Berlin- Tickets
23rd October – MTC, Köln- Tickets
25th October – Les Etoiles, Paris- Tickets
26th October – Patronaat 23, Haarlem- Tickets
29th October – Student's Union, Newcastle- Tickets
30th October – SWG3, Scotland- Tickets
Tickets on sale Friday 17th June at 10am
As well as announcing new album NULA the band released their huge, brand new single and video 'HADES', which got its world exclusive first play on Radio 1 with Clara Amfo.
Watch the video HERE or click on the image below: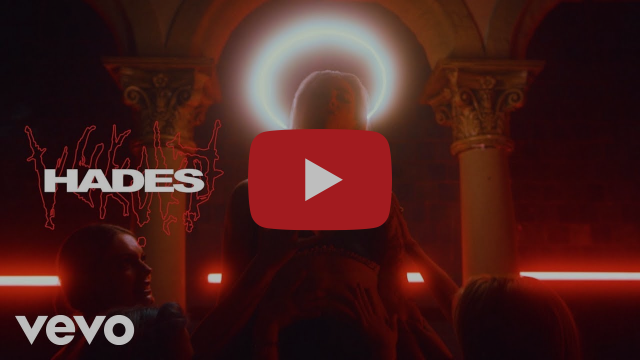 VUKOVI are an ambitious band, and 'NULA' is an ambitious record, filled with big, punchy riffs amalgamated with extreme pop that has made them such a band to be reckoned with. The record has a careful sonic blending of nu metal, shoegaze, rock, punk, pop, electronics and samples, "I've had so much fun making this record," says Hamish (Reilly), "I sometimes think I can overcomplicate my playing, just because I need to keep myself interested. But I've gone all out on NULA, and everything that is there is something that needed to be there."
Now a two piece, vocalist Janine and guitarist Hamish are VUKOVI, and have spent these strange two years gone plotting in their Glasgow base. 'NULA' is, as vocalist Janine explains 'A concept record', which charts the journey of this character (called Nula) in a distant, far off, Sci-fi world. "Growing up I was obsessed with the likes of Akira, Batman: The Animated Series, Arkham Asylum: A Serious House on Serious Earth, The Alien franchise, Star Wars, all massive influences of mine."
The whole record starts with an announcement of interplanetary travel. Nula (the character) is a captured extraterrestrial that's now the property of a nefarious capitalist. 'NULA' (the album) picks up 25 years after her capture. And in-between there's all sorts of comment on themes of trauma, violence, lust, and revenge. Fittingly for a record as bold in its ambition as 'NULA' is, it's not a record that only looks inward – there are big themes being explored on the album. It's 2022. The world is ablaze, how could there not be? "I think about what's happening in the world too much," says Janine. "The way the rich are getting richer and the poor getting poorer. The greed. The cruelty. There's a lot of that on the record, and in Nula's story."
As well as being sonically ambitious, the album is incredibly, lyrically mature and astute, with the anthemic synthetic pop of the excellent 'SLO', which deals with singer Janine's diagnosis of Obsessive Compulsive Disorder. "It's almost like a love letter to something I hate, something that's caused me so much suffering. But it's also me wondering if I would cease to exist if it was removed from me. Or the heavy and heady rush of 'I Exist', which sees Janine push through the pain of mental illness and realise that she is worthy of life and deserving of joy. "I'm really interested in exploring the idea of joy," says the singer. "I've had enough misery in my life. There's a song I really like early on in the record called 'Quench', which is about sexual liberation from a woman's perspective, which I don't think we hear about enough."
'NULA' track-listing:
1. DEPARTURE
2. TAINTED
3. LASSO
4. QUENCH
5. SLO
6. I EXIST
7. ATTENTION
8. SHADOW
9. HADES
10. KILL IT
11. HURT
12. SAD
13. XX
'NULA' is out on October 7th, 2022 through Lab Records, and new single 'HADES' is
out right now. Pre-order 'NULA' – HERE
————-
See VUKOVI this summer at the following dates:
July 8th – 2000trees Festival (UK)
August 20th – Pukkelpop Festival (Belgium)
September 3rd – Burn It Down Festival (UK)
September 10th – Risefest Newcastle (UK)
————-
A little bit about VUKOVI:
VUKOVI (which means wolves in Serbian) from the West coast of Scotland. They have released two full length albums ('Vukovi' in 2017 and 'Fall Better' in January 2020), with the latest record "Fall Better" debuting at number 1 on the Official Charts Rock & Metal Albums (alongside a sold-out UK headline run on launch week).
The band have built up a very dedicated fanbase through extensive touring in the UK and Europe over the past couple of years, playing slots at the likes of Download Pilot Festival, TITP, TRNSMT, Slam Dunk, Reading and Leeds Festival, 2000 Trees and The Kerrang! Tour. Along with supports for PVRIS and One Ok Rock.
————-
FOR MORE INFORMATION ON VUKOVI, VISIT: