LAUNCH 'ONLY THE STRONG SURVIVE' EP & UK TOUR
WATCH VIDEO FOR SINGLE 'OWN WORST ENEMY' HERE
Following their successful UK headline tour in April this year, modern rock outfit Twister are delighted to be heading back out on the road in support of their brand new EP 'Only The Strong Survive.' Set to be released October 21st 2022.
Having already released two single's Own Worst Enemy and Don't Play Nice, debuting at #2 & #3 in iTunes charts respectively. The band is now excited to be heading back out on the road to show fans new material from the rest of EP, which is available for pre-order here.
Singer and guitarist Stevie Stoker comments: "Twister are evolving and progressing with every release and the momentum we're building on the road is really driving us to bigger and better things in the studio. It's such an exciting time."
Following another session with Mercury Prize & Grammy nominated producer Romesh Dodangoda, 'Only The Strong Survive' will contain two additional singles 'Secrets' & 'Favourite Underdog' which see's the band spread their wings further across multiple genres to bring you something fresh and authentic.
Joining the band on the road at different stages of the tour will be Dan Reed (accompanied by his Trio) in a co-headline capacity as well as Jason Sweeney and the Takeaway Thieves amongst others as main supports… Twister will also be stopping off at some high profile festival slots along the way.
To celebrate the release of their new EP the band are offering a number of special bundles. Firstly a limited edition version of the EP with bonus acoustic tracks that will only be available exclusively for pre-order alongside a ticket for one of their headline shows. Fans will be able to collect their copy ahead of the scheduled release date  at the show of their choice.
The band are also offering a VIP upgrade at all headline shows that allows the ticket holder access to an exclusive 30 minute acoustic set where Twister will be playing songs that haven't made it into that night's setlist.
Lead guitarist Jake Grimes explains: "The first headline UK Tour was a massive success and a great opportunity to showcase what we can bring to any event, we're just delighted to be getting straight back out there and going even bigger and better than last time! "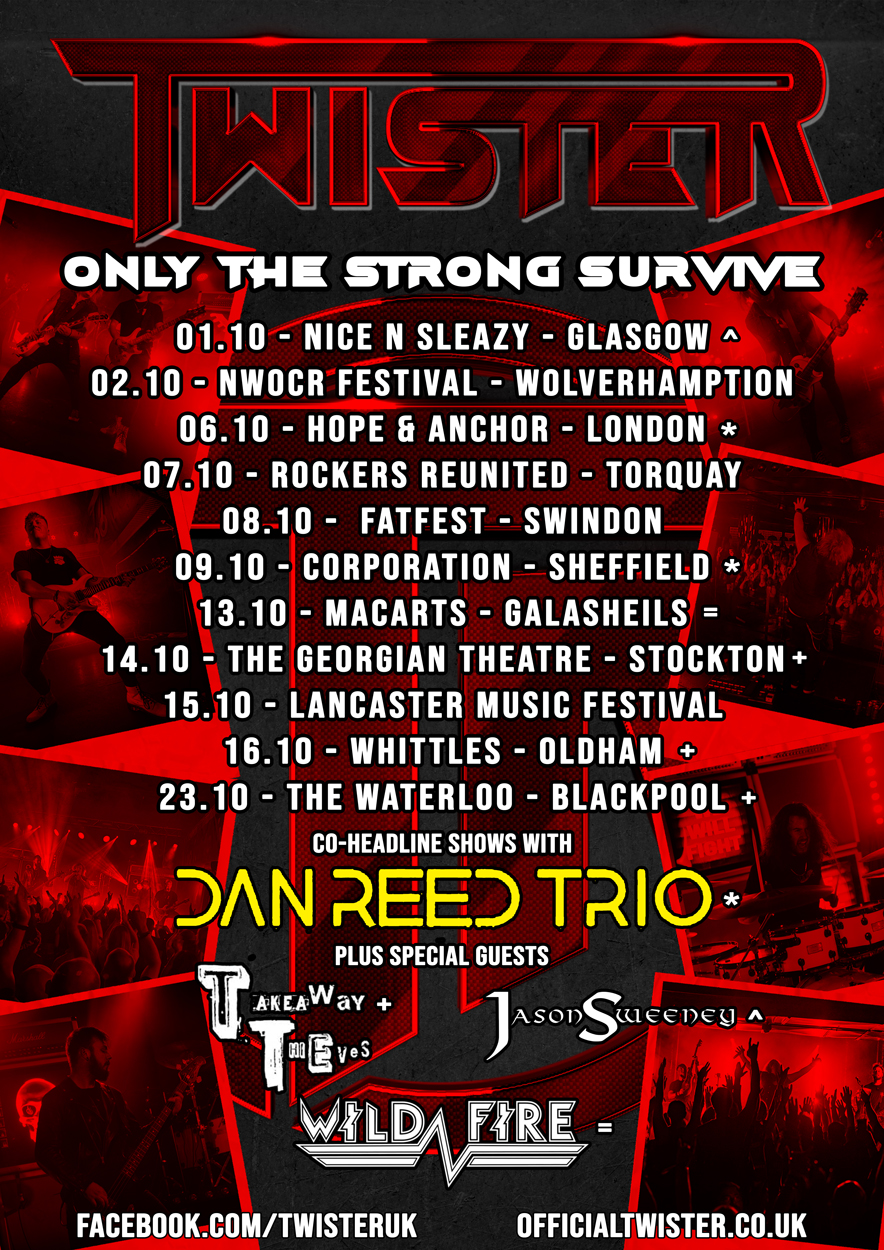 October UK Tour Dates
1st Glasgow – Nice N Sleazy
2nd Birmingham – NWOCR Festival
6th London – Hope & Anchor
7th Torquay – The Victoria Hotel
8th Swindon – Level 3
9th Sheffield – The Corporation
13th Galashiels – MacArts
14th Stockton – The Georgian Theatre
15th Lancaster – Lancaster Music Festival
16th Oldham – Whittles
23rd Blackpool – The Waterloo
Tickets are available on https://www.officialtwister.co.uk/tour-dates
Useful Links