TRIBULATION
RELEASE NEW SINGLE AND VIDEO FOR 'HAMARTIA'
'Hamartia' streaming now
After earning a Swedish Grammis Award earlier this year for their critically acclaimed latest album, Where the Gloom Becomes Sound (2021), TRIBULATION have now returned with a new standalone single and video, 'Hamartia'.

A first recording to feature new guitarist Joseph Tholl, 'Hamartia' was recorded with Robert Pehrsson, mixed by Tom Dalgety (who previously mixed Where the Gloom Becomes Sound), mastered by Magnus Lindberg and comes with artwork by TRIBULATION guitarist Adam Zaars.

Purchase and stream the track, HERE, and watch the video, HERE.

TRIBULATION's Adam Zaars comments on 'Hamartia':
"This is a song about the many shades of the word Hamartia. It's an angry gothic tragedy sonically, and introduces Joseph on guitar. This is the first of a few. We hope you like it!"
TRIBULATION – 'Hamartia'
After a successful run of festivals shows across Europe, North America and South America this summer, TRIBULATION will finally be back on the road starting this week, joining Watain, Abbath and Bölzer on the Chariots of Fire European Tour 2022.

See below for all dates:

Chariots of Fire European Tour 2022
Watain | Abbath | Co-Headliner
Tribulation | Bölzer | Special Guests

Sept
Sept. 15 – Paris (France) – Elysee Montmartre
Sept. 16 – Oberhausen (Germany) – Turbinenhalle
Sept. 17 – Munich (Germany) – Backstage
Sept. 18 – Milan (Italy) – Live Club
Sept. 20 – Toulouse (France) – Le Bikini
Sept. 22 – Lisbon (Portugal) – Lisboa Ao Vivo
Sept. 23 – Madrid (Spain) – La Riviera
Sept. 24 – Barcelona (Spain) – Apolo
Sept. 25 – Lyon (France) – Transbordeur
Sept. 27 – Zurich (Switzerland) – Komplex 457
Sept. 28 – Filderstadt (Germany) – Filharmonie
Sept. 29 – Tilburg (The Netherlands) – 013
Sept. 30 – London (UK) – Troxy
Oct
Oct. 2 – Antwerp (Belgium) – Trix
Oct. 4 – Hamburg (Germany) – Markthalle
Oct. 5 – Copenhagen (Denmark) – Amager Bio
Oct. 6 – Oslo (Norway) – Rockefeller
Oct. 7 – Stockholm (Sweden) – Fallan
Oct. 9 – Helsinki (Finland) – Vanha

Tickets can be purchased HERE.
TRIBULATION's latest, fifth full-length, Where the Gloom Becomes Sound, indisputably elevated the
Swedes to the highest echelons and turned out to be their most expressive and inventive album to-date.

"We immersed ourselves in the world of myth and magic", says guitarist and founding member Adam Zaars. "With a specific focus on elemental magic, and the elements, in general, from both the Western and Indian esoteric traditions, not the Buddhist four elements but the five elements. Myth and magic are obviously not something new in the world of TRIBULATION, but it got a bit more specific on this album. We just present it from a slightly different perspective."

You can purchase and stream Where the Gloom Becomes Sound in full here.

Most recently, TRIBULATION also released the track 'The Dhampir' this past April, as a final sequel to
Where the Gloom Becomes Sound. The 18-minute opus, which is divided into three acts, was only
previously available as a bonus track on the deluxe vinyl version, but now it can be streamed worldwide
online here.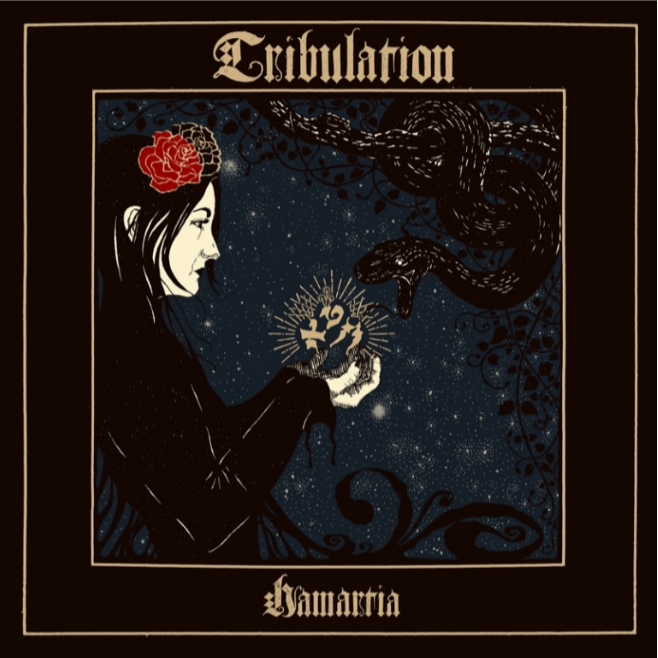 'Hamartia' Artwork
Band Members:
Johannes Andersson – vocals, bass
Adam Zaars – guitars
Joseph Tholl – guitars
Oscar Leander – drums