credit: Tom Hoad
Following the release of the anthemic single 'Joy,' Northern Irish rock outfit, THERAPY? drop their hard-hitting new track 'POUNDLAND OF HOPE AND GLORY'. The track is taken from the new album 'Hard Cold Fire' which is set for release 5th May 2023 via Marshall Records.
The band will also play a run of intimate UK in-store dates coinciding with the album's release. Fans can find more information for in-store tickets HERE, pre-order limited edition bundles of 'Hard Cold Fire' and pre-save HERE.
THERAPY?'s latest opus drips with the confident and regal essence of alternative rock royalty, while simultaneously delivering a sharp and contemporary bite that leaves a lasting impression. The band use their unique sense of socio-political satire to shed light on the dangers of living in an era rife with misinformation. The lyrics are strewn with bleak imagery, serving as a poignant reminder of the pitfalls that await those who blindly accept the narratives fed to them.
"This track started out as a hard take on how people lose themselves in narratives to the point that the myth takes on greater importance than the fact," vocalist/guitarist Andy Cairns exclaims. "Just like the old adage about the liar repeating the lie so much that they eventually believe it themselves, the culture around us is bursting with fairy stories we tell ourselves.
"Metaphor and hagiography surround us, but in a post-truth world, the Walter Mitty character is no longer a harmless fantasist but an incendiary zealot using misinformation and chaos to achieve their goals." Cairns continues adding "It's easy to smirk at middle class parents whose Harry Potter loving kids are sent to private school because of the Hogwarts style uniforms, and easy to eye roll at adults who actually play Quidditch, a fictional sport from a novel written for children, but it's not so easy to stomach the less savoury reinvention of colonialism as a lost paradise to which we should return."
CLICK THE IMAGE BELOW TO CHECK OUT 'POUNDLAND OF HOPE AND GLORY'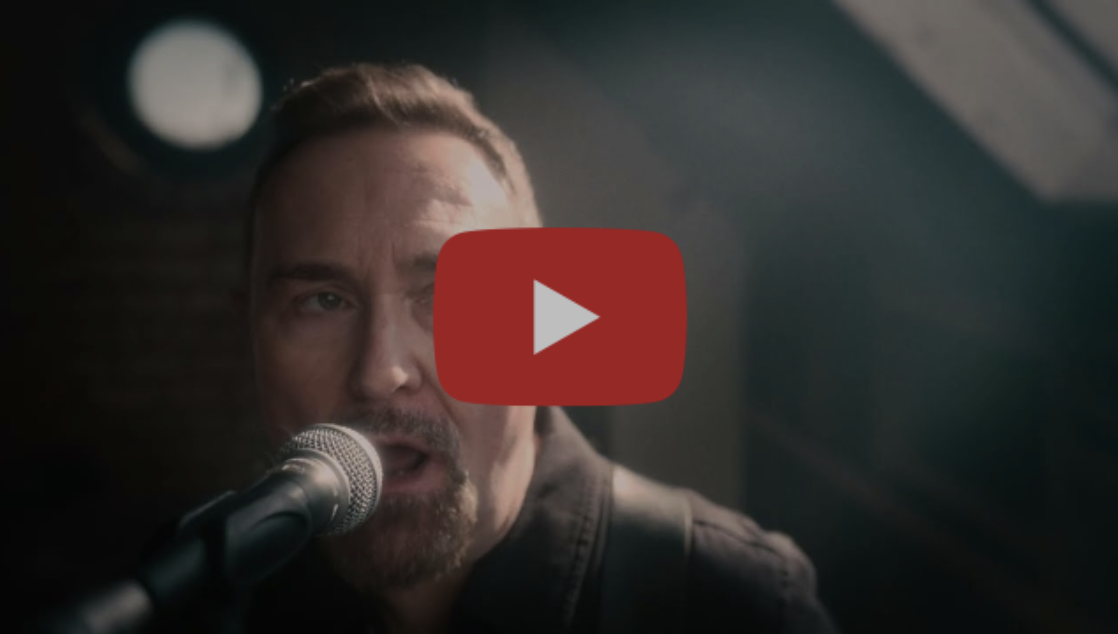 As Therapy?'s fourth decade finally gets underway in earnest, sixteenth album 'Hard Cold Fire', written and pre-produced during an unprecedented time for music, is hefty, compact, and accessible, a distillation of everything that has made them what they are – hewn from County Antrim basalt, still possessed of their stoicism, but casting a renewed focus on catharsis and healing.
"One thing we did decide when we were eventually able to rehearse, was that we didn't want to make a lockdown record," says vocalist and guitarist Andy Cairns, "because people have been through enough.
"When we began to rehearse the songs, we realised there was an empathetic quality to them. We wanted to make something that was a bit more relatable, and less standoffish and claustrophobic – which we have a history of, and it stands in places – but we wanted to make something more approachable and open."
"We wanted this album to be one that felt good to play live, almost a release after this period of stasis, but then also not dwelling on the whole situation – we're moving forward, and we wanted that energy to be there," adds bassist Michael McKeegan.
The serrated, chugging riffage, churning low-end and propulsive rhythms that are hallmarks of the band's sound are all present and correct, but met with a new-found sense of resolution and release, as most readily displayed on the one-two punch of their first single, 'Joy'.
Working once more with renowned producer Chris Sheldon (Feeder, Biffy Clyro, Foo Fighters), a consistent good-luck charm for Therapy? dating back to 1994's breakout album Troublegum, the band decamped to the newly opened Marshall Studios in Milton Keynes toward the end of 2021, working furiously to put the album down in its final form.
"We know Chris. We've got a similar mindset, a similar outlook in life, a similar sense of humour," McKeegan says. "It works well, and it's a very easy, collaborative environment. There's no agenda to making the album, apart from 'let's make this absolutely brilliant'.
While 'Hard Cold Fire' represents the next milestone in the band's ongoing journey, it sits at the front of a long body of work, veering between noise-rock, discord and sparse, groovy experimentation, and million-selling, mainstream-friendly pop and noirish, cinematic vistas.
For long-time fans, this new offering will reward an attentive ear in terms of musical flourishes and Cairns' trademark lyrical substance, but as a finished product, the band has set out to create something that stands alone, and 'Hard Cold Fire' achieves just that.
"There's a reinvigorated feel to the band, as though things are moving forward," adds drummer Neil Cooper. "I'm very excited about people hearing this. It's not just about turning up and performing. Everyone's so invested… we're unbelievably lucky, some bands don't get that privilege, and I appreciate that. We're in a fantastic place."
'Hard Cold Fire' will be released 5th May 2023 via Marshall Records. Be sure to catch Therapy? live on their in-store run this may. Tickets and more information can be found – pre-order limited edition bundles of 'Hard Cold Fire' and pre-save HERE.
UK IN-STORE DATES
MAY
8th – Bristol, Rough Trade
9th – Nottingham, Rough Trade
10th – London, Banquet Records
11th – Oxford, Truck
Tickets – HERE
–
–
'HARD COLD FIRE'
1. They Shoot the Terrible Master
2. Woe
3. Joy
4. Bewildered Herd
5. Two Wounded Animals
6. To Disappear
7. Mongrel
8. Poundland of Hope and Glory
9. Ugly
10. Days Kollaps
–
THERAPY?
Andy Cairns – Vocals/Guitar
Michael McKeegan – Bass
Neil Cooper – Drums
–
CONNECT WITH THERAPY?
Facebook / Twitter / Instagram / Site