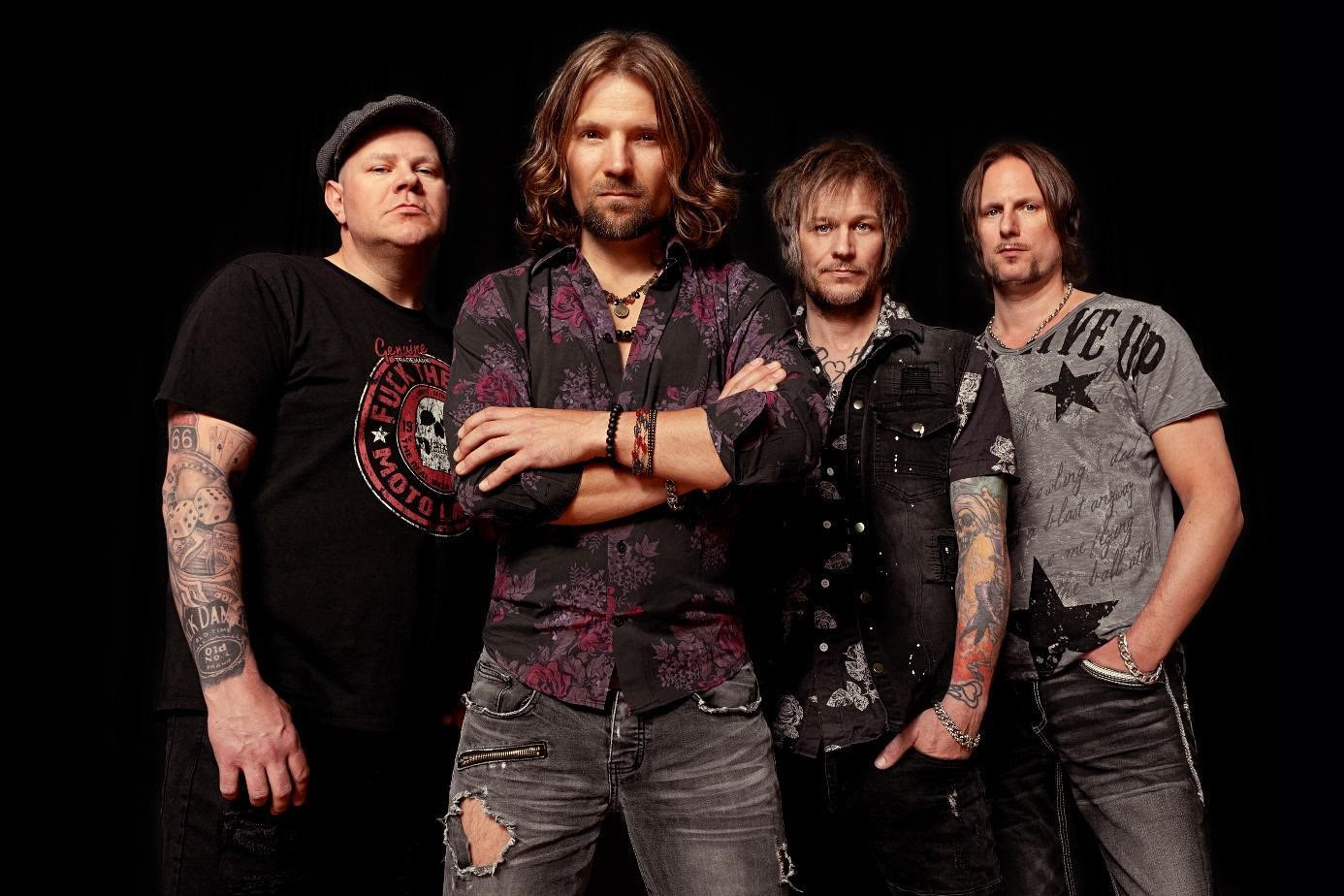 [photo credit: Vera Friederich]
THE NEW ROSES are on the rise – an ode to the glory days of stadium rock!
German rockers THE NEW ROSES return with another jab – the passionate "My Kinda Crazy" from their upcoming fifth studio album, Sweet Poison, out this Friday via Napalm Records.
Within this this glittering piece of classic stadium rock, the band pushes past all limits, delivering one hit after another. Supplying tracks that would make even Bon Jovi proud, it comes as no surprise that their previous release Nothing But Wild entered the top 10 of the German album charts. After performing with and supporting world-famous artists like KISS, Scorpions, Accept and Tremonti, the quartet around Timmy Rough continues their successful journey with their upcoming tour. Before their extensive headline tour in autumn, they also supported rock icons like KISS and Foreigner. Fasten your seat belts and join THE NEW ROSES on their way to the top with Sweet Poison.
Their newest single "My Kinda Crazy" provides a befitting opening to the album with brilliant guitar-driven soundscapes. Despite the tender love song-like lyrics, THE NEW ROSES do not miss their characteristic sonic bang that energetically drives the sound – making this a standout single. With high energy and pure love for rock, they construct an unforgettable sound – so let's go and get it on!
Timmy Rough on "My Kinda Crazy":
"'My Kinda Crazy' is a good mix of positive energy and badass Rock & Roll attitude. It's a song about a toxic love affair that always ends up in a catastrophe, but you just can't get enough of it. So there might be some similarities to some of our after show parties as well. (laughs)"
Watch the new video for "My Kinda Crazy" 
HERE
:
Their newest offering, Sweet Poison, starts off with the brilliant, guitar-driven anthem "My Kinda Crazy" providing a taste of what's to come before blasting into authentic rock-meets-Americana tracks like "Playing With Fire" and "Sweet Gloria". Massive track and album highlight "Warpaint" stages the band's raw power with blazing guitar riffs and powerful drumming, while "The Usual Suspects" and "1st Time For Everything" convince as smooth sing-along hymns with catchy hooks. Tracks like "Dead Of Night" emerge with gloomy power, building atop a distinct melody and leading into a strong anthemic chorus, while THE NEW ROSES offer their softer side with songs such as "All I Ever Needed" – a mighty mid-tempo rock ballad showcasing the band's vulnerability while reviving emotionality alike some of Guns N' Roses most touching ballads. Frontman Timmy Rough passionately serves the full range of his voice on the track, also impressively evident on lyrically tender acoustic offering "True Love".
Sweet Poison is an outstanding rock album providing hit after hit and anthem after anthem, taking 80s retro rock to an extraordinary new level. Brace yourself as THE NEW ROSES shift into high gear, taking you on a ride towards the horizon of stadium rock!
Get your Copy of Sweet Poison 
NOW
!
Sweet Poison Tracklist:
1. My Kinda Crazy
2. Playing With Fire
3. All I Ever Needed
4. The Usual Suspects
5. Warpaint
6. Dead Of Night
7. True Love
9. Sweet Gloria
10. The Lion In You
11. Veins Of This TownSweet Poison is available to pre-order in these formats:
1 LP Gatefold Black Vinyl
1 LP Gatefold Marbled Red Black (limited to 300 copies)
CD Digipak + Wristband
CD Digipak
Digital Album
THE NEW ROSES live:
20.10.22 DE – Bochum / Zeche
21.10.22 DE – Osnabrück / Rosenhof
22.10.22 DE – Aschaffenburg  / Colos-Saal
27.10.22 DE – Nürnberg / Hirsch
28.10.22 DE – Berlin  / Hole44
29.10.22 DE – Leipzig / Hellraiser
04.11.22 DE – Stuttgart / Im Wizemann
05.11.22 DE – München / Backstage Werk
11.11.22 AT – Wien / Szene
12.11.22 AT – Wörgl / Komma
18.11.22 DE – Köln / Kantine
19.11.22 DE – Wiesbaden / Schlachthof
25.11.22 DE – Hannover / Musikzentrum
26.11.22 DE – Hamburg / Markthalle
01.12.22 UK – London / The Underworld
02.12.22 UK – Cardiff / The Globe
03.12.22 UK – Sheffield / Cooperation Winter RocksTHE NEW ROSES are:
Timmy Rough – vocals, guitar
Dizzy Daniels – guitar
Hardy – bass
Urban Berz – drums

THE NEW ROSES online:
WEBSITE
FACEBOOK
INSTAGRAM
TWITTER
NAPALM RECORDS