The Callous Daoboys
Announce new EP – God Smiles Upon The Callous Daoboys –
out 20th October 2023 on MNRK Heavy / Modern Static Records
Listen + watch video for defining new single "Waco Jesus" – HERE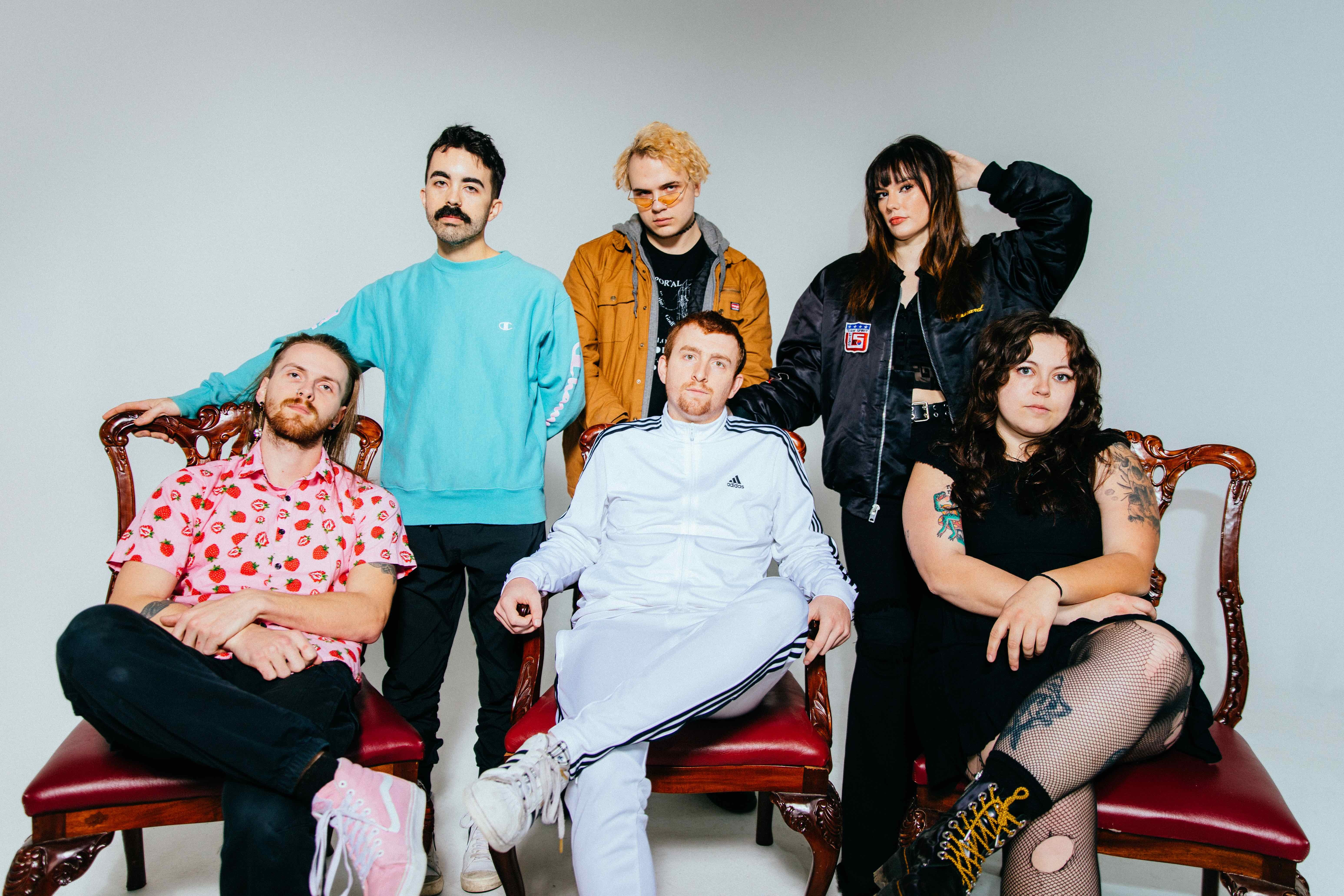 THE CALLOUS DAOBOYS
The Atlanta, GA six piece THE CALLOUS DAOBOYS announces God Smiles Upon The Callous Daoboys, a three-song EP set for release October 20th through MNRK Heavy and Modern Static Records. Following 2022's highly praised and chaotic album Celebrity Therapist, God Smiles Upon… takes the experimental noise the band have become known for and unleashes it into their most confident body of work yet.
Lead single "Waco Jesus," out now, is one of the band's boldest tracks to date – crushingly heavy and infectiously melodic at once. Of course, The Callous Daoboys have always strived to be genre-less and "Waco Jesus" rolls from vibrant hooks to almost Type O Negative style deep vocals, massively creative riffs to wondrous violin. The video for the track embraces the band's fun personality as they host Phantom Phinders, searching for the "suburban spectre" between an absolutely rockstar-worthy performance. You can watch the video for "Waco Jesus" HERE or by clicking the image below and stream the track HERE.
Speaking on the song, vocalist Carson Pace states "Waco Jesus is about insecurity, projecting that insecurity and not doing anything to solve it regardless of how people are telling you to NOT be insecure. It's about being unable to take a compliment."
God Smiles Upon The Callous Daoboys brings forth a seismic shift in sound, direction, and tone for The Callous Daoboys. Being the first self-titled release in their discography, this three-song collection showcases what this group is capable of – breaking ground in innovative and unconventional songwriting, while seamlessly transcending genre limitations. From careening through chaotic breakdowns to belting calculated TRL-inspired hooks, the band leaves it all on the table, flirting with Nu-Jazz, Nu-Metal, and twisting through Salsa to form their most experimental and exciting work yet. There's a brutal honesty to the tracks, with underlying themes of being true to yourself and your art. It's a jumping off point for the band as Pace puts it:
"In a way it feels like the band just started, even though we've been chipping away at it for the last six years. We want to be the defining band of this weirdo genre-swapping heavy music, where you can't put it under an umbrella. I think what's cool about it is it's just immediately like, 'Hey, fuck you, this is The Callous Daoboys!'"
The band will join Protest The Hero and Moon Tooth on a North American tour this fall and will head to Europe with TesseracT and Unprocessed in January 2024. Full dates below.
God Smiles Upon The Callous Daoboys can be preordered HERE. The album will be available on 12" 45RPM LPs, limited to 1000 copies across three variants. The deluxe edition vinyl packaging features a matte cover and die-cut jacket with a photograph spot-glossed pull-out insert. This EP is only being pressed one time on vinyl.
"Waco" Variant – Bandcamp Exclusive limited to 200 copies
"Shroud" Variant – MNRK Heavy Exclusive available in US, EU, UK limited to 600 copies
"Pink Envelope" Variant – The Callous Daoboys US Tour Exclusive limited to 200 copies
God Smiles Upon The Callous Daoboys Tracklist:
1. Pushing The Pink Envelope
2. Waco Jesus
3. Designer Shroud Of Turin (Feat. pulses.)
Tour Dates:
w/ TesseracT + Unprocessed
18-Jan-2024 LU – Esch-sur-Alzette/Rockhal
19-Jan-2024 FR – Villeurbanne/CCO La Rayonne
20-Jan-2024 ES – Barcelona/Sala Apolo
21-Jan-2024 ES – Madrid/La Paqui
23-Jan-2024 FR – Paris/Bataclan
25-Jan-2024 FR – Strasbourg/Laiterie
26-Jan-2024 BE – Antwerpen/Trix
27-Jan-2024 DE – Stuttgart/Im Wizemann
28-Jan-2024 IT – Milan/Alcatraz
30-Jan-2024 CH – Zurich/Komplex 457
01-Feb-2024 CZ – Prague/Palac Akropolis
02-Feb-2024 DE – Munich/Backstage
03-Feb-2024 AT – Vienna/SIMM City
04-Feb-2024 HU – Budapest/Barba Negra Red Stage
06-Feb-2024 DE – Berlin/Columbia Theater
07-Feb-2024 PL – Warsaw/Progresja
09-Feb-2024 FI –  Tampere/Tavara-asema
10-Feb-2024 FI – Helsinki/Tavastia
12-Feb-2024 SE – Stockholm/Klubben Fryshuset
13-Feb-2024 NO – Oslo/Vulkan Arena
15-Feb-2024 DK – Copenhagen/Amager Bio
16-Feb-2024 DE – Hamburg/Gruenspan
17-Feb-2024 DE – Cologne/Carlswerk Victoria
18-Feb-2024 NL – Utrecht/Tivoli Vredenburg Ronda
20-Feb-2024 UK – Nottingham/Rock City
21-Feb-2024 UK – Wolverhampton/KK's Steel Mill
22-Feb-2024 UK – Bristol/O2 Academy
23-Feb-2024 UK – London/O2 Forum Kentish Town
24-Feb-2024 UK – Manchester/O2 Ritz
25-Feb-2024 UK – Glasgow/SWG 2 Studio Warehouse
27-Feb-2024 IR – Dublin/Academy
The Callous Daoboys is Carson Pace (vocals), Daniel Hodsdon and Maddie Caffrey (guitars), Jackie Buckalew (bass), Amber Christman (violin/synths) and Matthew Hague (drums).