TEENAGE WRIST
RELEASE THIRD STUDIO ALBUM
'STILL LOVE'
US HEADLINE TOUR WITH SPIRITUAL CRAMP KICKS OFF SEPT 5
Teenage Wrist by Joe Calixto
"a record that ought to push this band as far into the spotlight as they deserve to be." – 4/5 Kerrang!
"A competent mesh of sleek shoegaze with pangs of 90's era alternative" – Knotfest
"On Still Love, the band has fully found itself – between poppy shoegaze, gruff production and the joy of experimentation." – Visions
"…an album that totally eschews gimmicks or any kind of overbearing tactics, in favor of an ever-reliable palette of solid-gold rock music." – The Soundboard Reviews
Today, Los Angeles band Teenage Wrist reveal their new album 'Still Love' out physically and digitally via Epitaph Records. 
'STILL LOVE' – LISTEN HERE
Having spent the last eight years continually evolving and refining their sound, Still Love represents a fully realized version of Teenage Wrist. Reaching new heights in both scope and execution, their third record is a demonstration of the band maturing as songwriters and musicians. Deftly tackling much more introspective subject matter than their high energy, nihilistic sophomore effort, Still Love chronicles the process and emotional catharsis of learning to love oneself through pensive lyricism.
The writing process started early 2022 with a retreat in Joshua Tree that inspired the band to push the limits of experimentation, allowing a sense of liberation to flow throughout the record and even into the artwork and visuals. Instead of relying on nostalgia, the dynamic between these two musicians drives them to push the limits not only of Teenage Wrist's sound but their own personal forms of creative expression. "We didn't have a preconception about how we were going to be received for this record, so we decided we should just create something organic that we feel completely present making," Salazar explains. "There was no other intent than for us to express ourselves."
The powerful bond between lead guitarist and vocalist Marshall Gallagher and drummer Anthony Salazar lies at the core of Teenage Wrist's music, and that's evident on every moment of Still Love. "There was a certain feeling that music gave me as a kid, and this is honestly the first time – on any record – I feel like we kind of came close to achieving that," Gallagher says, "We just shot from the gut on this record and tried not to overanalyze things… and I think the record speaks for itself."
Still Love Tracklist
1. Sunshine
2. Dark Sky (feat. SA Martinez)
3. Still Love (feat. Softcult)
4. Digital Self
5. Something Good
6. Wax Poetic (feat. Sister Void)
7. Diorama
8. Cold Case
9. Cigarette Two-Step (feat. David Marion)
10. Humbug (feat. Heavenward)
11. Sprawled
12. Paloma a.k.a. Ketamine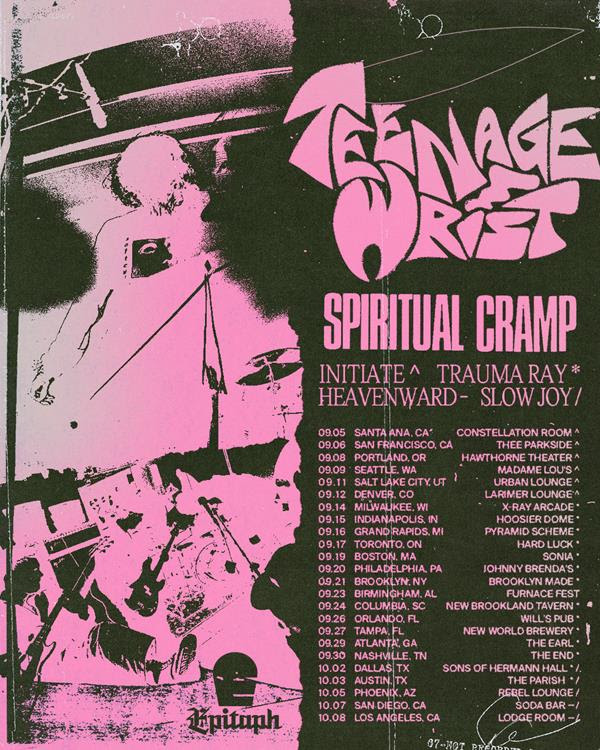 Teenage Wrist Headlining Tour Dates 
09.05 – Santa Ana, CA – Constellation Room
09.06 – San Francisco, CA – Thee Parkside
09.08 – Portland, OR – Hawthorne Theater
09.09 – Seattle, WA – Madame Lou's
09.11 – Salt Lake City, UT – Urban Lounge
09.12 – Denver, CO – Larimer Lounge
09.14 – Milwaukee, WI – X-Ray Arcade
09.15 – Indianapolis, IN – Hoosier Dome
09.16 – Grand Rapids, MI – Pyramid Scheme
09.17 – Toronto, ON – Hard Luck
09.19 – Boston, MA – Sonia
09.20 – Philadelphia, PA – Johnny Brenda's
09.21 – Brooklyn, NY – Brooklyn Made
09.23 – Birmingham, AL – Furnace Fest
09.24 – Columbia, SC – New Brookland Tavern
09.26 – Orlando, FL – Will's Pub
09.27 – Tampa, FL – New World Brewery
09.29 – Atlanta, GA – The Earl
09.30 – Nashville, TN – The End
10.02 – Dallas, TX – Sons Of Hermann Hall
10.03 – Austin, TX – The Parish
10.05 – Phoenix, AZ – Rebel Lounge
10.07 – San Diego, CA – Soda Bar
10.08 – Los Angeles, CA – Lodge Room
Teenage Wrist is Marshall Gallagher (guitar, vocals), and Anthony Salazar (drums).