So, we are kicking tonight off with Archives, now I tried finding out some info on them but could not get anything at all, I would say they gave me real Hatebreed crossed with Killswitch vibes, mixed with the occasional Deathcore section, energetic live and fun to watch, good section of the guys at the front clearly knew their stuff, unfortunately the  guitars where getting lost in the mix over the bass which was way too loud, but was impressed with seeing them for the first time!
Hand of God – Well these guys just walk out and slap you around the head right from the start, brutally heavy sound, and the mix is a lot better for these guys, this track from 2020's Hard to Kill album is up first, so much groove to the start of this one, it's just a real slow grinder of a track, the thing about having the two vocalists is there is always someone doing something when one is singing the other guy is doing something else, brutally heavy opener!
Superscud – First track you ever heard from these guys, from the first album back in 2000, and immediately for me a different feel, more sort of post hardcore in vibe, I thought Vision of Disorder on first hearing it, again the guys are just hyping the crowd the whole time, nice to see a bit of a pit starting up for this one as well!
Motorhead – Nope not that song, from 2017's Lost Ritual album, real sort of stoner rock guitar riff at the start of this and when it kicks in it is still giving me that vibe, more just straight-ahead hard rocker of a track, love that chorus with the two vocalists, really thickens up the sound more, that break in the middle gives the guys on the floor a breather before the circle pit opens up again!
Buzz Killer – This is a new one from an album they said was due to be released next year, again a real bouncy riff on this, getting the crowd to sing along with the Buzz Killer chorus, when it breaks down after the chorus that's a real sledgehammer of a slow riff, loved the groove of this one!
Spitfire – That's a dirty bass tone to open this one up, from the last album, again it's got that Sabbath vibe riff, and it's got a massive amount of groove to it, then it slips into a stonking groove on the verse before sliding back into the opening refrain for the chorus, then the buildup part then bang, the pit opens up, another slamming track!
Voodoo Man – 2002's We Will Be Dead Tomorrow album is up now, again it has that real stoner rock vibe, the vocals don't, the vocals are nearly reminding me of Extreme Noise Terror on this one between the two guys, Fuck the Voodoo man chorus, few people definitely know that as I can see them singing it back to the band, loved this track!
Night Wolf – I got to be honest it's on the set list, but I could find absolutely no details of this track anywhere today, it might be a new track to be fair, but I cannot find it!
Thumper – Back to the self-titled for this one, again a proper sludgy riff, a lot of pogoing in the crowd to this, again this gives me straight away a more hardcore vibe with the vocals, absolute smack too the face of a track, great way to close the set out! Criminally short set from these guys, I could have had another 30 mins, and I would have been happy, just a ball of energy from start to finish!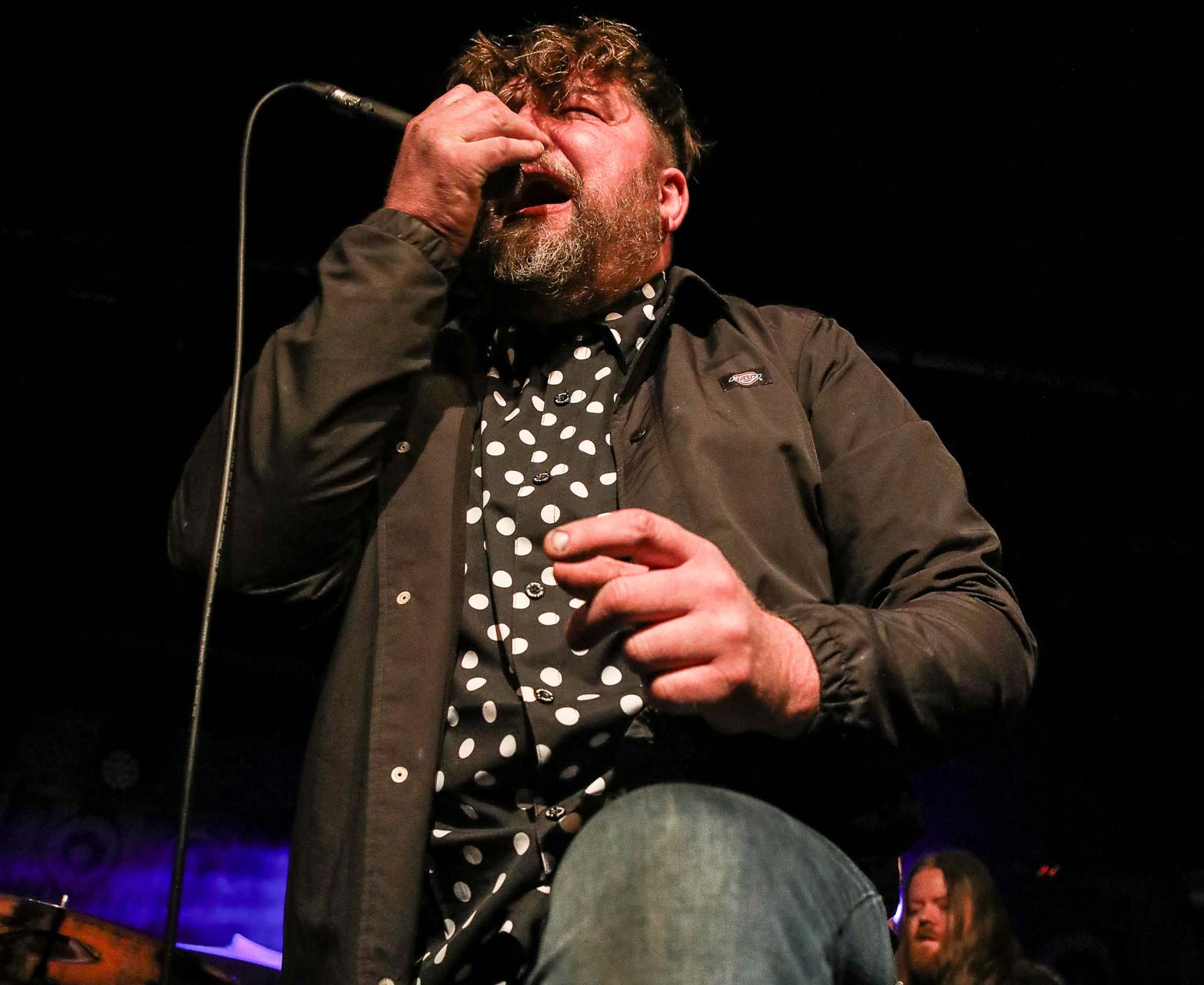 Set Fazers – Kicking off right from the new album "Smile", nice delay guitar comes in then bang as the band come in, the straight into a trademark Benji, rapped reggae verse, then that chorus hits and it straight away gets heavy, love when the clean vocal comes in after the second chorus, the crowd are loving these guys and that is clear to see right from the off!
Pressure – Mikey kicking this one off with a Whammy Pedal guitar riff, all the way back to the first album Babylon from 2004, Daniel on bass has the biggest bass tone and, in a way, he really drives these guys along when you have a real listen, everyone knows this one as there is a massive singalong to this one!
Rat Race –2007s Rock Riot Rock album, that's a dirty riff on this one, a lot more aggressive that the first two songs in vocal delivery but then adding the sing along parts before dropping into that real snappy groove section, before hitting the reggae verse, all the while that heavy guitar is snapping round it before it hits that up-tempo chorus, most aggressive track so far!
Worlds on Fire – Kill the Power album up now, and a real dup step sort of drum part to the start of this one, and everyone is singing back the chorus vocal to the band, I liked when the beat changed to be more driving, then boom, it hits into a real bouncy chorus riff, lot of pogoing happening in the pit over there, that middle gets heavy real quick, not just the vocals but the riff and drum part, nice!
That's my Jam – Big Tings album up next and this one gave me real Korn Nu metal vibes, not with the vocals but with that riff and the groove, I love the back and forth on the grooves in this one as well, its constantly changing, it's such a positive vibe in  here tonight with these guys and it just shows in the crowd, different atmosphere from a lot of gigs I have been too, that's for sure!
MT40 Sound System – We now get a mix up, dub style of a few different tracks, Rude Boy For Life/Ease Up/State of Emergency/The Appointed, and I am going to say it again, I love the vibe in this room tonight, these guys are massive advocates for togetherness and positivity and this room is 100% full of that tonight!
Love (Smile PLS) -Back to the new album for this one, I love the start of this one, it's so happy, and that groove is just so compelling, I love the transitions in the vocals from one style to the other, really climbing up for the chorus and getting everyone to sing along with Benji on this one, is that dancing I see at a metal gig, ah yes actually it is, and there is nothing wrong with that tonight at all!
If I Could – Now that's more of a slap to the chops, the syncopated guitar and drum groove at the start of this, then it breaks own into the chorus part, before it rises and gets bouncy for the second half of it, it's a really nice juxtaposition in style and that's what makes these guys so interesting is the melting pot all in one song, then that middle section is just pure metal  with that slamming riff!
Life That's Free – There is an acoustic guitar on the stage for this one, staying on the new album, massively different from the album version, and it's nice to hear Benji raw vocal, the way he has changed the delivery to work with just the acoustic guitar, the song is amazing with just Mikey and Benji and that comes down to the fact the song is so strong in the first place, it's so raw it's just a beautiful track!
Nobody – Off to the debut album for this one, that bass and drum drop at the start of this over the whammy pedal riff is so cool and then it just absolutely bangs, this is a real riff heavy track and the vocals switching between the reggae style and a lot more aggressive parts, lot of singing back of Nobody Gets Out Alive from the chorus, again I have to be reminded of Korn with the vocal delivery on this one, I think it's just this album as I thought that with the other track from the debut!
Gimme That Boom – From the first album right back to the new one for this track, the crowd are well into this one with the whole floor bouncing to that sledgehammer riff, love the vocal delivery on this one, then it starts to build up into the chorus part, before we are all singing Boom Boom Boom back to Benji on the chorus of this one, that middle section riff is awesome, nearly like and off time groove to it, then back into that main riff again and into that huge chorus!
Our Religion – First track from the new album, and first encore track, that is a monster of a riff, stupid heavy, and that groove over it is a proper mosh pit worthy banger, even the verse is just a syncopated heavy riff with Benji's rapped heavy delivery, before it changes into a dup step almost part, then bang into a real sludgy chorus part, this is as legit heavy as they have been all night, loved this one!
Warning – Last track and we are on the Union Black album for this one, that's a slamming riff and immediately with that off kilter drum part it has your interest, then it just slams in, straight into the reggae verse riff and again the bass is so prominent with these guys, that's a heavy chorus for sure, love that break down in the second verse before bang, your into that heavy chorus again, that middle section riff really slaps and into the last chorus!
First time for me seeing these guys live and that was one of the most positive uplifting gigs I have been to in a long time, absolutely loved Skindred, amazing live!!
Review: Richard Henry 
Photography: Darren McVeigh