SILVERSTEIN
ANNOUNCES MISERY MADE ME DELUXE
OUT 7TH APRIL VIA UNFD
NEW TRACK "POISON PILL" OUT NOW
Acclaimed Canadian rock band Silverstein are thrilled to announce Misery Made Me Deluxe, an extended release of their critically acclaimed 2022 album. Misery Made Me Deluxe features new versions of songs from the original record as well as new music, including the newly released "Poison Pill" – watch the music video now, HERE or by clicking the image below.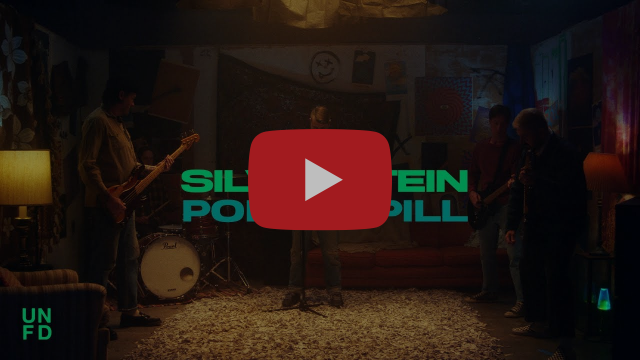 "Almost a year later, it's super exciting to celebrate my favorite album we've ever made with some extra songs and alternate versions," shares front man Shane Told. "'Poison Pill' was one of my favorite songs from the Misery Made Me sessions, but I wasn't sure it completely fit in with the rest of the album. But, it was so catchy, and had so many cool tones and textures we wanted to save it for this moment and really show a different emotion and feel from the rest of the album. The song inspired us to throwback to some of the music videos we grew up with, and it's one of the most fun videos we've ever done. I think it captures the feel of the music perfectly."
Misery Made Me Deluxe is set to be released on 7th April via UNFD. The album is available for pre-save now and fans can also pre-order physical bundles, including an exclusive collaboration with lifestyle brand The Pretty Cult. The two have teamed up to create a custom – and authentic – Silverstein tarot card deck, special tarot card-themed merch, a custom candle, and altar cloth.
The Pretty Cult owner / founder Arielle Salsa shares: "I'm so excited for this opportunity to team up with Silverstein on this collection. I met Silverstein at their Misery Made Me album pop-up last May and saw they had tarot-inspired art for some of their merch. After connecting with them, it was clear that The Pretty Cult was the perfect fit to expand the concept as my brand revolves around tarot, the occult, and the practice of witchcraft. I thought we could expand on the idea by creating a collection complete with a tarot deck, guidebook, altar cloth and two unique Silverstein x The Pretty Cult tarot items. When creating this tarot deck and guidebook, I wanted to make sure it was as authentic as possible, as I am a practicing witch myself. I wanted to create a deck that was as inclusive to the avid tarot user as it was to a beginner.
As Silverstein is a band that are self-managed and unafraid to constantly push boundaries and grow over their 20+ career, it was a nice fit with the practice of tarot as it's less about a higher power and more about being your own master and creating your own path."
Silverstein will be hitting the road next week for the MISERY MADE ME 2023 NORTH AMERICAN TOUR. The 29 date run kicks off on March 30th in Ottawa and features special guests Dayseeker, Seeyouspacecowboy and One Step Closer. Tickets and VIP packages are on sale now at vip.silversteinmusic.com
About Silverstein:
Silverstein released their latest studio album, Misery Made Me, last year via UNFD. Inspired by the past two years, Misery Made Me is a depiction of Silverstein – and world at large's – collective turmoil, frustration, and anxiety. It's a record that is a product of the moment in time in which it was created yet doesn't feel like it will date itself anytime soon, as many of its topics of loneliness, anxiety and isolation are eternal human struggles. Listen to Misery Made Me now HERE.
Silverstein have continued to build on their already-wide reaching impact. Immersing themselves in new technologies like TikTok, Discord, the metaverse and Twitch (even holding public writing sessions with fans over the latter) during its formation, the band have confirmed their unique ability to adapt and connect in all cycles of their career.
It's both intriguing and inspiring that a band – who could have merely rested on the impressive legacy they've already cemented – would continue to dig deep and find the inspiration to reach people in meaningful new ways. Misery Made Me is a campaign hinged on Silverstein's reflection and gratitude for their roots, their honoring of their earliest fans, and their staunch desire to explore forward-thinking and adventurous ways to connect with new ones.
SILVERSTEIN IS:
Shane Told | Vocals
Paul Marc Rousseau | Guitar
Josh Bradford | Guitar
Billy Hamilton | Bass
Paul Koehler | Drums
MISERY MADE ME DELUXE Tracklisting
1. Our Song
2. Die Alone
3. Ultraviolet
4. Cold Blood
5. It's Over
6. The Altar/Mary
7. Slow Motion
8. Don't Wait Up
9. Bankrupt
10. Live Like This
11. Misery
12. Poison Pill
13. Stitches
14. Mary (Orchestral)
15. Don't Wait Up (Acoustic)
16. Poison Pill (Acoustic)
17. Bankrupt (Live in Toronto)
18. It's Over (Live in Toronto)
Watch the music video for 'Poison Pill' now –  HERE