THE HU TO HOLD FIRST-EVER
VIRTUAL CONCERT IN THE METAVERSE
RUMBLE OF THUNDER v1.1
ON MARCH 30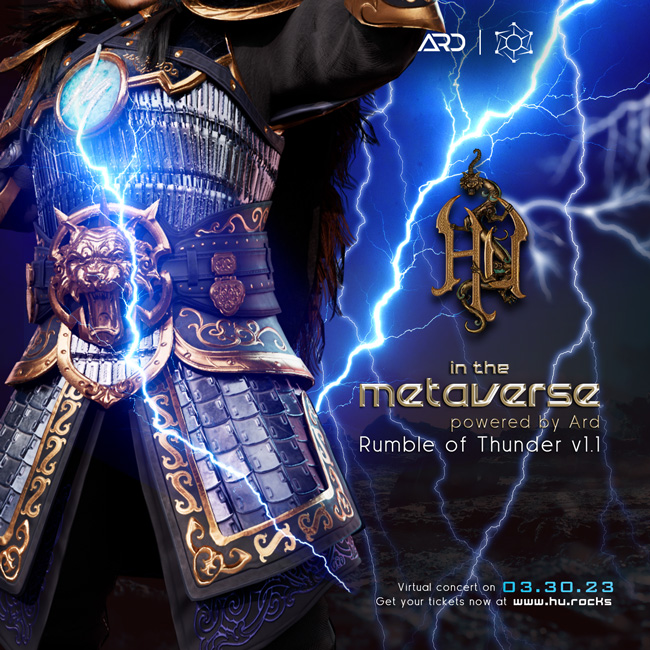 IN PARTNERSHIP WITH ARD FINANCIAL GROUP (ARD)
Acclaimed Mongolian rock band THE HU will perform their first-ever virtual concert in the Metaverse on March 30 in partnership with ARD Financial Group (ARD). Tickets on sale now via www.hu.rocks.
Throughout this unique show, fans will experience a virtual world created by METAFORCE that highlights THE HU's home country of Mongolia. The band have shared the traditions and cultural importance of Mongolia through their hunnu rock genre of music by utilising traditional instrumentation, throat singing and singing entirely in the Mongolian language – all these elements viewers can now experience within their Metaverse show.
With sold-out tours across the globe and having performed at some of the top-rated music festivals including Coachella, Lollapalooza and Download Festival, THE HU are well known for a spectacular live show. Now, they're taking it to a whole new level – watch the trailer for Rumble of Thunder v1.1 here.
THE HU are the first Mongolian band ever to take their music into the Metaverse. Viewers can expect the best setlist and finest seats in the arena, exploring an incredible world created especially for the fans. Alongside the concert itself, viewers will also be able to access an interactive game as well as a detailed 2D storyline.
THE HU's Metaverse concert will be highly interactive, allowing users to engage with the environment and each other, whilst experiencing live music in a new and exciting way. In the Rumble of Thunder v1.1, fans can choose and customise their avatar, playing as a member of THE HU's band (which are highly detailed and accurately represent their unique style and performance), soldiers of the Wolf Totem army, or other characters with the Mongolian traditional outfit Deel.  Players can interact with each other and the band members, dance to the music, and even fight along with the band members in battle.
THE HU's Rumble of Thunder v1.1 concert is an innovative and exciting use of virtual reality technology. However, if fans do not have a compatible device to play the full interactive concert experience, a director's cut cinematic version of the concert will be available for viewing. This alternative version provides a highly polished, edited version of the concert that captures the energy and excitement of the live performance, but will not offer the same level of interactivity. More information on the Metaverse and the creation of the concert here.
Band leader Gala says:
"The digital world is a crucial outlet for us to express our music and technology continues to be an essential part of our daily lives, so we are so excited to be moving one step closer to you, our fans. On March 30, everyone will be able to chime in from around the globe and see our performance through their screen. We have avatars and storyline that relates to our music history which were custom made only for The HU and we are proud to present the digital version of our famous energetic performance!"
CEO of MetaForce company, Battsengel.S, says:
"Working with The HU band was different from any other project we work on because each one of the members have their own energy, vibe and character, yet all of them have an amazing work ethic. To create the meta land for this project, we started everything from scratch so you can only imagine how many times we had to shoot everything to capture their movement, voice and facial movements. It was laborious work and required much of their time but everyone seemed to have bursts of energy, the more we rolled and more work we did. On top of that, they are extremely friendly, warm and easygoing and made sure our team was relaxed and able to do their job during the entire time we worked together. To me that just shows how far they will go in the show business and how much they care about the work they are doing.
Unreal Engine and MoCap are used to create this entire project and we are working tirelessly to bring our culture and music the fans love in the best way possible. We will be bringing people closer from around the globe so make sure you tune in."
CEO of Ard Financial Group, Ganhuyag.Ch, says:
"Many of our clients, including Mongolians, have a hard time catching the live performance of The HU, and I know it is true for people around the world who love the band. In this virtual performance, their fans will be able to access the concert from anywhere they like and interact with their avatars in real time. As a trailblazer company, Ard Financial Group offers many products including financial services, investments opportunities and digital assets. Therefore, we are happy to be continuing our forward thinking path and offer you The HU's performance in the virtual world."
Rumble of Thunder v1.1 is a one-time global viewing experience.
Beginning at 9pm local time on March 30 2023
Tickets available from www.hu.rocks
To date, THE HU have accumulated over 329 million combined streams and 290 million video views. Last year THE HU were named UNESCO Artist For Peace, the first-ever rock/metal band to receive the prestigious accolade.
After releasing sophomore album Rumble of Thunder in 2022 via Better Noise Music, THE HU embark on another headline tour this year: beginning June 6 at Nova Rock Festival in Nickelsdorf, AT, with more dates and festivals across the UK and Europe before finishing the tour at Malakofff Festival in Norway on July 22. See full tour dates here.
They recently released the single "This Is Mongol (Warrior Souls) Feat. William DuVall of Alice In Chains," an updated version of their groundbreaking 2022 track 'This Is Mongol' – watch the fierce new music video here.
THE HU have also shared the first two episodes of their mini-docuseries Citizens of The World, which details how the band formed their self-branded genre of "hunnu rock", a unique blend of Western modern rock/metal and Mongolian throat singing using traditional Mongolian instruments. See the impact their music has had globally, including being named UNESCO's Artist For Peace in 2022. Watch Episode 1 HERE and Episode 2 HERE.
The group have captured a diverse fanbase by landing their music on movie soundtracks (The Retaliators), creating original music for EA Games' Star Wars Jedi: Fallen Order, being handpicked by Metallica to cover their hit single 'Through The Never"' on the 2021 Metallica Blacklist album alongside covers from high-profile artists including Miley Cyrus, Chris Stapleton, Phoebe Bridgers and more.
THE HU | Photo Credit: Khishigsuren Baasan
Find THE HU online at:
Website | Instagram | Twitter | Facebook | YouTube | Spotify