PURE NOISE RECORDS AND PABST BLUE RIBBON PRESENT: 'DEAD FORMATS VOLUME 1' 
FULL TRACK LISTING REVEALED 
LISTEN TO HAWTHORNE HEIGHT'S VERSION OF "INSIDE OUT" BY EVE 6 AND SEAWAY'S VERSION OF "I'M THE ONE" BY DESCENDENTS
PRE-ORDER VINYL AND LIMITED MERCH NOW AT
DEAD FORMATS VOLUME 1 ARTWORK
Pure Noise Records and Pabst Blue Ribbon have teamed up to present 'Dead Formats Volume 1', a 15-track compilation featuring the Pure Noise Records roster sharing their takes on the celebrated punk/emo/ska songs that helped shape the scene in the 90's and 2000's. Today, two more tracks from the compilation are available for streaming now.
Listen to Hawthorne Heights cover "Inside Out" by Eve 6 HERE
or by clicking the image below.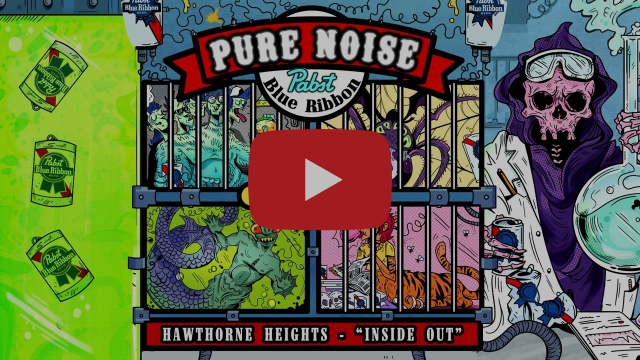 Listen to Seaway's version of Descendents classic "I'm The One" HERE or
by clicking the image below.
"First of all, we've always considered ourselves the Eve 6 of Emo," says J.T. Woodruff of Hawthorne Heights. "They were always too pop for grunge and too grunge for pop. We have always been too poppy to be heavy and too heavy to be poppy. Back in the early 2000s, I was way more punk than I am now, and I still sang this song every time it was on the radio. Also, Max is funny on twitter.  He changed the twitter handle to Eve Cigs and sucked me back into the blender for life."
"We learned about so many of our favorite bands from comps like 'Punk O'Rama' and '….Dragging the Lake' so it is amazing to be a part of something like that for the next generation," says Seaway on their contribution to the compilation. "We are honored to be a part of the first Dead Formats comp, huge thanks to Pure Noise and PBR for considering us. Descendents are an untouchable band in our eyes, so we didn't really want to remake "I'm The One" as we were sure it would pale in comparison. Instead we decided to put a more Seaway spin on it, so that fans wouldn't have to compare our version to the original, but hopefully be able to appreciate both."
"Brain Stew/Jaded" by Four Year Strong and "Fell In Love With A Girl" by LURK, which are also found on the compilation were released last month and can be streamed here: https://lnk.to/deadformats
'Dead Formats Volume 1' is now available pre-order on vinyl as well as a limited edition merch collaboration between Pure Noise Records and Pabst Blue Ribbon. Check it all out at www.deadformats.net
'Dead Formats' Vol 1 Track List:
1. State Champs – What's My Age Again
2. Four Year Strong – Brain Stew / Jaded
3. Drug Church – Someday I Suppose
4. Microwave – Santeria
5. Lurk – Fell In Love With a Girl
6. Seeyouspacecowboy – Seven Years
7. Hawthorne Heights – Inside Out
8. Spanish Love Songs – We've Had Enough
9. Elder Brother – The Black Parade
10. Rotting Out – Society
11. Chamber – Davidian
12. Seaway – I'm The One
13. Can't Swim – Radio
14. The Dirty Nil – Filler
15.  Red City Radio – Move Along
'We're so excited about this partnership.  There are a lot of shared values between Pure Noise and PBR – independence, grit, being a sort of DIY underdog.  We just love their energy, their roster of bands and artists, and feel grateful that they've invited us to collaborate on the idea and execution of this comp.' – Nick Reely, VP of Marketing, PBR
Learn more at: www.purenoise.net
About Pabst Blue Ribbon
Since 1844, Pabst has been American-owned and operated, and is North America's largest privately held brewing company. Pabst's portfolio includes iconic brands with deep ties to America's heritage, such as its flagship Pabst Blue Ribbon and others such as Lone Star, Rainier, National Bohemian, Stag, and Old Style. Our people and our brands are committed to embracing change and making a positive impact on the communities we serve.