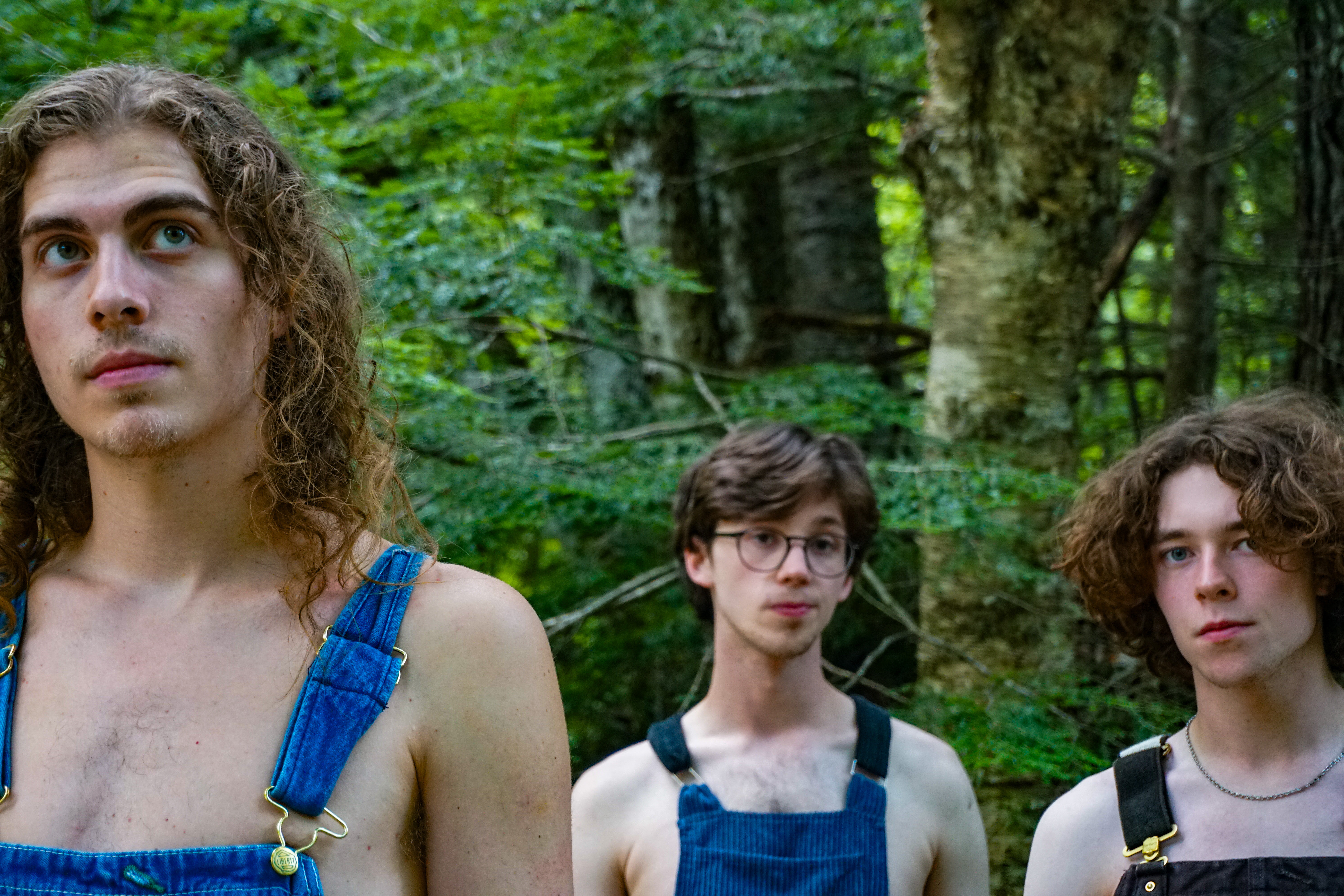 Image Credit: Cameron Cropely
MILK ST. HAVE RELEASED THEIR HIGHLY-ANTICIPATED SOPHOMORE LP 'V3RM0NT'
Maine-based three-piece outfit Milk St. have emerged from the Pine Tree State to release their sophomore LP V3RM0NT through Barely Alive Records.
V3RM0NT is the follow up to 2022's Spaced LP, which established Milk St. as a promising young band in the indie punk scene. After a lineup change and a motivated trip to the studio, Milk St. have delivered a concept album detailing the thought-provoking and personal coming-of-age story of vocalist Jonah Wakefield. Self-reflection, mind-expansion, and a handful of mushroom trips are just a few of the themes found through V3RM0NT.
Sonically, Milk St. have created one of the most interesting sounds in alternative music, fusing twangy acoustic guitar with upbeat punk rhythms and a healthy dose of chaotic energy. "We usually describe ourselves as Northeast Emo," says Wakefield. "To us that means beautifully depressing; there's some Appalachian type folk roots in there but tons of grunge and midwest emo as well."
V3RM0NT features 10 tracks, including singles "China Town," "Peyote," and most recently "Free Acid" and "Cycles." To support the LP release, Milk St. will be embarking on the V3RM0NT Album Tour running from September 1st through September 17th. Tickets will be available soon!
WHAT ARE PEOPLE SAYING
"Maybe an amalgam of Weezer, Violent Femmes, Cake, Pixies and the mythical Folk Nirvana. Milk St., after all takes the melodic aspects of midwest emo, and the rawness of grunge to create what they call, Northeast Emo"
~American Pancake
Milk St. – V3RM0NT
Hometown: Bangor, Maine
Release Date: September 1st, 2023
Genre: Midwest Emo, Alternative Rock
FFO: The Front Bottoms, Joyce Manor, Alex G
V3RM0NT TRACK LISTING
Of Mushroom And Men
V3RM0NT
Pixie Cuts and Angel Dust
Jesus Fish Taco
I Collect Records (To Cope With My Mental Illness)
Long Ride
Cycles
V3RM0NT Album Tour
ABOUT MILK ST.
Northeast emo from the Pine Tree State.
While the foundations of the band date back to 2018, originally under the name Spaced, Milk St. officially launched in 2022 with the release of their debut album Spaced – an ode to their first name. Composed of founding vocalist and guitarist Jonah Wakefield, bassist Gabe Chambers, and drummer Harry Burns, Milk St. quickly followed up their debut effort with two singles – "I'm Sorry That I Left You (On New Years Day)" and "Just Lust" – that have been very well-received to date.
With the recent addition of Harry Burns to the band as a full-time member, Milk St. were motivated to get back into the studio, where they recorded 9+ demos in the span of just two weeks! Two of those demos would become their latest singles – "China Town" and "Peyote" – both of which will be featured on their upcoming LP Vermont, set for release at the beginning of September!
MILK ST. ARE
Jonah Wakefield – Guitar/Vocals
Gabe Chambers – Bass
Harry Burns – Drums
MILK ST. ONLINE