LAURENCE JONES Releases
Second Single
 'Can't Keep From Loving You'
August 12th 2022 – 10am Embargoed
Following the release of 'Anywhere With Me', a song that won Louder's 'Track of The Week', LAURENCE JONES unveils his second to single from the hotly anticipated new album 'Destination Unknown' out September 9th via Marshall Records.
The track 'Can't Keep From Loving You' brings a driving bassline, bouncy synths and punchy drums that let the guitar take centre stage, pushing LAURENCE JONES from his traditional blues foundations and flipping the switch to the high voltage current of Rock.
Regarding the single, Laurence states:
"I wanted to take that influence from The Who, the big drums and melodic guitar riffs and put my own spin on it. It's an up-tempo crowd rocking song that's been one of my favourites to play live. It was in the set on our tour with Status Quo and even Francis Rossi said, "that's a cracking song'. We tried to keep that live feel when we recorded it at The Marshall Studio, working together in one room and really feeling the energy of us playing."
Upon announcing 'Destination Unknown' LAURENCE JONES also revealed that there would be a special one-off performance of the record in its entirety at the Marshall Studio.
Laurence has since sold out this performance on August 20th at the very studio where 'Destination Unknown' was recorded. At the show 200 fans will be treated to a live performance of the entire album and some fan favourites, before he embarks on his Autumn UK and European tour.
'Destination Unknown' is available to pre-order on Limited edition Colour LP, Signed CD.

'Destination Unknown' artwork
Destination Unknown track list:
1 – Anywhere With Me
2 – Can't Keep From Loving You
3 – Give Me That Feeling
4 – Gave It All Away
5 – Tonight
6 – I Won't Lie Again
7 – Holding Back
8 – In Too Deep
9 – Said And Done
10 – Destination Unknown
Following the album's release LAURENCE JONES will also be heading out on an extensive UK tour in October, see the dates below: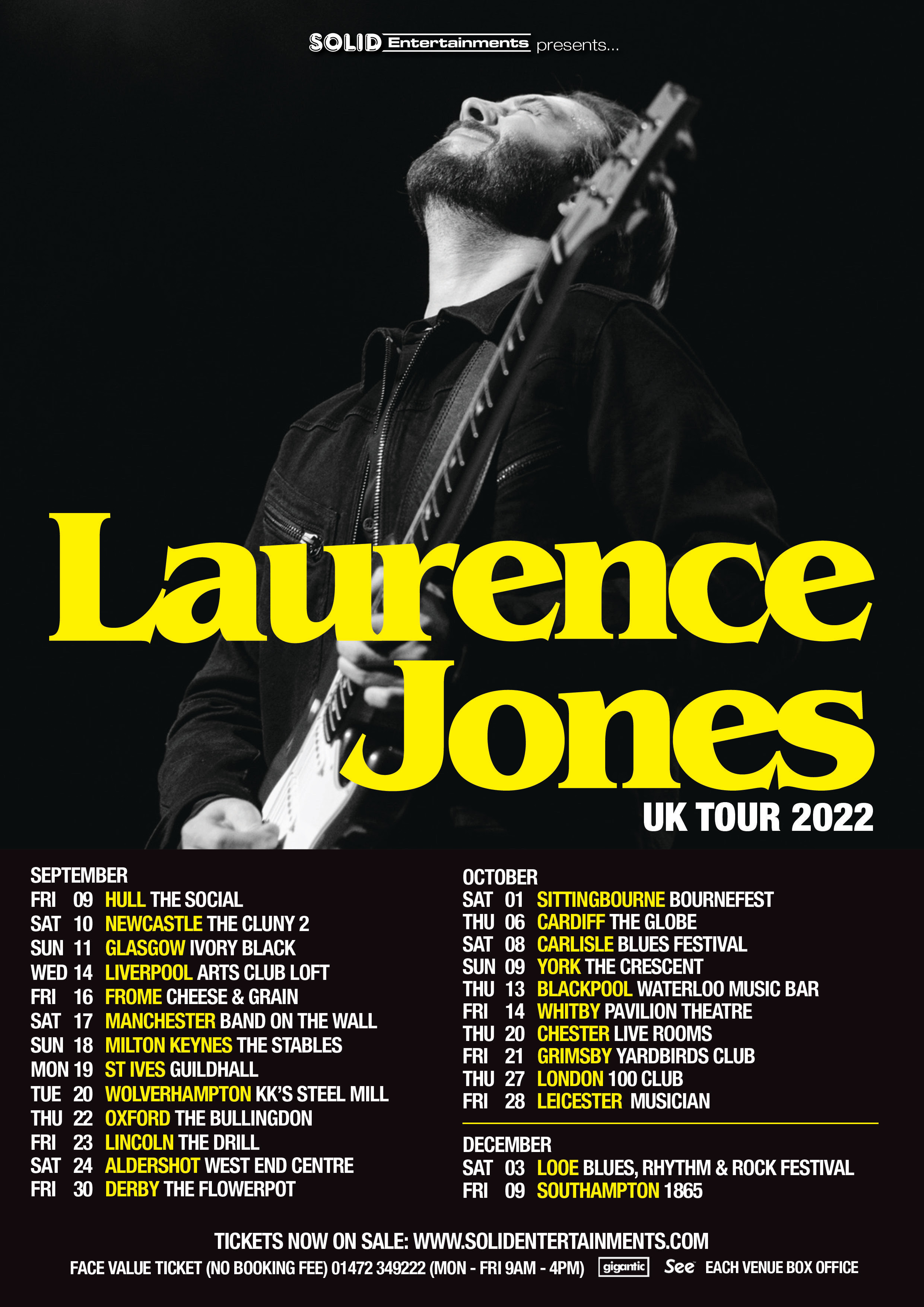 09/09/2022 – Hull, The Social
10/09/2022 – Newcastle, The Cluny 2
11/09/2022 – Glasgow, Ivory Black
14/09/2022 – Liverpool, Arts Club Loft
16/09/2022 – Frome, Cheese & Grain
17/09/2022 – Manchester, Band on the Wall
18/09/2022 – Milton Keynes, The Stables
19/09/2022 – St Ives, Guildhall
20/09/2022 – Wolverhampton, KK's Steel Mill
22/09/2022 – Oxford, The Bullingdon
23/09/2022 – Lincoln, The Drill
24/09/2022 – Aldershot, West End Center
30/09/2022 – Derby, The Flowerpot
01/10/2022 – Sittingbourne, Bournefest
02/10/2022 – Swindon, TBC
06/10/2022 – Cardiff, The Globe
07/10/2022 – Southampton, 1865
08/10/2022 – Carlisle, Blues Festival
09/10/2022 – York, The Crescent
13/10/2022 – Blackpool, Waterloo Music Bar
14/10/2022 – Whitby, Pavillion Theatre
20/10/2022 – Chester, Live Rooms
27/10/2022 – London, 100 Club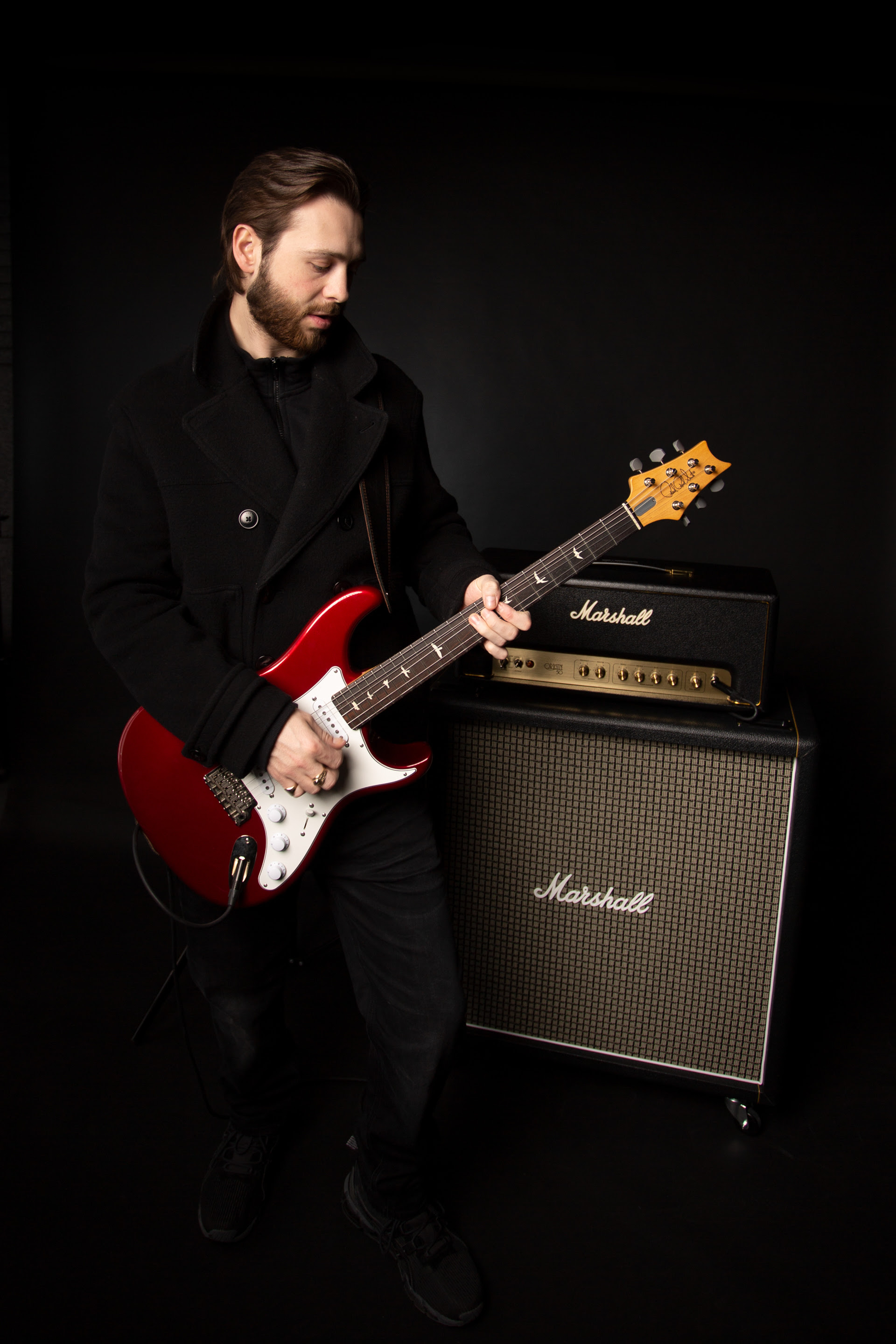 Clocking in at forty-one minutes 'Destination Unknown' packs an effortless Rock punch whilst not forgetting this prodigy of Blues' heritage. It's as much The Who as it is Joe Bonamassa and with Bennett Holland's fantastic keys throws back to era where Jon Lord ruled supreme but at its core the record is tethered to melody. Melody is the undisputed secret weapon in LAURENCE JONES' arsenal. Creating licks, riffs and choruses that will remain in your head long after the track has finished.
Recorded at The Marshall Studio, the unofficial home of Rock (sorry Birmingham!) in Milton Keynes, the record was produced by LAURENCE JONES, engineered by Marshall's own Adam Beer, mixed by Chris Sheldon (Foo Fighters / Therapy? / Feeder) and mastered in the hallowed ground of Abbey Road by Christian Wright.
LAURENCE JONES is:
Laurence Jones – Vocals, Guitars
Bennett Holland – Backing Vocals, Hammond, Piano, Synth
Jack Alexander Timmis – Bass Guitar
Samuel Jenkins – Drums, Percussion
LAURENCE JONES online: