LAURENCE JONES RELEASES TITLE TRACK FROM UPCOMING ALBUM 'BAD LUCK & THE BLUES'
ALBUM SET FOR RELEASE 25TH AUGUST 2023 VIA MARSHALL RECORDS
AND SHARES RELEASE SHOW DETAILS SEPTEMBER 22ND AT OMEARA LONDON
TICKETS – HERE
STREAM / PRE-ORDER – HERE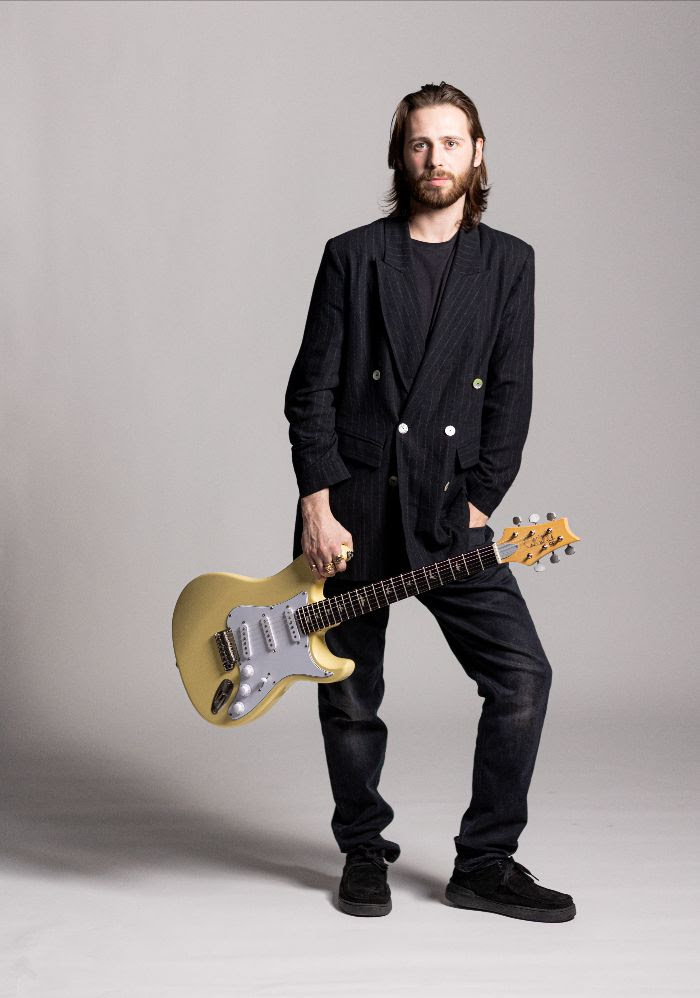 Today – "the future of the blues" according to Classic Rock Magazine– Laurence Jones, shares the title track for his forthcoming album, 'BAD LUCK & THE BLUES', along with details for his album release show at London's illustrious OMEARA on Friday, September 22nd, 2023. Tickets and more info – HERE
The album, 'BAD LUCK & THE BLUES' set for release 25th August 2023 via respected independent label, Marshall Records. Fans can pre-order – HERE.
Speaking on his latest release, Laurence Jones comments:
"This is an out and out Blues-Rock, Power-trio set up, with a guitar riff that are in your face from the get-go." Jones declares. "Lyrically I'm singing about hurt, feeling down, bad luck & nothing to lose, taking inspiration from the old blues greats. I've had my fair share of Bad luck with my health suffering from Crohn's disease and I've also felt the blues." Shares Jones. "Writing this song relates to anyone with their own struggles in life. The main message of the song is to find courage and hope to be free in a time where you don't think it's possible."
CLICK THE IMAGE BELOW TO CHECK 'BAD LUCK & THE BLUES'
MORE ON 'BAD LUCK & THE BLUES'
'BAD LUCK & THE BLUES' is a return to form with interplay of deep-rooted blues and classic rock n roll. Recorded at The Marshall Studio, mixed by Chris Sheldon (Jeff Beck, Foo Fighters, King King) and mastered at the legendary Abbey Road Studios by Christian Wright (Jack Bruce, Robin Trower, Ten Years After).
Jones' latest effort is rip-snortin', hard-rockin' blues album with one eye on 1970's classic hard rock, and its counterpart very much focused upon the here and now. 'Bad Luck & The Blues' is a love letter to hard hitting blues rock, with a concise, contemporary edge.
Refining his sound and returning as a power-trio that features long time bassist Jack Alexander Timmis (Virgil & The Accelerators) and new drummer Ash Sheehan (Glenn Hughes, Tony Iommi, The Twang), the new record sees Laurence at his rawest, showcasing his virtuoso guitar talents while remaining faithful to his blues roots.
"I started my career in a power-trio, and gradually moved away from that. Going back to those roots was an itch that I'd wanted to scratch for ages." Jones explains. "Two of my biggest heroes were Gary Moore and Jimi Hendrix, and that's the direction I wanted to go in, along with some more contemporary influences such as Queens of The Stone Age, Jack White, and Royal Blood. My main point of reference on this album was Robin Trower. I had been a fan for years, but I used lockdown to sink myself into his playing style and the tone he used."
The pivot point when deciding to go all out with his dream, Jones cites New Year's Eve of 2022. "I made it a resolution of mine; that's why the line-up changed so quickly before the next tour," he remembers. "You only live once. I have Crohn's disease, so I never take anything for granted. You should live every day like it's your last."
Laurence has shared stages with the likes of Status Quo, Sir Van Morrison, Sir Ringo Starr, the late Jeff Beck and Johnny Winter, Joe Bonamassa, Wishbone Ash, Glenn Hughes, and Vintage Trouble among many others. In 2017, Buddy Guy, who once likened Laurence to "a young Eric Clapton", invited the youngster to join him onstage at the Holland International Blues Festival before of an audience of 15,000. Jones has also appeared at some of the world's most prestigious venues, including the Royal Albert Hall in London and New York's Carnegie Hall.
For more information on live dates and album updates, head HERE. 'BAD LUCK & THE BLUES' will be released 25th August 2023 via Marshall Records.
TOUR DATES
JUNE 2023
Fri 30 June – Alford Rock & Blues Festival – UK
JULY 2023
Sat 1 July – Linton Festival, UK
Fri 7 July – Bures Music Festival, UK
AUGUST 2023
Sat 5 Aug- Buxton Blues Festival, UK
Sun 6 Aug – Cambridge Rock Festival, UK
Sat 19 Aug – Swing Wespelaar, Belgium
SEPTEMBER 2023
Sat 2 Sep – Wallingford – Bunkfest, UK
Fri 22 Sep – London, Omeara, UK
Sun 24 Sep – Wolverhampton – NWOCR Festival, KK's Steel Mill, UK
OCTOBER 2023
Fri 6 Oct – Frome, Cheese & Grain, UK
NOVEMBER 2023
Thu 16 Nov – P60, Amstelveen, NL
Fri 17 Nov – De Pul, Uden, NL
Sat 18 Nov – Heyhoef Backstage, Tilburg, NL
Sun 19 Nov – Iduna, Drachten, NL
Wed 22 Nov – Paard, Den Haag, NL
Thu 23 Nov – Flux, Zaandam, NL
Fri 24 Nov – Crossover, Gent, Belgium
Sat 25 Nov – Bibelot, Dordrecht, NL
DECEMBER 2023
Fri 1 Dec – Porthcawl, Planet Rockstock, UK
Thu 7 Dec – Southampton, The Brook, UK
Thu 14 Dec – Milton Keynes, The Stables, UK
Fri 15 Dec – Sheffield, The Greystones, UK
Sat 16 Dec – Kendal, Brewery Arts Centre, UK
FEBRAURY 2024
Sun 4 Feb – Bury St Edmunds, The Apex, UK
Fri 9 Feb – Arlington Arts Centre, Newbury, UK
Sat 10 Feb – Shoreham-by-Sea, Rooetackle, UK
–
Bad Luck & The Blues Track Listing
Bad Luck & The Blues
I'm Gone
Lonely Road
Don't You Leave Me This Way
Lost & Broken
Stuck In The Night
Take Control
Out In The Distance
Woman
You're Not Alone
–
CONNECT WITH LAURENCE JONES