KID BOOKIE – Releases 'Game' Feat. Corey Taylor
Announces Signing To Marshall Records 
Today, KID BOOKIE has announced his brand new signing with Marshall Records. To celebrate this monumental partnership the multi-faceted artist unveils his next step towards world domination in the form of 'Game'. The track is the first to come from an upcoming release slated for Autumn this year.
The new single produced by Good Charlotte's Billy Martin features Corey Taylor as a special guest. The video, directed by Filip Plaskowski, is a homage to the fantastic world of Sci-Fi which challenges the viewer to free their mind and question that all is not quite as it seems as they enter the world of KID BOOKIE and his sound of inevitably.
Here once again to change the 'game', KID BOOKIE brings a sharpened and further refined edge to his songwriting. Whether it's the machine-gun spray of his lyrics or the inescapable earworm of 'Game's chorus. With hooks bigger than Candyman and a sound just as deadly as the villain, KID BOOKIE once more elevates himself to be the leader of the pack in an alternative world that is his for the taking.
Straight from the horse's mouth KID BOOKIE sets the story straight on the meaning of 'Game':
"A song for you to scream 'go fuck yourself to the face of all gatekeepers. Heavy culture is evolving and being part of the evolution with the teachers who taught us how to evolve is exactly where we need to be right now, an obnoxiously loud, violent piece of music to reflect the tide of the mood, not everything is pretty and sometimes mirroring that sonically is truth in audio. AWOOOH!"
Slipknot vocalist and all-round Metal household name Corey Taylor also weighed in with the following regarding the single and his appearance in the video:
"This song is the perfect blend of smooth and violent. The tones are sick. Book and I are ready for all takers on it. Rated 'C' for 'Crank The Fuck Out Of It!'"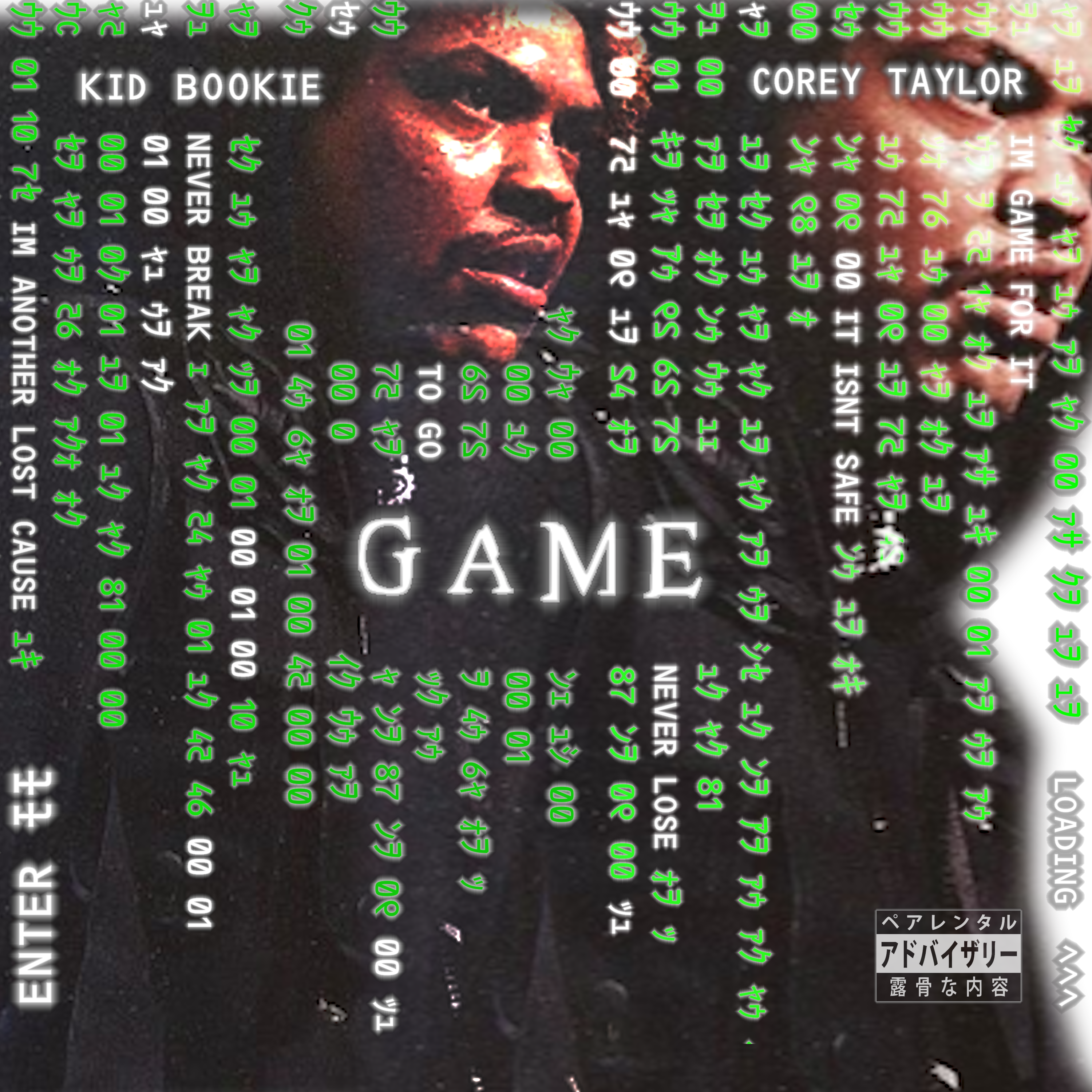 Kid Bookie – 'Game' – Single Artwork
Steve Tannett, Music Director of Marshall Records also had the following to say regarding the signing:
"The first time we met Kid Bookie he walked into our office in Soho and announced himself in the following way "I love you motherfuckers and I'm going to be on your label!" – to which we replied "OK then!" And here we are releasing our first music together. Be bold, it gets results!"
ABOUT KID BOOKIE:
Evolve or die. These are the words that KID BOOKIE embodies day in day out. Being true to himself is perhaps the constant of KID BOOKIE'S vision. Not content with being pigeonholed into the categories of 'Rock', 'Rap' or 'Metal', KID BOOKIE is a compound of all three. Negating not only genre conformity but conformity itself he fiercely blazes his own trail and picking up more than a few guests along the way. His first live performance was for BBC Radio 1 Xtra with Dot Rotten at the young age of 16 and also featured on Corey Taylor's debut solo album 'CMFT'.
Following his 2021 release 'Cheaper Than Therapy' which garnered at 'Top 10 in iTunes Rock Charts' on iTunes we enter a new chapter in KID BOOKIE's story begins today. Hold on tight.