JOE STRUMMER CELEBRATED WITH EMOTIONAL COMPANION VIDEO FOR THE PREVIOUSLY UNHEARD NEW SONG, 'FANTASTIC' – WATCH
LANCE BANGS DIRECTS OFFICIAL MUSIC VIDEO INCLUDES NEVER-BEFORE-SEEN FOOTAGE FROM THE JOE STRUMMER ARCHIVE AND SPECIAL CAMEO FROM EDDIE VEDDER
TRACK FROM STRUMMER'S FINAL SESSIONS FEATURED ON ACCLAIMED NEW BOX SET,  JOE STRUMMER 002: THE MESCALEROS YEARS
'JOE STRUMMER 002:  THE MESCALEROS YEARS' AVAILABLE NOW VIA DARK HORSE RECORDS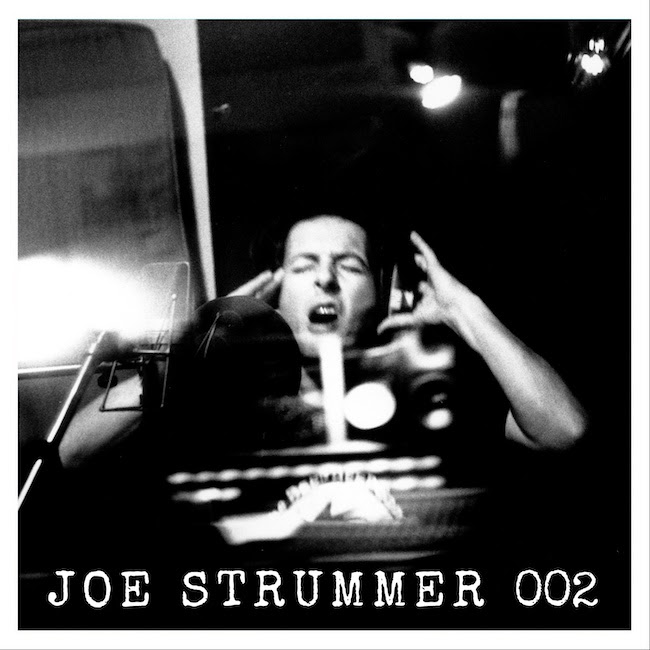 "If you think you miss Joe Strummer now, by the time you get to the end of this boxset, you are really going to miss the guy. What an impact, what an amazing musician, what an amazing human being, a great artist, and this boxset perfectly captures the man, the music and the moment, I'm so glad this came out" Henry Rollins
Dark Horse Records continues its celebration of Joe Strummer with today's premiere of the Lance Bangs-directed official music video for 'Fantastic', featuring previously unseen footage from the Joe Strummer Archive, streaming now via YouTube. The previously unreleased track is among the highlights found on 'Joe Strummer 002: The Mescaleros Years', the first-ever comprehensive collection highlighting Strummer's work with his post-Clash band, The Mescaleros, available now on 4CD w/72-page book and 7LP w/32-page book, special edition packaging and exclusive 12"x12" art print.
'Fantastic' marks one of Strummer's final recordings, with vocals recorded in December 2002 at the famed Rockfield Studios in Monmouthshire, Wales, mere weeks after Joe Strummer and The Mescaleros played their last ever live show at Liverpool University on November 22, 2002. The track's emotional companion video, directed by renowned rock 'n' roll filmmaker Lance Bangs (Nirvana, Sonic Youth) and featuring archival footage shot by Strummer, Dick Rude, Julien Temple, Don Letts, and Josh Cheuse, along with a special cameo by Eddie Vedder and spoken word introduction by Strummer.
WATCH 'FANTASTIC' VIDEO HERE
ORDER JOE STRUMMER 002: THE MESCALEROS YEARS HERE
Joe Strummer 002: The Mescaleros Years includes remastered editions of all three of the band's studio albums, plus 15 rare and unreleased tracks spanning the first demos Strummer wrote for The Mescaleros through outtakes from their final sessions. Executive produced by Joe's widow Lucinda Tait and produced by David Zonshine, the richly curated boxset also features exclusive new interviews with Strummer's friends, collaborators and Mescaleros bandmates, plus never-before-seen handwritten notes, lyrics, and drawings by Strummer taken from the Joe Strummer Archive.
PRAISE FOR JOE STRUMMER 002: THE MESCALEROS YEARS
"Music ripe for reappraisal…The Mescaleros were mashing up world music with dark, jazzy folk…creating some of the finest carrying Joe's name" MOJO ★★★★
"Despite the varying conditions that fed it, all this music identifiably comes from one single place: that unique zone instantly recognizable as Strummerville, a neighbourhood that can feel as intimate as the walk from your front door to the corner shop, yet stretched all around the world…Strummer may have left his future unwritten, but all these songs are like handwritten notes, pointing the way ahead" UNCUT (Reissue of the Month, 8/10)
"It all depicts a hopeful but ultimately sad tale of a punk rock record legend who truly came into his own yet again, only to be stopped by an untimely death. The listener is, at once, thankful that it's all here and wistful at the thought of what could have come next" POPMATTERS (9/10)
"One thing that Joe most certainly never lost was the ability to make succinct, and at times truly eloquent observations, via the somewhat limited medium of verses and couplets in Rock 'n' Roll songs. His sense of economy and poetics was truly exceptional and the journey from the full-on attack of The Clash's first album to his later work with The Mescaleros, artistically wise, was a rich and layered one. This lovingly packaged box set encapsulates that perfectly and in dark, brooding times like this, a couple of days absorbing it all provides a welcome antidote to many of the insane human convulsions reverberating around us right now…A must-have acquisition for all Strummer aficionados and fans. Rest empowered, Joe" LOUDER THAN WAR
"While the Clash may have been "the only band that matters," Strummer's final band, the Mescaleros, were pretty damned great. Joe Strummer 002: The Mescaleros Years makes the case that at the time of his death, he was making some of the most vibrant music of his career…Worth its weight simply for containing remastered versions of all three Mescaleros albums, but the copious liner notes, ephemera, and bonus disc of demos and rarities make it essential" ALLMUSIC
"(Strummer's) songs with the Mescaleros are braided with stoner jokes, moral rage and the dream of a transglobal resistance. Punk rock could ally with Algerian rai, dub reggae and campfire rave. All the good stuff would fit…The music seems to resonate more than ever. Lost prophet Strummer must have known it would happen this way" CLASSIC ROCK
# # #
While best known as the front man for The Clash, Strummer produced some of the most exciting work of his career with The Mescaleros. "All that's happening for me now is just a chancer's bluff," Strummer said during this period. "I learned that fame is an illusion and everything about it is just a joke. I'm far more dangerous now, because I don't care at all."
Joe Strummer 002: The Mescaleros Years highlights this intense period of creativity from 1999-2002, collecting for the first time such extraordinary albums as Rock Art and the X-Ray Style (1999), Global A Go-Go (2001), and the posthumous Streetcore (2003), along with Vibes Compass, a brand-new compilation of 15 B-sides and rarities, spanning early demos of some of the first tracks Strummer wrote for The Mescaleros (such as "The Road To Rock 'N' Roll," "X-Ray Style," and "Techno D-Day," as well as the previously unreleased "Secret Agent Man") to the original recordings from Joe's last ever sessions, including outtakes of "Get Down Moses," "Coma Girl," and the never-before-heard new song, "Fantastic." All albums are remastered by three-time GRAMMY® Award-winning engineer Paul Hicks (The Beatles, John Lennon, The Rolling Stones, David Bowie) especially for the release and are packaged with extensive new liner notes, unreleased images, and four reproduction lyric sheets and chord charts from the Strummer archive.
"There's so much great music that Joe left us in his archive," says Strummer's widow and Joe Strummer 002: The Mescaleros Years Executive Producer, Lucinda Tait. "We started this work last year with '001', so to focus on Joe's work with The Mescaleros was the natural second step on '002' because those songs he made with them just seemed to resonate so strongly and reinvigorated his connection with his audience at a level he hadn't experienced since his days with The Clash.
"He was so excited to work with the Mescaleros and the reception he got from the press and fans was incredible, it gave him a whirlwind of energy and confidence and he was creatively fulfilled and happy.
"His words are so beautiful and honest and together with the Mescaleros some fantastic tunes were created and to listen to some of the tunes recorded as outtakes for me was really special."
2022 marks twenty years since the passing of the legendary Joe Strummer. Punk poet, musician, composer, actor, and style icon, Strummer spent his life smashing musical and cultural boundaries both as the singer of The Clash and as a solo artist. His songs sound as urgent and vital today as when they were written. Calling out social injustices and giving a voice to the struggles of the working class, Strummer's politically charged lyrics struck a chord with legions of fans and the press alike, with Rolling Stone calling The Clash "the greatest rock & roll band in the world." He famously once said, "Without people, you're nothing." Through his art, Joe Strummer played his part in shaping the musical landscape of the world and with it left an unrivalled and timeless legacy.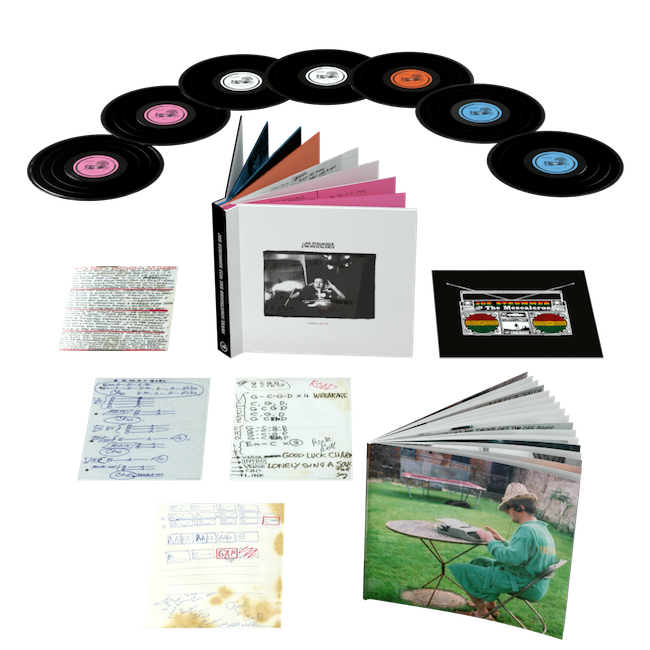 JOE STRUMMER
JOE STRUMMER 002: THE MESCALEROS YEARS
(Dark Horse/BMG)
Release Date: 16th September
BUY/STREAM JOE STRUMMER 002: THE MESCALEROS YEARS HERE
TRACKLISTING
Rock Art and the X-Ray Style
1. Tony Adams
2. Sandpaper Blues
3. X-Ray Style
4. Techno D-Day
5. The Road to Rock 'N' Roll
6. Diggin' The New
7. Nitcomb
8. Forbidden City
9. Yalla Yalla
10. Willesden To Cricklewood
Global A Go-Go
1. Johnny Appleseed
2. Cool 'N' Out
3. Global A Go-Go
4. Bhindi Bhagee
5. Gamma Ray
6. Mega Bottle Ride
7. Shaktar Donetsk
8. Mondo Bongo
9. Bummed Out City
10. At The Border, Guy
11. Minstrel Boy (full-length version)
Streetcore
1. Coma Girl
2. Get Down Moses
3. Long Shadow
4. Arms Aloft
5. Ramshackle Day Parade
6. Redemption Song
7. All In A Day
8. Burnin' Streets
9. Midnight Jam
10. Silver and Gold
Vibes Compass
1. Time And The Tide
2. Techno D-Day (Demo)
3. Ocean Of Dreams (feat. Steve Jones)
4. Forbidden City (Demo)
5. X-Ray Style (Demo)
6. The Road To Rock 'N' Roll (Demo)
7. Tony Adams (Demo)
8. Cool 'N' Out (Demo)
9. Global A Go-Go (Demo)
10. Secret Agent Man
11. All In A Day (Demo)
12. London Is Burning
13. Get Down Moses (Outtake)
14. Fantastic
15. Coma Girl (Outtake)
ABOUT DARK HORSE RECORDS 
George Harrison's passion for introducing the world to new music expressed itself in May of 1974 when he created his own new label – Dark Horse Records. The label contained a variety of talented artists on its roster, including George himself. Alongside Joe Strummer, the newly relaunched Dark Horse 
Records roster also includes Billy Idol, Leon Russell, Benmont Tench and others. For more information, please visit 
www.darkhorserecords.com
.
# # #
FOLLOW JOE STRUMMER