Blues-Rock Superstar Joe Bonamassa Releases Stunningly Sweeping Live Rendition Of "Time Clocks"
Bonamassa's Groundbreaking Live Performance From The Iconic Red Rocks Amphitheatre Is Available Worldwide 14 April Via J&R Adventures
Watch the live performance video here
and stream "Time Clocks" live here
Photo credit: Jenise Jensen / Caption (L-R): Reese Wynans, Mahalia Barnes, Lemar Carter, Calvin Turner, Joe Bonamassa, Jade MacRae, Dannielle DeAndrea and Josh Smith at Red Rocks Amphitheatre in CO.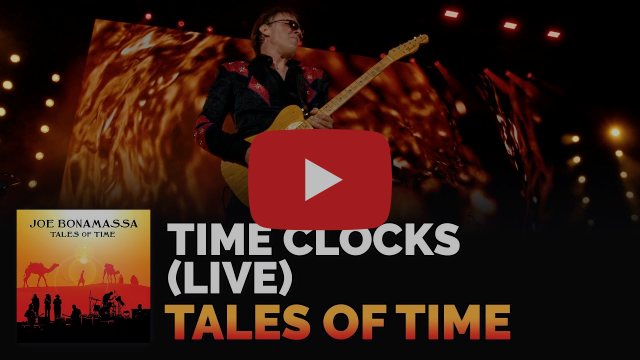 Joe Bonamassa – "Time Clocks" (Live) – Tales of Time
On the heels of his sold out music festival cruise Keeping The Blues Alive at Sea VIII, the three-time GRAMMY-nominated guitarist and 25x Billboard chart-topper Joe Bonamassa has just released an unforgettable live rendition of "Time Clocks," the beautifully poignant title track of his most recent studio album. Featured on 'Tales of Time,' his sprawling and expansive live concert film and album shot at the breathtaking Red Rocks Amphitheatre in Colorado, the epic 7+ performance finds the blues-rock superstar at his most expressive and ambitious, casting a spell of pure timelessness over the enraptured crowd. As the heart on sleeve narrative plays out in front of a stunning visual backdrop that served to highlight the beauty of the music, the rousing chorus rises to the heavens as Bonamassa sings, "and the rain soaking through my coat, about to capsize my boat I push it along away from the docks, I was never a good puncher of time clocks." Watch the live performance HERE.
Out 4/14 via Bonamassa's J&R Adventures in CD/DVD, CD/BR, vinyl, and digital formats, 'Tales Of Time' captures a stratospheric performance by the blues-rock titan, as his virtuoso guitar style and unique technique and flair elevate the evening to an almost heavenly high. This incredible undertaking was produced by long-time collaborator and producer Kevin Shirley (Led Zeppelin, Iron Maiden, Journey). "This live show represents our most progressive and largest production to date, focusing on my most ambitious studio album to date," commented Bonamassa. "My band was a force of nature on this show, and it truly was a special night." For more information and to pre-order, visit https://lnk.to/joebonamassa
Cited by Guitar World as "arguably the world's biggest blues guitarist," Bonamassa is known for taking risks and venturing into uncharted territory throughout his wide-ranging career. His most recent full-length 'Time Clocks' marked his most raw, rocking studio album yet, with American Songwriter sharing, "Bonamassa pushes into fresh territory while staying within a blues-based framework," and "there is more than enough proof in this sprawling set that Bonamassa doesn't intend to rest on his laurels or take his star status in the blues-rock genre for granted."
For more information on 'Tales Of Time' and to purchase tickets to Bonamassa's upcoming tour, please visit https://jbonamassa.com
Joe Bonamassa – 2023 EUR/UK Tour Dates
04/19/2023 – HELSINKI HALL – HELSINKI, FINLAND
04/21/2023 – SPEKTRUM – OSLO, NORWAY
04/22/2023 – FALKONER THEATER – COPENHAGEN, DENMARK
04/24/2023 – AVICII ARENA – STOCKHOLM, SWEDEN
04/25/2023 – PARTILLE ARENA – GOTHENBURG, SWEDEN
04/27/2023 – WONDERINO ARENA – KIEL, GERMANY
04/28/2023 – STADTHALLE – ROSTOCK, GERMANY
04/29/2023 – ARENA NURNBERG – NURNBERG, GERMANY
05/01/2023 – HALLENSTADION – ZURICH, SWITZERLAND
05/03/2023 – FORUM KARLIN – PRAGUE, CZECHIA
05/05/2023 – SAP ARENA – MANHEIM, GERMANY
05/06/2023 – FESTSPIELHAUS – BADEN BADEN, GERMANY
05/07/2023 – ROCKHAL – LUXEMBOURG, LUXEMBOURG
05/09/2023 – INTERNATIONAL CENTRE – BOURNEMOUTH, UK
05/10/2023 – BLACKPOOL OPERA HOUSE – BLACKPOOL, UK
05/12/2023 – FIRST DIRECT ARENA – LEEDS, UK
05/13/2023 – UTILITA ARENA – NEWCASTLE, UK
05/14/2023 – UTILITA ARENA – BIRMINGHAM, UK
07/09/2023 – BOSPOP – WEERT, NETHERLANDS
07/10/2023 – THE JAZZ À VIENNE FESTIVAL – ISÈRE, FRANCE
07/13/2023 – TOLLWOOD FESTIVAL – MUNICH, GERMANY
07/16/2023 – ARENA SANTA GIULIANA – PERUGIA, ITALY
07/18/2023 – FESTIVAL DE CARCASSONNE – CARCASSONNE, FRANCE
07/20/2023 – GUITARE EN SCÈNE – SAINT-JULIEN-EN-GENEVOIS, FRANCE
07/22/2023 – JAZZ IN MARCIAC MARCIAC – OCCITANIA, FRANCE
About Joe Bonamassa
Blues-rock superstar Joe Bonamassa is one of the most celebrated performing musicians today. A three-time GRAMMY-nominee, Bonamassa earned his 25th No. 1 on the 
Billboard 
Blues Album Chart, with his latest studio album 'Time Clocks
.
'
Bonamassa earned his third GRAMMY nomination with 2020's 'Royal Tea,' recorded at the legendary Abbey Road Studios. The album brought Bonamassa full circle: reconnecting the guitar-slinging kid who stumbled across the best of British-blues in his dad's vinyl collection to the player he is today. That same year, Bonamassa delivered a groundbreaking live performance from the legendary Ryman Auditorium in Nashville, where he played 'Royal Tea' in its entirety to over tens of thousands of people across the globe via livestream, recording the full set for the live concert film and album 'Now Serving: Royal Tea Live From The Ryman,' released in 2021.
Bonamassa also runs Keeping the Blues Alive Foundation, a non-profit that promotes music education and blues music by funding scholarships and providing music education resources to schools in need. To date, the foundation has provided schools and teachers with over $1 Million and has positively impacted 90,000 students in all 50 states.
Created by Bonamassa and Roy Weisman, Keeping The Blues Alive Records (KTBA Records) has released albums for many artists, including musical icon Dion's 'Blues With Friends,' Chicago Queen of Guitar Joanna Connor's '4801 South Indiana Avenue' and British Blues-Rock star Joanne Shaw Taylor's 'Blues From The Hear Live,' all of which debuted at No. 1 on the Billboard Blues Charts, while Blues-legend Larry McCray's 'Blues Without You' debuted at No. 2. Bonamassa plans to produce and release more artists on KTBA Records this year.
Journeyman LLC, the newest endeavor between Bonamassa and his long-time manager Roy Weisman, is a vertically integrated music management, concert promotion, and marketing company that builds awareness for great live artists worldwide. After years of perfecting strategies, while building Joe Bonamassa's career, the company will utilize the same savvy tactics which allowed them to overcome industry barriers that typically held back artists from achieving success. Bonamassa has been keen on using his experience to pay it forward to help other artists navigate the murky industry waters. Consequently, Journeyman sets itself apart in this way as being the true market maker for its artists.
Joe Bonamassa – "The Loyal Kind" (Live) – Tales of Time
Joe Bonamassa – "Mind's Eye" (Live) – Tales of Time
Joe Bonamassa – "Known Unknowns" (Live) – Tales of Time
1. Notches
2. The Heart That Never Waits
3. Curtain Call
4. 
Mind's Eye
5. Questions And Answers
6. 
The Loyal Kind
7. 
Known Unknowns
8. 
Time Clocks
9. Evil Mama
10. Midnight Blues
11. I Didn't Think She Would Do It
12. Just 'Cos You Can Don't Mean You Should
13. Mountain Time