Full of Hell and Primitive Man Announce Suffocating Hallucination
The 5-song collaborative release will be out on March 3rd from Closed Casket Activities. // Listen to the first single "Rubble Home" now.
Liturgy by Zachary Jones.
Full of Hell pack nihilism, devastation, and overwhelming fury into every outpouring. Primitive Man blend existential dread and postmodern terror with hostile sludge and doom. It was inevitable that the pair of acclaimed hellraisers, coveted by devoted adherents, would collaborate.
Primitive Man bring their grimy, misery-driven heaviness together with Full Of Hell's iconoclastic genre-busting grindcore into a singularly powerful dual artistic statement. Produced by Andrew Nelson (Harms Way, Weekend Nachos, LURK), Suffocating Hallucination unites them in a blisteringly blissful sonic celebration of disillusionment and chaos. Issued by Closed Casket Activities, the record arrives just ahead of a US tour with The Acacia Strain and Fit For An Autopsy (dates listed below).
The combination of Full Of Hell's furious blast furnace speed and Primitive Man's immersive glacial doom was born first from friendship and second from the idea that they had something to say in unison. Full Of Hell guitarist Spencer Hazard suggested it. Soon, he and his bandmates – Dylan Walker (vocals), Dave Bland (drums), and Sam DiGristine (bass) – were in a room with Primitive Man's Ethan Lee McCarthy (vocals, guitars), Jonathan Campos (bass), and Joe Linden (drums).
"It's kind of like making a new hybrid band," Walker explains. "It's a really special marker of the friendship between us. We approach each collaboration differently, depending on the personalities in the room. With Primitive Man, we wrote everything in the studio. Each collaborative record is a cornerstone in our discography, as important as our own full-lengths."
Pre-order Suffocating Hallucination from Closed Casket Activities here and see both bands on the road soon.
Fit For An Autopsy/The Acacia Strain/Full Of Hell/Primitive Man 2023 Tour:
February 24  Dallas, TX @ Amplified Live
March 8  Brooklyn, NY @ Monarch
March 9  Philadelphia, PA @ Underground Arts
March 10  Columbus, OH @ The King of Clubs
March 11  Detroit, MI @ St. Andrew's Hall
March 12  Chicago, IL @ Metro Chicago
March 14  Englewood, CO @ Gothic Theatre
March 15  Salt Lake City, UT @ The Complex
March 17  Seattle, WA @ El Corazon
March 18  Portland, OR @ Hawthorne Theatre
March 19  Sacramento, CA @ Ace Of Spades
March 20  Santa Ana, CA @ Observatory
March 21  Los Angeles, CA @ 1720™
March 22  Mesa, AZ @ Nile Theater
March 25  Austin, TX @ Come and Take It Live
March 26  Houston, TX @ Warehouse Live
March 28  Tampa, FL @ The Orpheum
March 29  Atlanta, GA @ The Masquerade
March 30  Greensboro, NC @ Arizona Pete's
April 1  Worcester, MA @ Palladium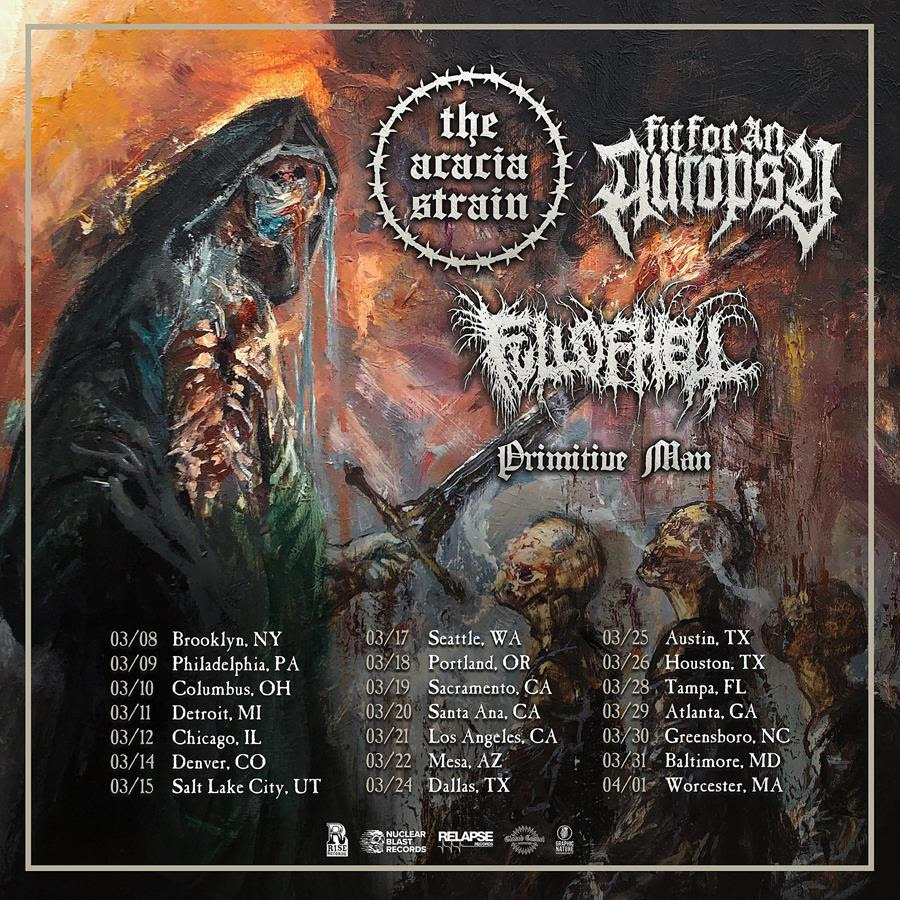 Suffocating Hallucination, track listing:
Trepanation for Future Joys
Bludgeon
Dwindling Will
Tunnels to God
Suffocating Hallucination cover art: