EMO-RAP ARTIST LUCID KIDD DROPS NEW TRACK "NOTHING BACK"
THIRD SINGLE FROM FORTHCOMING DEBUT EP
FOLLOWS THE RELEASE OF BUZZ SINGLES
Teenage artist Lucid Kidd is quickly gaining recognition as one of the most exciting new names in the emo rap scene.
For Immediate Release: May 24, 2022 — At just 17 years old, Lucid Kidd is already making a name for himself with his unique blend of emo rap and urban melodic pop.
The Lithuanian artist is still buzzing from the recent success of his sophomore single, 
"Today and Tomorrow,"
 which claimed the #3 featured spot on Spotify's highly competitive 
Tear Drop Playlist
 and the #17 spot on Tidal's 
Rising: Pop Playlist.
 Meanwhile, 
Lucid Kidd
's debut video, 
"G n T,"
 has amassed almost 250k views.
Today, he follows that up with "Nothing Back," the third single from his forthcoming debut EP.
"This is a song about the escape from betrayal," shares Lucid Kidd.
"It depicts the vampires as these fake people that are always draining your energy and using you. The song expresses leaving all these vampires behind and finding your own path, because walking alone is better than being surrounded by fake people. The video contains lots of colors, which represent escaping from the greyness of fake people and becoming your own bright, colorful individual."
"People around act like thieves // Maybe it's me // I'm digging in deep, // And I don't like the way he's tied to me // It's like a catastrophe // Ripping out my sanity." Lucid Kidd sings on "Nothing Back," offering up a look at the state of emotional guard that comes with trying to escape this betrayal.
The escape from greyness plays a major role in all of Lucid Kidd's music, serving as a mantra for standing out and expressing himself as a teenager under the monotonous circumstances he grew up in. Being from Lithuania, long and dark winters and the feelings of depression that come with them were always commonplace for Lucid Kidd, and turning to the emotional complexity and expression of emo rap allows him to deftly capture these feelings.
Lucid Kidd's music showcases his carefully crafted, production-minded beats, his striking melodicism, and his impressive rap flow. Furthermore, much of it is an unguarded reflection of what it's like to come of age during a pandemic, and then have to watch the turmoil in Ukraine unfold from a close distance in his native country.
Born the day after Christmas in Lithuania, Lucid Kidd discovered a passion for music at 10, when he started taking guitar lessons and tinkering around on his grandmother's grand piano. Then, his sister introduced him to the XXXTENTACION song "Look at Me," and the rest is history, as they say.
Lucid Kidd has been making his own music since he was 13. Trying his hand to no avail at producing, replicating simple beats, and rapping over his own beats, he eventually pulled out beats from YouTube and started creating songs. It wasn't long before he was creating three songs every day – recording, mixing, and experimenting all on his own.
Undoubtedly, Lucid Kidd is primed to introduce his music to America and beyond. His soon-to-be-released debut boasts titles produced by Fast Life Beats (LouGotCash, Coi Leray, Perri Jones, Young Paris) and IKENNA FuNkEn (Kevin Gates), and collaborations with Corey Chorus (Rihanna, Keke Palmer, Estelle).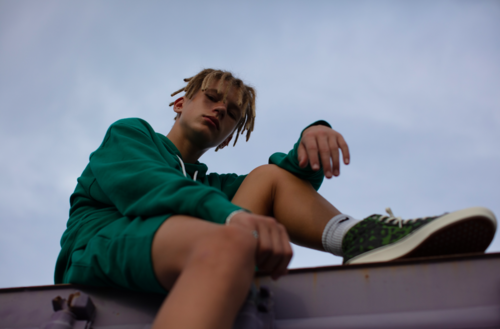 "One of Lithuania's most exciting prospects may also be one of its youngest."
ALFITUDE
"Catchy sound."
 CULTR
"Lucid Kidd is a young artist ready to conquer America and the rest of the world with his unique and highly enjoyable brand of music."
 DNü
"…has developed his unique brand of edgy, melodic, urban pop."
ELEVATOR
"Riding the popularity of this new emo wave is Lucid Kidd. Despite his age, Lucid Kidd is wise beyond his years, and you'll likely be hearing more of him."
 GLASSE FACTORY