DREAM NAILS RELEASE NEW VIDEO 'BALLPIT'
TAKEN FROM 'DOOM LOOP' OUT OCTOBER 13TH 2023
VIA MARSHALL RECORDS
Credit: Holly Whittaker @hollywhittaker
Queer punk collective DREAM NAILS drop their new single 'BALLPIT,' a disco-punk war cry, taken from their highly anticipated sophomore record 'DOOM LOOP' (set for release October 13th, 2023, via Marshall Records, produced by Ross Orton).
The band will be performing a series of intimate in-store shows this October ahead of their full UK and European headline tour. Fans can find tickets to the events – HERE. pre-order the album, 'DOOM LOOP' – HERE and check out the video for their latest single 'BALLPIT' – HERE.
Packed with a snarling punk rock attitude and brazenly cut with a grimy alternative disco flavour, 'BALLPIT' sees DREAM NAILS addressing the defiant act of self-care and forcing yourself to be present, slow down and enjoy life.
"This song is about having fun for the sake of it." declares drummer Lucy Katz. "It's about the pursuit of hedonism as a radical act.  Sometimes the dread and hopelessness caused by the succubus of late-capitalism, patriarchy, white supremacy, and environmental devastation feels overwhelming.
"These problems aren't going to be solved by acting silly in a ball pit or writing a song about it, but part of breaking through the doom loop is learning how to have self-compassion, to carve out moments and spaces where we can play and simply exist."
Bassist Mimi Jasson expands on the track's sticky plastic origins by adding:
"After a show, with the band tired and depleted, Anya started begging everyone else to check out this adult ball pit, aptly named Balls Deep… She was honestly desperate to go. We caved and ended up spending an ecstatic hour surrounded by 'sticky coloured plastic,' laughing, and jumping in, over and over again… 'Drowning in colour' is the ultimate goal."
Filmed in an Essex meadow on the grounds of a youth music project the band are collaborating with
on their Arts Council England-funded project Dreams of Revolution, which facilitates youth
engagement with zine culture, political music and aims to increase access to the music industry.
The cryptic video features a leather leather-clad character (portrayed by bassist Mimi Jasson)
representing someone seeking pleasure on their own terms, while simultaneously depicting an image that the mainstream would understand as sexualised from the latex and fetish attire.
"…the giant Zorbs we used looked like alien eggs," explains frontman Ishmael. "This concept aligns with the idea that Mimi's character gave birth to the band, who, in turn, frees the creature searching for its own pleasure and autonomy, guided by our sound."
CLICK THE IMAGE BELOW TO CHECK OUT LATEST SINGLE 'BALLBIT'

(Directed and Edited by Marieke Macklon, Styled by Mia Maxwell, Creative Direction by Emily Barker)
–
MORE ON DREAM NAILS AND 'DOOM LOOP'
Welcome to the (r)evolution of Dream Nails. Born from a chaotic mix of run-ins at drag shows and shared friendships, Dream Nails have established themselves as a political ecosystem, a safe haven, "for trans and queer people and their allies who love punk music".
An all-queer political punk collective made up of members Anya Pearson, Lucy Katz, Mimi Jasson and new frontman Ishmael Kirby, the band have burst forth from their DIY roots to newly sign with Marshall Records, bringing forward a reborn image of Dream Nails with music we can all find ourselves in.
What Dream Nails seek out is greater than idealistic, punchy anthems. Instead, they want their music to inspire change, action, and hope. They have spent the last few years reflecting on their communal roots and driven dream of "making the world a better place" and sharing a message they truly believe in.
Dream Nails' latest offering, 'DOOM LOOP' is an introspective and vibrant masterpiece ­– produced by the infamous Ross Orton, who has worked with the likes of Arctic Monkeys, Amyl and The Sniffers, and The Fall– reflects a passionate fight for empathy in a divided world. 'DOOM LOOP' is an album that courageously delves into the repeated cycles that shape our existence: from relentless acts of social injustice; the pervasive influence of patriarchal systems that offer nothing but oppression, and the violent death grips of outdated constructs.
'DOOM LOOP,' set for release October 13th 2023 via Marshall records. Pre-order – HERE. Be sure to check out Dream Nails live. A full list of in-store dates can be found below. Fans can find tickets to the events – HERE.
2023 Tour Dates
*UK in-store show
September
02 Copenhagen, DK – Luna Riot Ball
08 Birmingham – The Rainbow
October
13 Kingston – Banquet*
14 Liverpool ­– Jacaranda*
15 Cambridge – Cambridge Junction
16 Birmingham – Beyond Vinyl*
17 Leeds – Crash Records*
18 Nottingham – Rough Trade*
19 London – Rough Trade East*
26 Glasgow – McChiulls
27 Manchester – Canvas
November
02 Nottingham – Bodega
03 Bristol – Rough Trade
04 London – Omeara
24 Paris – L'International
25 Baden, DE – Werkk Kulturlokal
26 Bern, CH – Rossli Bar
28 Koln, DE – Blue Shell
29 Hamburg, DE – Hafenklang
30 Berlin, DE – Schokoladen
December
01 Langenberg, DE – KGB
03 Munster, DE – LWL Museum
06 Rotterdam, NL – V11
07 Antwerp, BE – Trix
08 Amsterdam, NL – Cinetol
TICKETS – HERE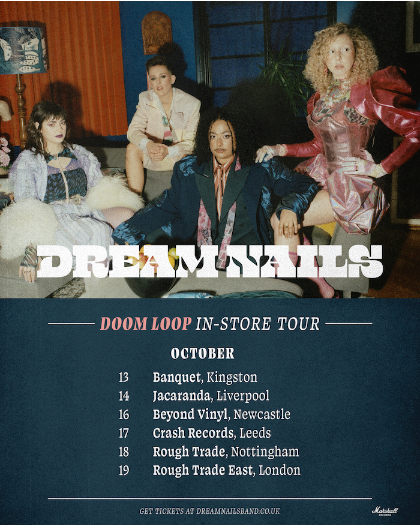 –
'DOOM LOOP' TRACK LISTINGGood Guy
Case Dismissed
Geraniums
Prevenge
Monster
Sometimes I do Get Lonely, Yeah
She's Cutting My Hair
Femme Boi
Ballpit
Time Ain't No Healer
–
Dream Nails:
Anya Pearson (she/her) – Guitar, Mimi Jasson (she/her) – Bass, Ishmael Kirby (he/they) – Vocals, Lucy Katz (she/her) – Drums
–
CONNECT WITH THE BAND
Twitter / Facebook / TikTok / Instagram / Site