DRAIN
Announce US Headlining Tour
'Monster Energy Outbreak Tour Presents: DRAIN'
New Album 'LIVING PROOF'
Out May 5 Via Epitaph
DRAIN by Ryan Baxley
"This is some top-shelf thrashed-out hardcore music." – Stereogum
"Every Drain song sounds like pouring a case of Mentos into a gallon of cola, dousing it with gasoline and then chucking it into a bonfire." – Revolver
"Ciaramitaro pens upbeat, sunny anthems that reflect the band's laid-back California roots, which shows they can be brutal and have some fun" – Alt Press
Today, NorCal hardcore trio DRAIN announce the 25-date Monster Energy Outbreak Tour Presents: DRAIN. Kicking off in Tacoma, WA on May 25 with stops in NYC, Atlanta, Houston, Phoenix and more, the band brings it home to The Catalyst in Santa Cruz on June 24. Tickets go on sale this Friday, March 24 @10am local time at www.drain831.com.
"We are mad pumped to be headlining the Monster Energy Outbreak Tour," says front man Sammy Ciaramitaro. "It's going to be insane. If you've never experienced a DRAIN show, we can't wait to bring it to you!"
Their sophomore record 'LIVING PROOF' is due for release on May 5th via Epitaph Records, produced by longtime friend and multi-instrumentalist Taylor Young (God's Hate, Suicide Silence) and mixed by Jon Markson (Drug Church, Koyo). The record injects a serious dose of relatability—not to mention catchiness—into hardcore's penchant for toughness and brutality.
The highly anticipated follow up to their debut 'California Cursed' (2020), that album was released amidst Covid-19 lockdowns and found the band unable to bring the album to live audiences. With their dynamic shows and positive energy propelling them to peak underground popularity, the upcoming album and tour are testaments to the hard work and heartfelt ethos that's at the center of DRAIN's good-time psyche.
Stemming from humble DIY beginnings, DRAIN formed in 2014 and built up their scene alongside friends who would go on to form bands like Scowl, Gulch, and Sunami. In the process of paving the way for hardcore to thrive in their beach town of Santa Cruz, CA, they've cemented a legacy that transcends their California roots. After releasing two EPs and one full-length record, they signed to Epitaph in 2021 with label debut single "Watch You Burn." Taking heavy influence from thrash and 80's/90's hardcore, they also blend an eclectic mix of modern influences that have been praised by the likes of Stereogum, Revolver, The FADER, BrooklynVegan, Kerrang! and more!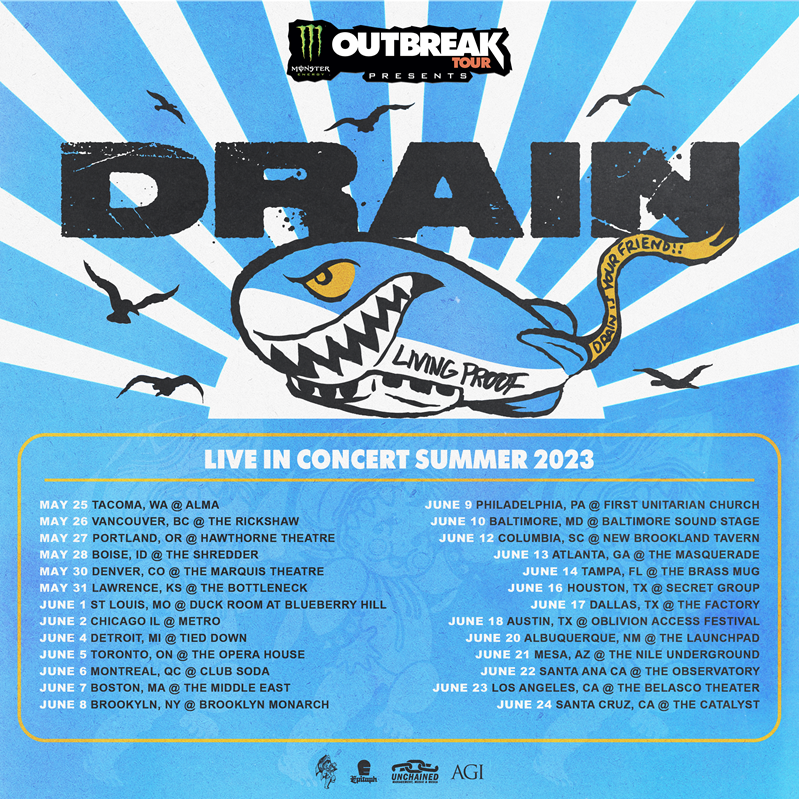 Monster Energy Outbreak Tour Presents: DRAIN
Thursday, May 25                   Tacoma, WA                            Alma
Friday, May 26                       Vancouver, CA                         The Rickshaw
Saturday, May 27                   Portland, OR                           Hawthorne Theatre
Sunday, May 28                      Boise, ID                                 The Shredder
Tuesday, May 30                    Denver, CO                             The Marquis Theater
Wednesday, May 31               Lawrence, KS                         Bottleneck
Thursday, June 1                    St Paul, MN                            Fine Line
Friday, June 2                         Chicago, IL                             Metro
Sunday, June 4                       Detroit, OH                             Tied Down
Monday, June 5                      Toronto, ON                            The Opera House
Tuesday, June 6                     Montreal, QC                          Club Soda
Wednesday, June 7                Boston, MA                             Middle East
Thursday, June 8                    NYC, NY                                 Brooklyn Monarch
Friday, June 9                         Philadelphia, PA                     First Unitarian Church
Saturday, June 10                  Baltimore, MD                         Baltimore Soundstage
Monday, June 12                    Columbia, SC                         New Brookland Tavern
Tuesday, June 13                   Atlanta, GA                             The Masquerade
Wednesday, June 14              Tampa, FL                              Brass Mug
Friday, June 16                       Houston, TX                            Secret Group
Saturday, June 17                  Dallas, TX                               The Factory
Sunday, June 18                     Austin, TX                               Oblivion Access Festival
Tuesday, June 20                   Albuquerque, NM                    Launchpad
Wednesday, June 21              Phoenix, AZ                            The Nile Underground
Thursday, June 22                  Santa Ana, CA                        The Observatory
Friday, June 23                       Los Angeles, CA                     The Belasco Theater
Saturday, June 24                  Santa Cruz, CA                       The Catalyst
LIVING PROOF Tracklisting Pre-order HERE
1.     Run Your Luck
2.     FTS (KYS)
3.     Devils Itch
5.     Imposter
6.     Intermission
7.     Weight Of The World
9.     Good Good Things
10.  Living Proof
DRAIN is Sammy Ciaramitaro (vocals), Cody Chavez (guitar) and Tim Flegal (drums).