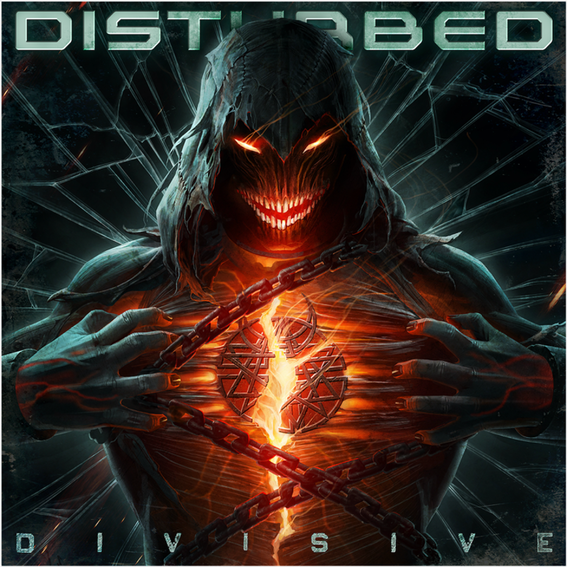 Gearing up for another era, the multi-platinum rock band Disturbed will release their eighth full-length album, 'Divisive', on November 18th via Reprise Records. The album is available to pre-order/pre-save HERE. It follows 2018's 'Evolution', which became their joint highest charting UK album to date when it debuted at #7.
Frontman David Draiman says, "Partisan tribal warfare has become a part of our regular existence nowadays. It's one big battle of the cliques. The whole idea of the record is to be a wakeup call for everyone. Our society has become addicted to outrage. Music is the best cure for what ails us though. If only everyone reached out and used it. There's no better environment to forget about all of this shit than live music. We can be together and realize we have more in common than not. Recognize what's happening and let's make a change for the better."
Guitarist Dan Donegan adds, "Whatever it takes, we've got to pull it together. We've always tried to take negative topics and spin them in a positive light. From touring around the world, we've seen the power of music as the universal language to bring everyone together from all walks of life. We can still play songs to unite people, and it's a pretty powerful feeling."
Bulldozing the way for the record, Disturbed today unleash the unpredictable and undeniable new single 'Unstoppable'. It storms out of the gate on a jackhammer guitar riff, pummelling drums, and the band's signature staccato vocal phrasing in lockstep with a pulsating rhythm. This barrage crashes into a sky-scraping stadium-ready refrain, "There's no escape. I am unstoppable." The accompanying lyric video seamlessly translates this frenetic anthem into fiery on-screen action befitting of the track's uncontainable momentum.
Draiman notes, "'Unstoppable' is definitely one of the heavier tracks on the record. The groove builds into a bombastic animal. It's truly the fight song."
"We always have a big rock anthem on every album," agrees Donegan. "We love to write empowering songs for motivation. We're avid sports fans, and that's definitely part of it. It's an in-your-face track, for sure."
'Divisive' pulls no punches as a precise, punchy, and powerful hard rock opus. Over the last year, the quartet cut these ten tracks with producer Drew Fulk (Motionless In White, Lil Peep, Highly Suspect) in Nashville. After Donegan shared initial ideas with the rest of the group, they locked in like never before with the groove as the backbone. Drummer Mike Wengrenbolted down some of the strongest and boldest rhythms of their career punctuated by John Moyer's punchy bass. Together, the musicians collectively conjured the focus and fire of their seminal early output augmented by airtight songcraft and a heightened level of musical chemistry that could only be forged by years of writing and touring together.
Breaking ground, it also notably marks the first time the band included a guest feature on an album, boasting the epic emotionally charged duet 'Don't Tell Me' with Ann Wilson. Meanwhile, the likes of 'Bad Man' and "Divisive" rank amongst the band's heaviest material. At the same time, they infuse the likes of 'Won't Back Down' with uplifting melodies.
Disturbed initially set the stage for the record with 'Hey You'. The song spread like wildfire across airwaves, emerging as their 15th #1 single at US Rock Radio. It has already gathered 10 million+ streams and counting, only increasing anticipation for 'Divisive'.
Emerging out of Chicago at the turn of the century with an insidious, infectious, and inimitable vision without comparison, Disturbed have quietly dominated hard rock on their own terms. They make the kind of music that pushes you to hold on tighter, fight harder, and persevere forever. It's why they've quietly claimed a place at the forefront of 21st century rock with record-breaking success, over 17 million+ sales, nearly 8 billion streams, and sold-out shows around the globe including a huge London gig at Alexandra Palace. The two-time GRAMMY Award-nominated quartet have notched five consecutive #1debuts on the Billboard Top 200, matching Metallica, the only other hard rock group to accomplish this feat.
Since their influential 5 x platinum debut 'The Sickness' in 2000, they have built a bulletproof catalogue highlighted by a procession of smashes, including the platinum 'Stupify', 'Inside The Fire' and 'Land of Confusion', the 2 x platinum 'Stricken', the 6 x platinum 'Down With The Sickness' and the 7 x platinum 'The Sound of Silence'. The latter notably received a GRAMMY Award nomination in the category for Best Rock Performance.
'Divisive' tracklist:
1. 'Hey You'
2. 'Bad Man'
3. 'Divisive'
4. 'Unstoppable'
5. 'Love To Hate'
6. 'Feeding The Fire'
7. 'Don't Tell Me' (featuring Ann Wilson)
8. 'Take Back Your Life'
9. 'Part Of Me'
10. 'Won't Back Down'