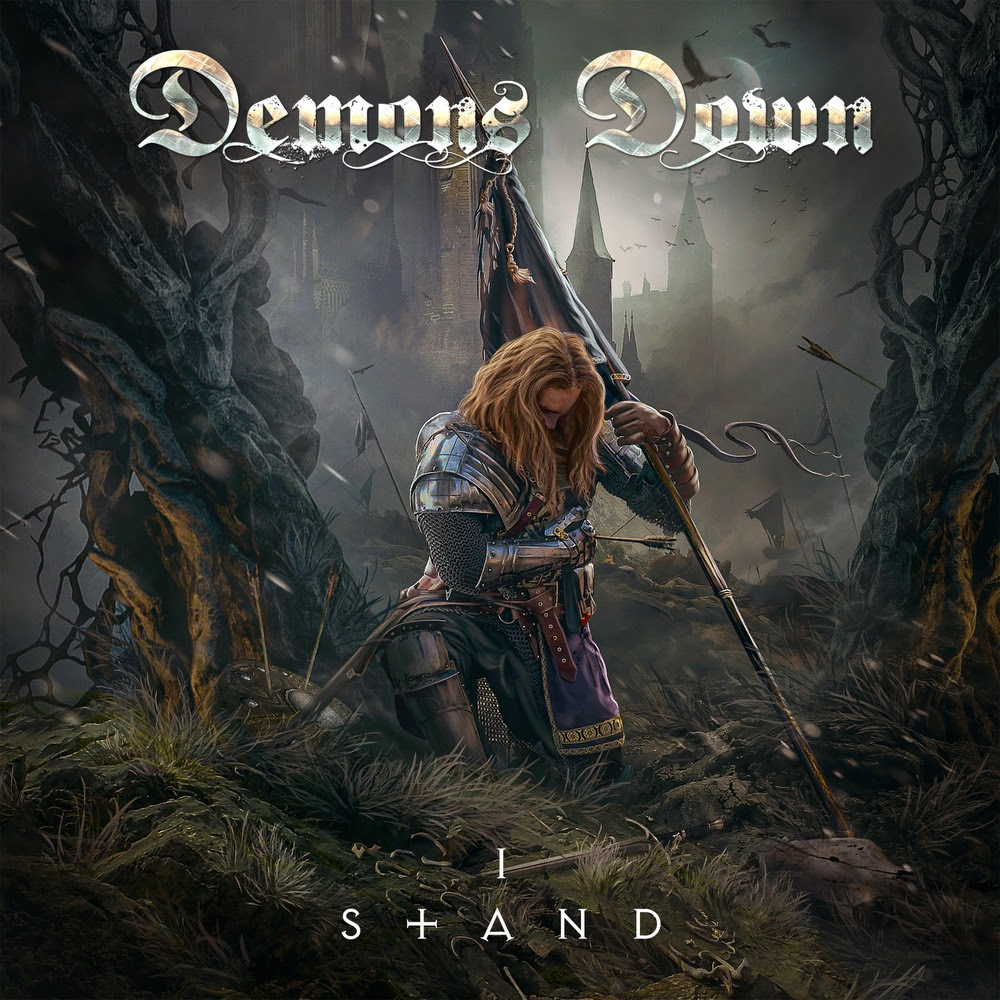 DEMONS DOWN
I STAND
debut album
out 10.03.23
(Frontiers)
includes the single
I STAND
video
Frontiers Music Srl is pleased to announce the signing of Demons Down, a new band featuring two talented up-and-comers in vocalist James Robledo (Sinner's Blood) and guitarist Francesco Savino (False Memories), alongside hard rock veterans in guitarist Jimi Bell (House of Lords, Autograph), bassist Chuck Wright (ex-Quiet Riot, House of Lords, etc) and drummer Ken Mary (ex-House of Lords, Alice Cooper, Fifth Angel, etc).
The quintet will release a debut album of quintessential classic hard rock entitled 'I Stand' on 10th March, with its title song available as a single and video from today.
James Robledo is a Chilean vocalist who comes from a family of prominent musicians in that country's history, while his 2016 participation in the TV show 'The Voice Chile 2' generated a stir thanks to his outstanding appearances. An active member of the wider hard rock/metal community, he has released a solo album and another with compatriots Sinner's Blood, both via Frontiers. Fun fact – one of his distant relatives scored the winning goal in the 1952 FA Cup Final and also appears on the cover of a John Lennon album!
Francesco Savino is an Italian guitarist and songwriter who founded goth metal band False Memories, whose current album' The Last Night Of Fall' (2021) was met with widespread praise. He has recently been contributing songs to Frontiers as well as working on the next False Memories album.
Jimi Bell is an established rock guitarist who is currently also a member of both House Of Lords and Autograph. Outside of his band work, he has made music for sports outlets such as ESPN, WWE, Impact Wrestling and NASCAR. He is also the inventor of the Shredneck guitar tool.
Chuck Wright is best known for his lengthy tenure in multi-platinum rockers Quiet Riot and for playing bass on the song 'Metal Health', the title track of the multi-platinum Billboard no. 1 album. He was also a founding member of House Of Lords and Giuffria and has worked alongside luminaries the include Alice Cooper, Ted Nugent, Pat Travers and members of Guns 'N Roses and Kiss.
The resumé of Ken Mary has seen him perform in a wide variety of genres that have showcased not only his wide-ranging skills behind the bit, but also his accomplished engineering, writing, singing and award winning production. His drumming can be heard on albums by Alice Cooper, Jordan Rudess, Northern Light Orchestra, Kip Winger, House of Lords, The Beach Boys, Impelliterri, Don Dokken, Fifth Angel, Bonfire and many more.
I STAND
TRACKLISTING
1  I Stand
2  Disappear
3  Down In A Hole
4  On My Way To You
5  Where Will Our Tears Fall?
6  Book Of Love
7  Stranded In The Middle Of Nowhere
8  Follow Me
9  To The Edge Of The World
10  Search Over The Horizon
11  Only The Brave
Produced by Alessandro Del Vecchio
Executive Producer/A&R: Serafino Perugino
DEMONS DOWN
James Robledo – vocals
Jimi Bell – guitars
Francesco Savino – guitars
Chuck Wright – bass
Ken Mary – drums
with
Alessandro Del Vecchio – keyboards, guitars, backing vocals
ABOUT FRONTIERS MUSIC SRL
Originally founded in Naples, Italy in 1996 by Serafino Perugino and his father Fernando as a distribution company, Frontiers has developed into one of the premiere independent rock labels in the world. Synonymous with quality music across a broad spectrum of rock and metal genres, the company works with multiple genre heavyweights and fan favourites. However, in addition to providing an outlet for classic and established acts, it has also become home to a wealth of young, up and coming talent whose musical prowess, when combined with the label's savvy and forward thinking A&R and marketing approach, will be developed into the future of rock and metal. With a deep commitment to and passion for THE MUSIC and the artists who create it, plus massive global distribution, sales, marketing and promotion channels, Frontiers is the leading home for both established and emerging rock and metal artists.
Head Office: Naples, IT | U.S. Office: Nashville, TN
Subscribe to be alerted when new videos are added:
radi.al/SubscribeFrontiers
Follow the 'Newest From Frontiers' playlist on Spotify:
spoti.fi/1rQz5Zm