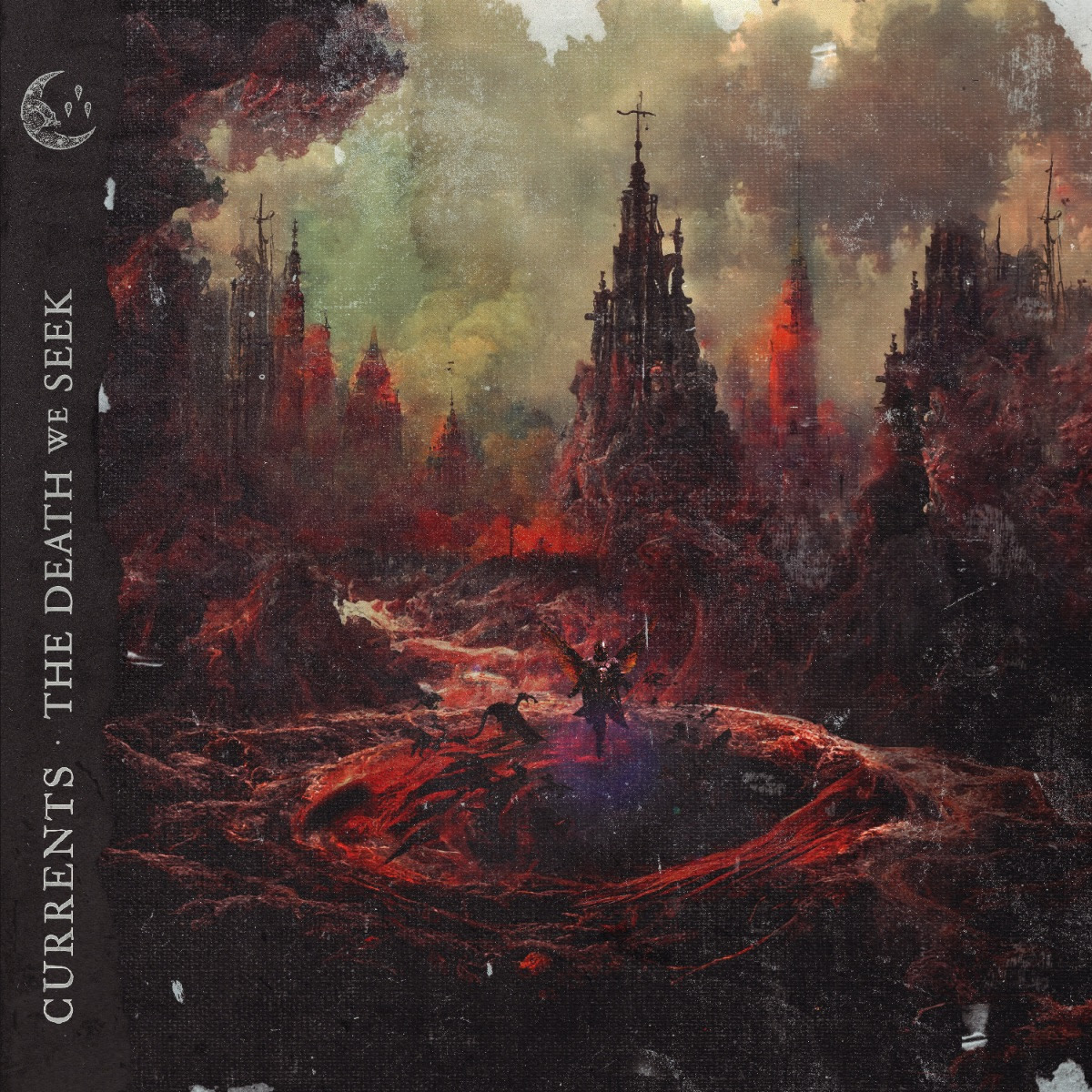 CURRENTS ANNOUNCE NEW ALBUM THE DEATH WE SEEK OUT MAY 5 VIA SHARPTONE
BAND SHARES "REMEMBER ME" VIDEO — WATCH
TOUR WITH PARKWAY DRIVE + MEMPHIS MAY FIRE UNDERWAY
Connecticut metalcore dynamos CURRENTS have announced their new album The Death We Seek. It will arrive on May 5 via SharpTone. Pre-order it here.
Today, the band has shared the video for "Remember Me." Watch it here.
"'Remember Me' is a statement to our growing divide between one another," says singer Brian Wille. "The dark side to technology's double-edged-sword is access to a font of information and public discourse, curated to engagement, and skewed to individual interest and world-view. The further we go in, the further we're separated from the middle ground and impartial truths. Over the course of the Internet's existence and the rise of social media empires, we're beginning to fracture our relationships with one another over anything we can fight about, even going as far as to relish in the chaos and division. You can see the exact same event and come out with instant, infinite perspectives across the ideological spectrum; painted on a mass public forum accessible to billions of people. Driven further by algorithms and advertising, poison can spread quickly and have lasting outcomes on how we see eachother and the world around us."
He finishes, "While disagreement and debate are not new, nor the real enemy here, we've all felt a particular strain to our closest ties over the last three years. This song is the release of that frustration and loss, and a call to find what brings us together and work through what set us apart. Whether it's a personal issue or an ideological impasse, we can all do better to practice empathy, understanding, and trust in those around us; that's the only way we can collectively see through what's real, and what's interest-driven spectacle."
The band has also shared the news that guitarist Ryan Castaldi is battling lymphoma. A GoFundMe has been set up here and details his prognosis. Please share where able.
Currents are on the road with Parkway Drive and Memphis May Fire. All dates are below.
THE DEATH WE SEEK TRACK LISTING:
"The Death We Seek"
"Living In Tragedy"
"Unfamiliar"
"So Alone"
"Over and Over"
"Beyond This Road"
"Vengeance"
"Gone Astray"
"Remember Me"
"Guide Us Home"
CURRENTS ON TOUR:
WITH PARKWAY DRIVE + MEMPHIS MAY FIRE:
2/1 —  Phoenix, AZ — Marquee
2/3 — San Antonio, TX — Tech Port Center
2/4 — Houston, TX — House of Blues
2/5 — Dallas, TX — House of Blues
2/7 —  St Louis, MO — The Pageant
2/8 — Newport, KY — MegaCorp Pavilion
2/10 — Huntington, NY — The Paramount
2/11 —  Sayreville, NJ — Starland Ballroom
2/13 — Columbus, OH — KEMBA Live!
2/14 — Nashville, TN — Marathon Music Works
2/15 — Charlotte, NC — The Fillmore
2/16 — Myrtle Beach, SC — House of Blues
CURRENTS ARE:
Brian Wille — Vocals
Chris Wiseman — Guitar
Ryan Castaldi — Guitar
Christian Pulgarin — Bass
Matt Young — Drums
ABOUT CURRENTS:
Leveling everything in their path with crushing intensity and raw emotional confession, CURRENTS set new standards for dissonance, dissatisfaction, and existential dread, with unstoppable fury.
The band plays an overwhelming and jaw-dropping mixture of metallic hardcore, aggressive melody, and electronic texture. Currents aren't afraid to look inward with stark examinations of failure, heartache, and one's responsibility to the world.
Heady and ferocious, The Death We Seek is Currents at both their most powerful and most vulnerable. Songs like "Unfamiliar," "Vengeance," "Remember Me," and "So Alone" are unflinching explorations of rugged emotional terrain. Currents are uncompromisingly heavy and as raw as a nerve exposed.
They've taken their visceral maelstrom on tour around the world, supporting bands like Ice Nine Kills, Parkway Drive, August Burns Red, Fit For A King, As I Lay Dying, and We Came As Romans. A combination of their diverse influences, channeled through unique perspectives and personal experiences, Currents alternate between thoughtful and unhinged. Those well-versed in the likes of Meshuggah, Vildhjarta, and Architects have embraced Currents with full-throated passion.
Currents is frontman Brian Wille; guitarists Chris Wiseman and Ryan Castaldi; bassist Chris Pulgarin; and drummer Matt Young. A winding DIY road through earlier lineups resulted in a series of self-released EPs, all leading to the band's acclaimed debut album, The Place I Feel Safest (2017).
The five-song I Let The Devil In EP (2018) came shortly after, co-produced by Wiseman and Ryan Leitru (For Today, We Came As Romans, Like Moths To Flames). The pair also produced the band's stunning sophomore full-length, The Way It Ends (2020). Metal Hammer praised that record's mixture of rage, beauty, and electronic-laden melodic aggression as "immediately addictive."
Leitru and Wiseman co-produced The Death We Seek, and the band's guitarist engineered Wille's vocals himself for the first time. Jeff Dunne (Wage War, Ice Nine Kills, Make Them Suffer) mixed, making for a massive yet nuanced slab that serves as a Currents mission statement going forward.
The lyrics are thoughtful yet accessible, eschewing easy sloganeering for depth. Massive breakdowns, a driving onslaught of riffs, and black metal-worthy beats juxtapose against moments of ambiance, tranquility, and stripped-back melancholy amidst the dense, weighty madness.
The band keeps a dedicated focus that ensures each release serves a purpose, with a cohesive journey from start to finish, as complete artistic statements vs. a disconnected batch of songs.
Across all three albums, in every live show, and with each increasingly cinematic piece of visual storytelling, Currents fearlessly search for meaning amidst uncertain chaos. Abuse, depression, neglect; no trauma spared. They also cast their gaze outward, offering no mercy to an exploitative system that inflicts harm on people, animals, and the Earth.
As New Noise rightfully declared: "CURRENTS is a band not to be ignored."