March 23, 2023, SAN FRANCISCO – Covet, the Bay area trio who recently announced the impending arrival of their third album,catharsis(April 7, Triple Crown Records) have released "lovespell" (https://triplecrown.ffm.to/covet-lovespell) a second track, and accompanyingvideo, from the eagerly-awaited album.
Yvette Young says of the song:"This one is the album closer. The closest feeling I get to falling in love is when I write and play music, and this song is a tribute to that feeling of being totally smitten by the joy of creating and feeling things deeply. It was important to me to leave everyone on a high note (in this case, a saxophone solo provided by the amazing Alex Rose from Minus the Bear)."
The "lovespell" video was also directed by Tom Flynn, who also partnered with the band for the recently released, free-spirited "firebird" clip (https://triplecrown.ffm.to/covet-firebirdmv). Kerrang! described the track "dazzling,"LouderSoundcalled it "fret-bendingly good," andGuitar World, in a nod to Yvette's playing style, dubbed it "tap-happy."
COVET – 'lovespell' (Official Music Video)
"We did a lot of risk-taking on this album,"Yvette explains of the 8-song, Scott Evans (Thrice, Samiam) produced album."I try to follow what excites me without heeding anybody's expectations. I'm leaning into melodies, tones, and textures and trying to use them to transport listeners. The whole concept is escaping into a fantasy realm where the songs depict different characters and their own worlds. Each song is like their theme song. It's mostly instrumental, but when you close your eyes, I hope people will be transported into the character's story. Music has always been escapism for me and a great source of therapy. My hope for this music is that it will take people somewhere and stir their imaginations, or at the very least, make them feel something. I named this record 'catharsis' because the word to me feels like a triumphant exodus. No matter the dire circumstances, music is one of those things that I've always needed to create to survive (in all senses of the word), and time and time again, I turn to guitar and songwriting as my outlet to uplift and feel like I have control over something in this chaotic universe."
catharsistracklist:
1. coronal
2.firebird
3. bronco
4. vanquish
5. interlude
6. smolder
7. merlin
8. lovespell
Album pre-orders, which include several limited-edition vinyl variants, CD, and digital pre-saves are available here:https://triplecrown.ffm.to/covet-catharsis.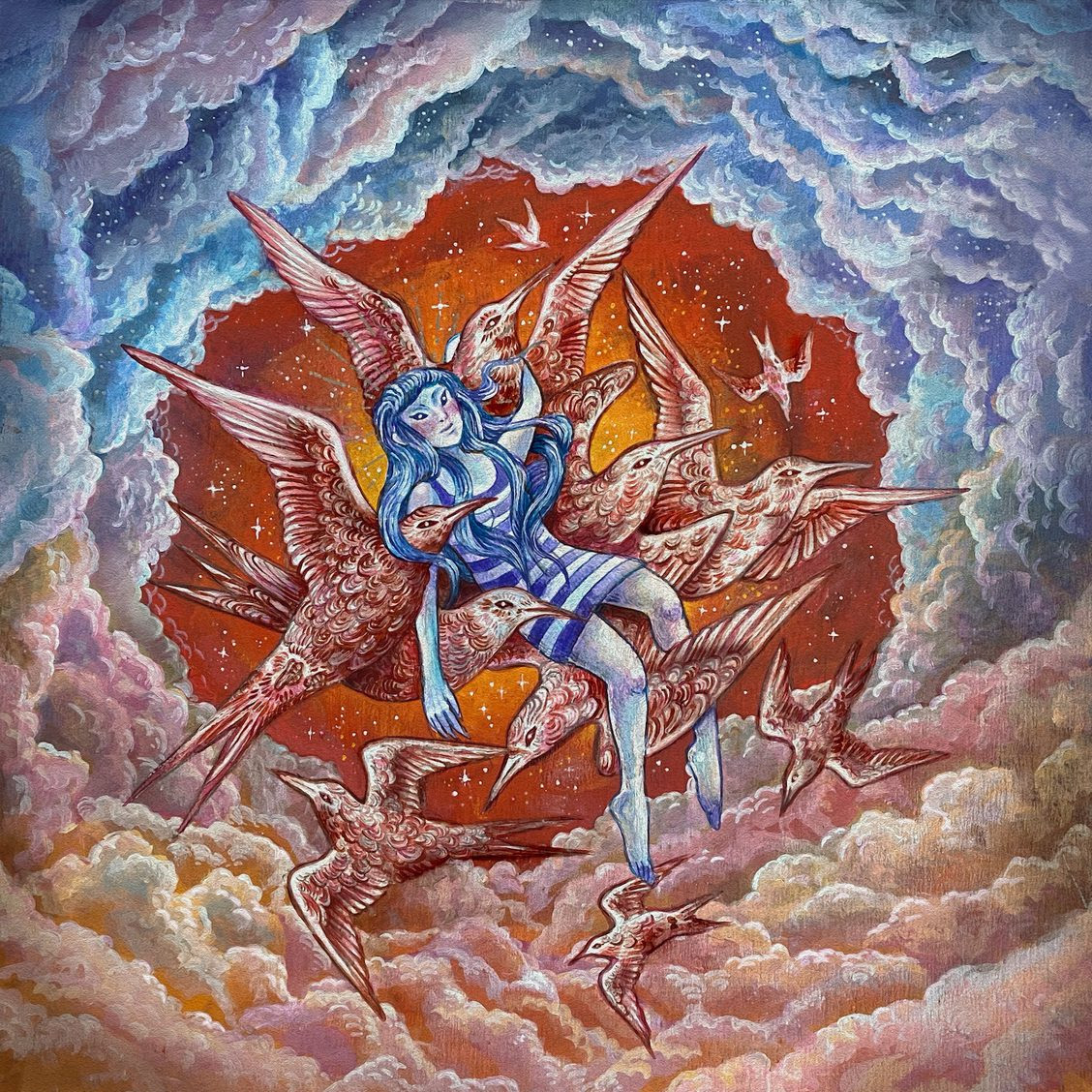 Covet is Yvette Young (guitar/vocals), Brandon Dove (bass) and Jessica Burdeaux (drums). The Bay Area-born band released their debut album,efflorescein 2018, followed bytechnicolorin 2020.Exclaimsaidtechnicolor"sparkles with the wonder of creativity,"Treble Zinedescribed the 10-song collection as "engaging" and "dynamic," whileBrooklyn Vegansaid the band thrives on "sugar-sweet melodies."
https://covetband.bandcamp.com/
https://www.instagram.com/covetband/
https://facebook.com/covetband