CASKETS announce new album, 'Reflections', with new single, 'More Than Misery'
New album 'Reflections' is released August 11th on SharpTone
Yorkshire melodic metallers, Caskets, have announced their new album, 'Reflections', for an August 11th release on SharpTone Records. To mark the announcement, the Leeds quintet have released a new single, 'More Than Misery', featuring a guest appearance from The Word Alive's Telle Smith.
Speaking of the track, frontman Matt Flood says, "More Than Misery is written around the conflict of being hypnotically entranced by someone or something that in the end, you know will only lead to toxic habits or bad intentions. Everyone has felt this and been in this situation in one way or another throughout their life. It's about not wanting to be in this situation and feeling the struggle of bearing the weight of pressure it puts on your shoulders. How it can affect every other thing around you, from your mental health to the relationships you build around you."
"There is light at the end of the tunnel though," he states. "To even acknowledge the situation and build a foundation of support around you to come face to face with what it is that's holding you back. If you just take a step into the unknown, you'll see your life is more than just misery'
CASKETS – 'More Than Misery' (Official Music Video)
There's an art to looking back. For Caskets, it could have been easy to plough forwards regardless, riding the wave of success from their breakthrough debut 'Lost Souls' (over 80 million streams to date), that opened tours up across the United States and mainland Europe, and secured appearances at landmark festivals Download and Slam Dunk. But having swapped the bedrooms that fostered album number one for countless hours on the road, reflecting on that journey and the decisions that led them down certain paths quickly became unavoidable.
If 'Lost Souls' was primarily driven by vocalist Matt Flood's personal experiences, 'Reflections' delivers a wider picture of Caskets as a whole, borne out of the usual interpersonal differences that all bands face at least once in their career. For some it marks the end, but for others it fosters a collaborative environment that pushes the music well beyond what has come before.
The result reflects each individual member of Caskets, with Matt joined by guitarists Benji Wilson and Craig Robinson, bassist Chris McIntosh, and drummer James Lazenby. The record's more upbeat moments carry impactful melodies, upping the ante from 'Lost Souls' with considered force, while the powerful ambient moments play out with real finesse.
In a step away from the singular retellings of 'Lost Souls', the Dan Weller (Bury Tomorrow, Enter Shikari, Holding Absence) produced 'Reflections' is a series of individual lessons,  looking back at a specific moment in one of the band member's lives; a thought, feeling or events, and how that moment shaped the present.
"'Reflections' shows how much more we can get out of the band musically if we all put our heads together a bit more," Matt beams, positive about a record that not only showcases Caskets as a full entity but represents the impressive range of influences that have soundtracked the five piece's times on the road and in the studio, helping to rapidly expand their sound. "It's always about the music, that's the whole point of being in a band, "he concludes. "If we can fit as much into our sound but it still sounds like us, that's my lifelong goal with Caskets."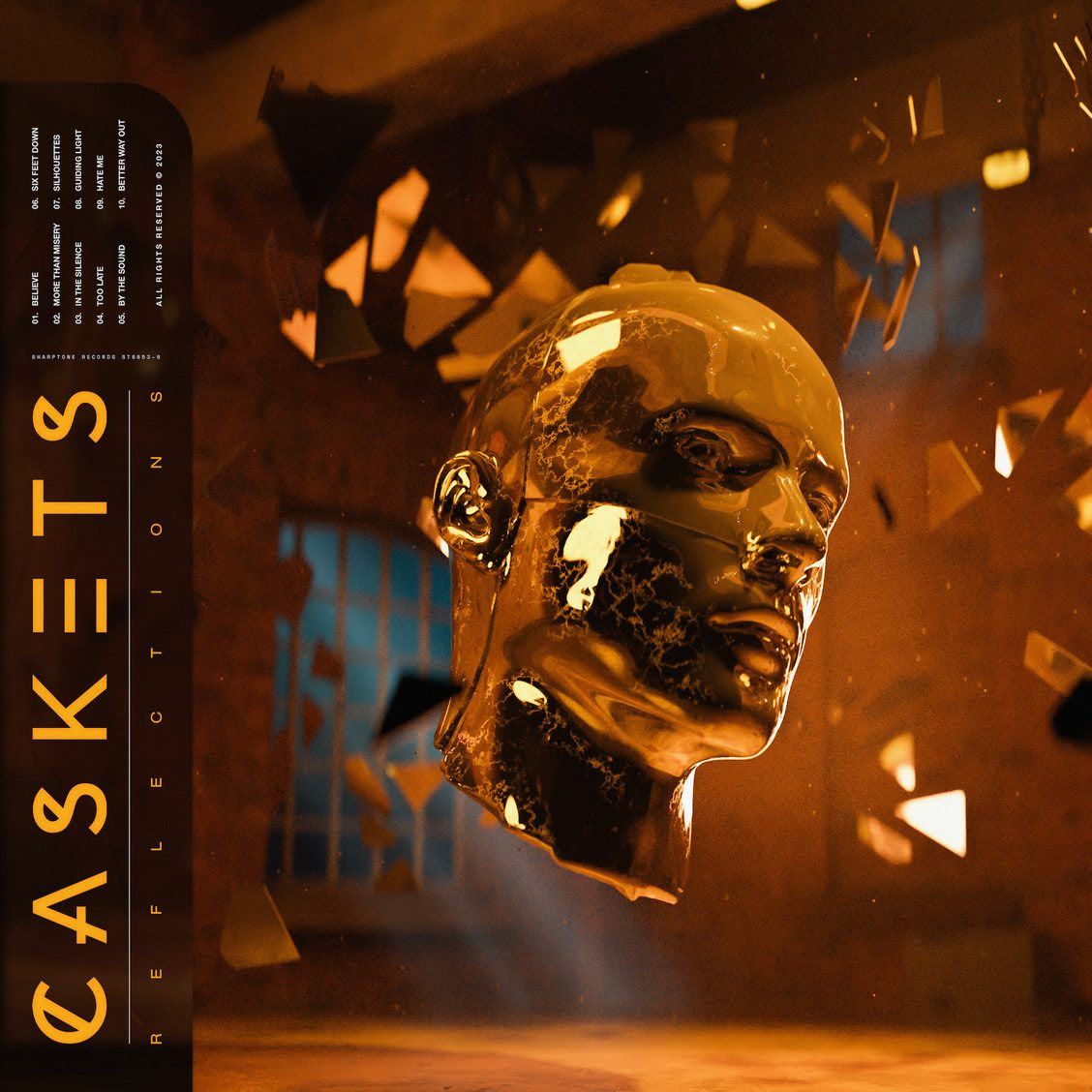 'Reflections' – Tracklisting
1. Believe
2. More Than Misery
3. In The Silence
4. Too Late
5. By The Sound
6. Six Feet Down
7. Silhouettes
8. Guiding Light
9. Hate Me
10. Better Way Out
Pre-orders are available now at:
Upcoming Live Dates
(w/ We Came As Romans)
MAY
13: PRAGUE Rock Cafe
14: WARSAW Proxima
15: BERLIN Hole 44
17: MUNICH Strom
19: VIENNA Simm City
20: MILAN Legend
21: ZURICH Klub Komplex
23: HAMBURG Logo
24: COLOGNE Luxor
25: PARIS Trabendo
30: DUBLIN Academy
31: BELFAST LL1
JUNE
01: GLASGOW Cathouse
JUNE
08: DONINGTON Download Festival
16: LEEDS Key Club (headline)
17: LEEDS Key Club (headline)