Beans on Toast
EXPLORES THE INCOMING AI REVOLUTION ON NEW SINGLE:
"AI"
STREAM ON ALL SERVICES HERE || WATCH THE VIDEO HERE
NEW ALBUM:
'THE TOOTHPASTE AND THE TUBE'
OUT 1 DECEMBER, VIA BOT MUSIC – PRE-SAVE
+ EXTENSIVE UK TOUR FOR 2023/2024
WITH A LAUNCH PARTY @ THE GOLDEN LION, TODMORDEN
TICKETS ON SALE NOW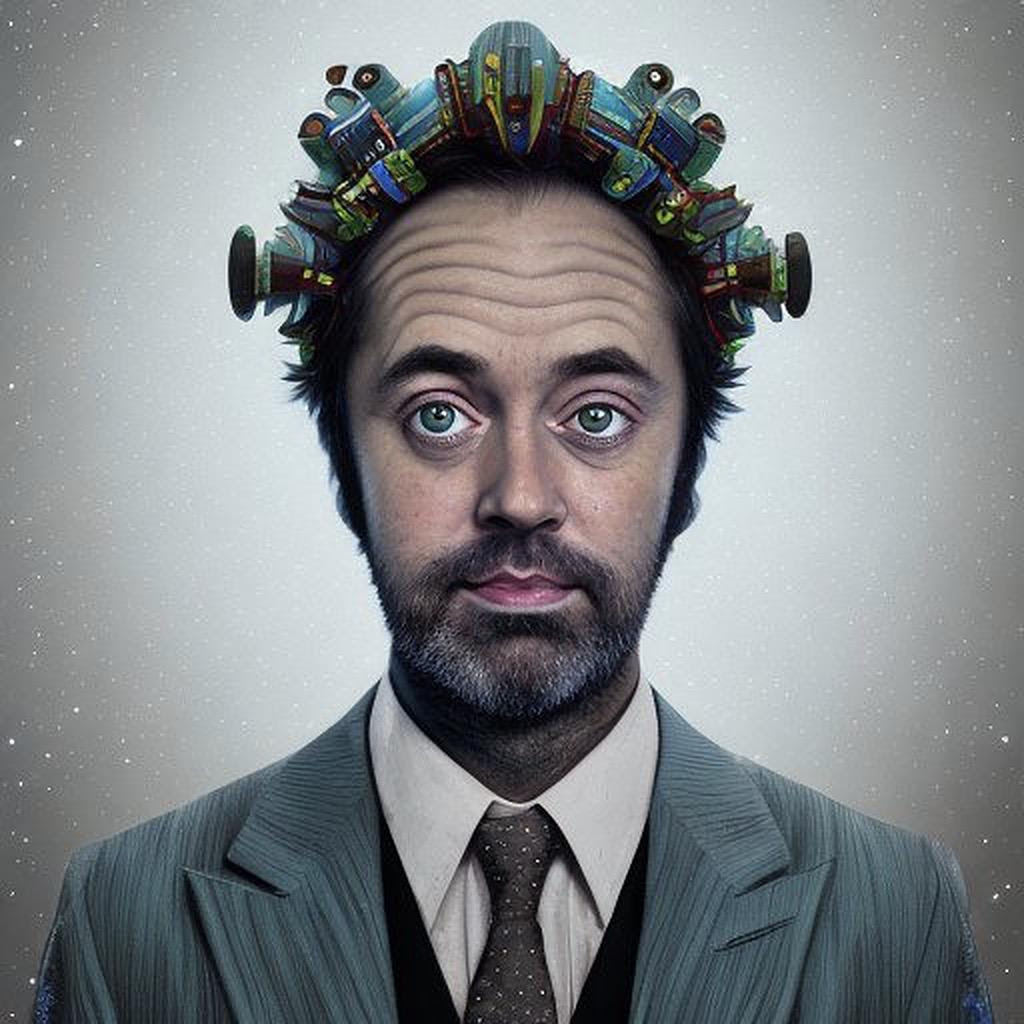 PRESS IMAGES CREATED USING LENSA AI
Today renowned British folk musician Beans on Toast has released his provocative new single "AI" via BOTMusic. This release precedes his much-anticipated album, 'The Toothpaste and The Tube', set to be unveiled on December 1st.
An artist recognised for both his relentless touring schedule and his ability to tackle significant subjects with warmth, charm, and humour, Beans on Toast continues his legacy with a song that delves deep into the ramifications of the AI revolution on human society.
In "AI", Beans on Toast pulls back the curtain to reveal a world drastically changed by artificial intelligence. From a society where adverts are crafted by AI systems to a reality where heartfelt eulogies can be generated with the click of a button, the song takes listeners on a journey through a rapidly evolving landscape shaped by technology. Drawing parallels to monumental discoveries such as fire and electricity, the song poignantly suggests we are on the cusp of the next significant leap in evolution — a moment where "what comes next is impossible to predict."
A mesmerising AI-generated video accompanying the single visually explores mankind's obsession with technology. It touches upon the great minds of artists such as Leonardo da Vinci, Michelangelo, and Frida Kahlo, and underscores the expansive intelligence gap — akin to the one between humans and frogs — metaphorically represented by a robot frog to signify the advent of AI and the monumental leap it represents in our evolutionary journey.
The singalong chorus, "AI, AI, everywhere we go, AI, AI, it's the new status quo," generated through AI, becomes a catchy beacon that encapsulates the omnipresence and inevitable integration of artificial intelligence into every facet of daily life, from our homes to our phones, underlining the reality that we are "never alone."
Beans on Toast offers a balanced view on the phenomenon, neither blindly championing nor entirely dismissing it, yet urging listeners to acknowledge the seismic shift that is underway. It is a sober reflection on the pervasive reach of AI, a phenomenon still not fully understood even by its creators, heralding a future that is both terrifying and exciting.
"I've had an obsession with AI since first giving it a spin at the start of this year," Beans on Toast says. "It's absolutely bonkers, and I really feel like every aspect of our lives will be affected by it, so I was always gonna write a song about it. In order to make a point I used AI to generate the lyrics to the chorus of the song, I've also used AI to create the artwork and press images, to make the video and even to write the press release you've just read. Moving forward I'll go back to making my own art and writing my own words, but it's important that people know this thing exists and it's coming, fast!"
As Beans on Toast readies to share "AI" with the world, audiences are encouraged to remain open to the unfolding dialogue about the future of AI and its role in human society. This new release invites listeners to ponder, through catchy rhythms and reflective lyrics, the inevitable intersections of technology, art, and humanity, marking a critical milestone in Beans on Toast's illustrious career.

SINGLE ARTWORK CREATED USING MIDJOUREY AI
Beans on Toast – NEW SINGLE: "AI"
STREAM ON ALL SERVICES HERE || WATCH THE VIDEO HERE
NEW ALBUM: 'THE TOOTHPASTE AND THE TUBE'
OUT 1 DECEMBER, VIA BOT MUSIC – PRE-SAVE
BEANS ON TOAST – 'THE TOOTHPASTE AND THE TUBE' TOUR 2023/24
NOVEMBER
22 TUNBRIDGE WELLS – The Forum
23 GUILDFORD – The Boileroom
24 BEDFORD – Esquires
25 STOWMARKET – The John Peel Centre
26 DERBY  – Annie's Burger Shack
28 SCUNTHORPE – Cafe Indie
29 POCKLINGTON – Arts Centre
30 BLACKPOOL  – Bootleg Social
DECEMBER
01 ** Album Launch Show **  – TODMORDEN – The Golden Lion
02 MOSSLEY – The Vale
03 SHREWSBURY  – Albert's Shed
05 WORCESTER  – St Swithuns Church
06 OXFORD – The Jericho Tavern
07 CARDIFF – The Globe
08 WESTON-S-MARE  – Electric Banana
09 BIDEFORD  – The Palladium
12 TRURO – The Old Bakery
13 TOTNES – The Barrel House Ballroom
14 BRIDPORT – The Electric Palace
15 ISLE OF WIGHT – Strings Bar & Venue
FEBRUARY
21 NEWCASTLE  – Cluny
22 GLASGOW – Stereo
23 EDINBURGH – La Belle Angele
24 MANCHESTER – Band on the Wall
25 NOTTINGHAM – Rescue Rooms
27 SHEFFIELD – The Leadmill
28  LINCOLN – The Drill
29 BIRMINGHAM – Hare & Hounds
MARCH
01 LEEDS – Brudenell Social Club
02 BRISTOL – Thekla
03 EXETER – Phoenix
05 READING – Facebar
06 BRIGHTON – Chalk
07 PORTSMOUTH – The Wedgewood Rooms
08 MARGATE – Olbys
09 LONDON – The Garage
FOR MORE INFORMATION
https://beansontoastmusic.com