The Highway Women Go In For the Kill with 'Dead Man Walking' Video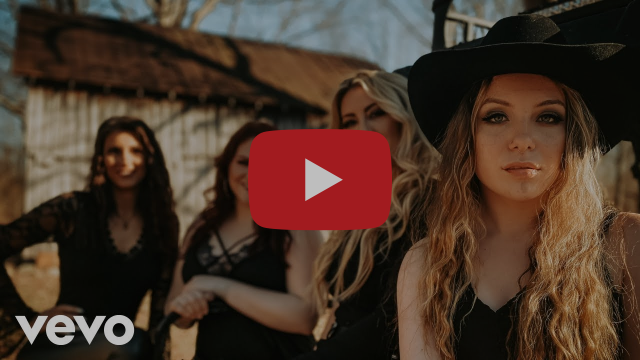 Today, female country supergroup the Highway Women released the music video for their song "Dead Man Walking." The anthemic lead single off their forthcoming EP premiered exclusively with Taste of Country last month. It is now available on all digital download and streaming platforms! https://soulspazm.ffm.to/deadmanwalking
A ginger, a brunette and a couple of blondes walk into a dilapidated backwoods barn. They just rolled up to the scene in a black Camaro, prepared to wreak vengeance upon an all-too-cliche cheater. With no signs of remorse, the Highway Women break away from their goody-two-shoes persona to ensure this unfaithful lover gets his just desserts.
Just like the single, the "Dead Man Walking" music video projects serious attitude, showcasing a previously unseen, rebellious, headstrong side of the band. Armed with a container of gasoline and flaming matches, Drew, Kristen, Jess and Bailey came dressed to kill. Their symbolically dark attire tells listeners that they mean business.
If the fuel dripping from the man's face didn't make his gruesome fate clear enough, the video's final scene certainly eliminates any doubt. It follows the Highway Women as they strut away from the building, which has been completely engulfed by flames. As this performance proves, these ladies have the capacity to set the country music world afire in much the same way.  The track features rocker Erin Coburn (Guitar).  Erin is a member of The Be a Highway Woman Collaborative launched by The Highway Women in 2020.
"Dead Man Walking"
Songwriters: Drew Haley, Randy Bryan & Tabitha Hux
Produced By: Vicu Schek & Matt Veirs (Vision Matters Group)
Vocal Production By: Bonnie Dymond (Warner Chappell Music) & Jill Pavel (Heart Songs Records)
Vocal Recording: Beaird Music Group
Video Produced By: Jill Pavel & James McGettrick (McGettrick Media)
Videographer & Colorist: James McGettrick
L-R (Drew Haley, Bailey James, Kristen Kae, Jess Paige)
Biography:
The Highway Women are an all-female, genre-blending (country, rock, pop) band like no other leading a musical movement to support women in country music and beyond. Each talented in their own right, Drew Haley, Kristen Kae, Jess Paige and Bailey James
 never fail to wow their audience and leave them wanting more. Their 2019 single "Stand Up and Fight" has become the group's anthem, as it embodies the spirit and passion behind their drive to succeed in the music industry. The music video for their subsequent single "God Made Me Right" made an impact nationally with its girl power theme and message of empowerment. The music video for their June 2020 single "Shake the Dust" has garnered more than 400K views. They released their single "The Highway," the official song of their "Be a Highway Woman" movement, later that year. The end of 2020 saw the release of the ladies' first collective EP, also entitled "The Highway." The Highway Women made multiple artist-to-watch lists for 2021 and were named on many 2020 "Best Of" lists for "Shake the Dust." With the release of their latest single "Dead Man Walking," the talented quartet has not let critics down.