Acoustic Singer-Songwriter
David D'Alessio
Releases New Music Video for Single
"Throw Yourself In Front of It"
From Upcoming EP
This Far Apart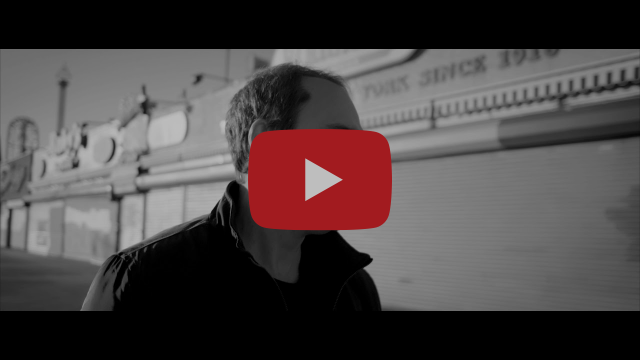 Watch David D'Alessio's New Single Here!
Recommended if you like:
Jason Mraz, Bon Iver, or James Blake
(New York, NY – March 16, 2021) Challenges are what make life compelling. Overcoming them is what makes them meaningful. New York based acoustic singer-songwriter David D'Alessio announces his new video for his latest single, "Throw Yourself in Front of It," set to release on Friday, March 26th. Produced by the late Grammy-nominated Edward "Felix" McTeigue, the motivational track is the first single from D'Alessio's upcoming EP, This Far Apart, out Summer 2021.
Filmed in the historical Brooklyn neighborhood of Coney Island, the black and white video follows D'Alessio as he takes a socially distant stroll down the iconic Riegelmann Boardwalk. Filmed in one shot, the cinematic video captures people from all backgrounds and various interests embracing and facing our new normal.
Be sure to stream David D'Alessio's new single and video "Throw Yourself in Front of It," out March 26, 2021, and look out for his new EP, This Far Apart, out Summer 2021.
MORE ABOUT DAVID D'ALESSIO
Acoustic singer-songwriter David D'Alessio is working towards providing a unique perspective within the current modern pop scene. The Hawaii-born Manhattanite blends elements of folk pop and electronic flourishes with vigorous instrumentation. The singer-songwriter peaked at #68 on iTunes New Pop chart with his sophomoric album, Some Girls. D'Alessio has toured extensively, opening for musical acts such as Lifehouse, Colbie Caillat and Missy Higgins.
Drawing inspiration from modern-day legends such as Leonard Cohen, Lloyd Cole and Ed Sheeran, D'Alessio's upcoming EP serves as an open letter to his wife. This Far Apart is set to release in summer of 2021.