AOSOTH stream new album "V: The Inside Scriptures"
French black metal act AOSOTH is streaming its highly anticipated new studio album "V: The Inside Scriptures" on YouTube. Set to be released on November 17th via Agonia Records, the album is a closing chapter of AOSOTH's musical and lyrical concept.  Listen to to the record in full at:
"V: The Inside Scriptures"
is currently still available for pre-ordering in many different formats (excluding the transparent LP which is sold out) at:
Agonia Records Webshop (CD/LP/MERCH):
http://agoniarecords.com/aosoth
Amazon  (CD, DIGITAL):
https://tinyurl.com/aosothama
iTunes (DIGITAL):
http://radi.al/AOSOTH
Bandcamp (DIGITAL):
https://tinyurl.com/aosothband
Goolge Play (DIGITAL):
https://tinyurl.com/aosgoogle
AOSOTH is the second project of vocalist & lyricist MkM (the founder of Antaeus) evolving in the black/death metal genre. While Antaeus sets boundaries for violent, grinding black metal, AOSOTH delivers more dissonant and 90's death metal elements combined with the work of guitarist & producer Bst (The Order Of Apollyon, VI), who compsed the music on the album. The duo is accompanied by bassist INRVI (the founder & mastermind of VI) and Saroth (Hell Militia, Temple of Baal) on second guitar.
Distinctive and suffocating, "V: The Inside Scriptures" shows many differences to "III" & "IV: Arrow In Heart", the two previous full-length releases, especially in terms of atmosphere. The recordings took nearly three years and were interrupted by many events in the personal lives of MkM & Bst. At some point, the album was about to be abandoned and never released.
The drums for "V: The Inside Scriptures" were recorded by T. at Hybreed Studios(Temple Of Baal, Glorior Belli, VI). All other instruments were recorded at BST Studios. Mixing & mastering were done at BST Studios as well, while the painting adorning the album cover was created by Benjamin A. Vierling (Nightbringer, Weapon). Layout and additional photography was done by Somnyum. AOSOTH's logo was prepared by Erik Danielsson of Watain.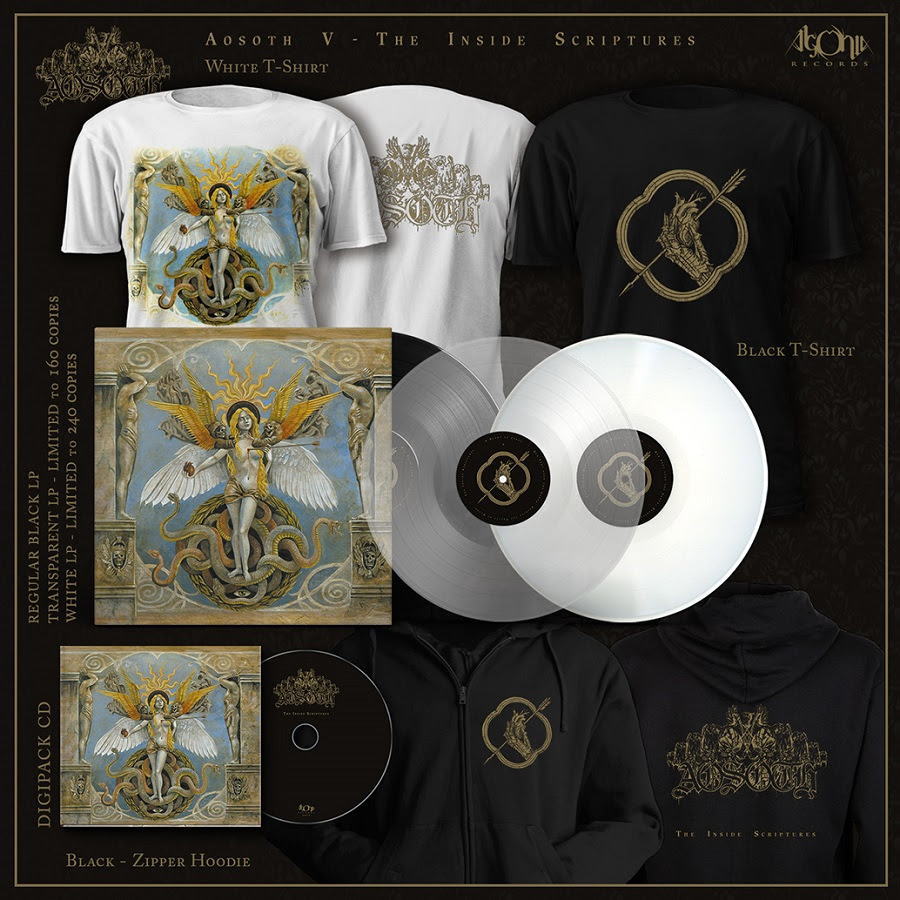 Tracklist:
1. A Heart To Judge
2. Her Feet Upon The Earth, Blooming The Fruits Of Blood
3. The Inside Scriptures
4. Premises Of A Miracle
5. Contaminating All Tongues
6. Silver Dagger And The Breathless Smile
Album formats:
– Digipack CD.
– Regular black LP.
– Transparent LP.
– White LP.
– White & black t-shirts.
– Black zipper hoodie.
– Digital.
Line-up:
MkM – vocals
Bst – guitars
INRVI – bass
Saroth – second guitar
T. – session drums
AOSOTH – Official YouTube Playlist