ZAYDE WOLF RELEASES HIS MONSTER SINGLE 
"HOLY WATER" FROM THE FORTHCOMING
ALBUM  NEON BLOOD TYPE 
OUT MAY 7
"ZAYDE WØLF has slowly but surely started to take over the world." – Alternative Addiction
"With this electric and in your face musical creation he inspires us to speak up and follow your dreams. He embraces his own fire to give life to this soundscape as it unites melodies and lyrics to craft something that is sure to trigger something in all of us. –  Wolf in a Suit 
"Zayde's driving and melodic vocals that are simple yet they work perfectly with the song as the instrumentation and music itself is not overly complicated….. " Hard Beat Magazine
"Perhaps the perfect description of ZAYDE is simply the dark rock child of Imagine Dragons and The Black Keys." – Ones to Watch
"Here whispery intensity blossoms into a melodic and sonic tour de force as the song is triumphantly orchestrated." – Parade Magazine (on "New Blood – Reimagined")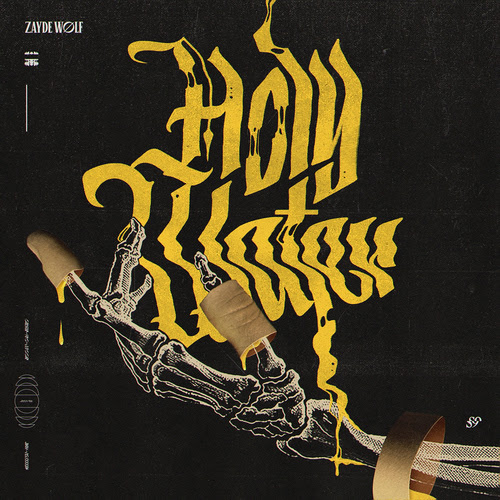 LISTEN TO "HOLY WATER":
HERE
Nashville's Alt. Rock chart-topper Zayde Wølf, the musical persona of  Grammy-nominated producer and songwriter Dustin Burnett has released a beast of a single "Holy Water," one of his most powerful songs to date, a bold statement being that his music has yielded over 400 Million streams and has served as the motivational soundtrack for millions of fans, who have found the strength and inspiration to overcome life's toughest challenges in Wølf's music. I get all these emails," Burnett told
Billboard
, "with all these stories about how the music has moved people in some way. I wanted to continue to make music for people to be inspired by."
"Holy Water" follows the formula of some of the most memorable songs ever written, being that it manifested quickly, unexpectedly and was a last-minute addition to the album. It was one of those accidental songs that emerged once Burnett released his creative boundaries as he felt the album was finished. "I didn't try to write 'Holy Water' on purpose, it was already in there, a raw and personal moment, just waiting for me to release it," says Burnett.  "Sometimes when you remove all of your boundaries on your creativity, something new, surprising, and even fantastic emerges. I think 'Holy Water 'was that for me."
"Holy Water," which is featured on Spotify's
All New Rock
and
New Noise
playlists follows up the anti-hero inspired song "Madness," that  Indie Obsessive said was filled with  "thunderous percussion, backing vocal shouts, and crescendos that contribute to the pandemic-like motivational effect that 'Madness' builds in listeners,"
and
was immediately swooped up for us all throughout the NCAA March Madness tournament by CBS and Turner  Sports. "Back At It" Zayde Wølf's first taste of the new music this year, was a powerful entry that Apiate called " an energetic pop/rock track that carries the musician's signature electronic-infused style. Zayde's lyrics are reminiscent and uplifting and he delivers the song with infectious exuberance," setting the tone for what 2021 had in store for Zayde Wølf fans, his third full-length album
Neon Blood Type.
This album follows the 2018 release of
Modern Alchemy
, Zayde Wølf's sophomore full-length album, which charted in over 25 countries on the iTunes charts and debuted in the top ten on the iTunes Alternative chart in the U.S. within hours of its release.
" Neon Blood Type signifies everything that is unique within people and within Burnett. "
– American Songwriter 
Unintimidated by his past successes, Dustin Burnett (aka Zayde Wølf) has always been solely focused on making music that helps listeners to push through and overcome life's challenges.  This motivational mentality of transcending the past, and not allowing it to define who you will be, are not just concepts Burnett has embraced, but it's how he has lived his life. Raised in Metropolis, a small town in Illinois best known for its fictional favorite son, Clark Kent, the level of success Burnett has achieved, both personally and professionally, is beyond anything he ever imagined or that was expected of him growing up. The Zayde Wølf project which started by accident five years ago has grown into an empire that includes
245K YouTube subscribers, 90 million video views, over 1.4 Million monthly listeners on Spotify, with 400 million streams across all streaming platforms and millions of followers,
all outside of the mainstream music business (i.e no label, no publishers etc.).  This is on top of the hundreds of films, TV shows, trailers, commercials, and video games that have featured his music. The list includes
Shameless
,
Skyscraper movie, Love-Simon movie,
the
Jack Reacher 2
,
The Maze Runner 3
,
Pride Prejudice & Zombies,
spots for UFC, MLB, NFL, Dodge, Jeep, WWE, Xbox, NBA, and more. In addition to syncs, Wølf has creatively expanded his reach by cultivating partnerships with brands such as
Dude Perfect
, one of the top YouTube sports channels with over 54 Million subscribers and 12 Billion views. Other creative partnerships include collaborations with Fortnite champion
DrLupo
, and extreme downhill racers
Rémy Métailler
and
Matt Walker
. Last year Burnett partnered with the NHL and  NBC sports for the Stanley Cup Finals where they used the Zayde Wølf track  "Home" in a spot featuring Burnett performing the song 
HERE
, and most recently was the featured celebrity guest on the
Gamer Hour
where Burnett and Host Chris Puckett talked about their love for video games and went head to head live playing 
Call of Duty Black Ops Cold War.
KEEP UP WITH ZAYDE WØLF: