WILDERADO
SPECIAL GUESTS ON ALT-J'S MAY 2022 UK TOUR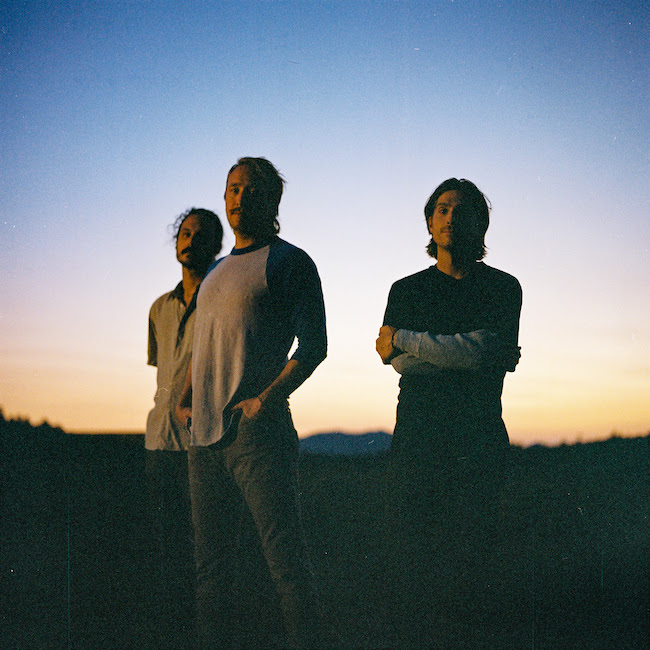 Photo credit: Grant Spanier
"A force to be fully reckoned with" American Songwriter
"Life-affirming vibrancy" San Francisco Chronicle
"Wilderado make poetry out of shared sentiments" New Noise Magazine
Fresh from the release of their eponymous debut album, sold-out US headline tour and national TV performance, Tulsa band Wilderado are finally heading over the pond, bringing their infectious brand of alternative rock to UK and Irish audiences during their tour supporting alt J in May.
The fast-rising American trio have just completed an entirely sold-out two-month nationwide tour of the US, with current single 'Head Right' already breaking into the top 10 US Alternative Radio Chart and earning the band an invitation to perform on Jimmy Kimmel Live!. A confident slice of rock n' roll, 'Head Right' builds on what the band does best – combining soaring melodies with lush three-part harmonies.
Wilderado's Maxim Helmerich recalls: "Towards the end of 2018 and all throughout 2019 we were constantly on the road. In between tours I was flying to different places, meeting producers, working on songs and trying to figure out what it was we were going to do next. Somewhere in the spring of '19 we were all in Nashville hanging out with a guy named Angelo talking about how sometimes the best way to ruin a song, life, or anything really, is to take it too seriously. That afternoon we wrote "Head Right." It was the first time in forever we had written a song, lyrics and everything, all together. We're happy to share it with you now as it represents a turning point for us as a band, a return to the basics and the feeling of writing music while not caring about much at all".
LISTEN TO 'HEAD RIGHT' HERE
WATCH 'HEAD RIGHT' VIDEO HERE
The song is the lead single from the band's self-titled debut LP which was produced by James McAlister (The National, Sufjan Stevens, Taylor Swift), Chad Copelin (Broncho, LANY) and Angelo Petraglia (Kings of Leon) and has received critical acclaim since release.
LISTEN TO WILDERADO'S DEBUT ALBUM HERE
Wilderado
 have been chosen by 
alt-J
 as special guests for their highly anticipated tour of UK and Ireland next month. The tour, Wilderado's first ever in the UK, kicks off in Glasgow with several sold-out shows throughout Scotland, England, and Ireland. It includes a sold-out show at Barrowland Ballroom in Glasgow with a second night added, two at Olympia Theatre in Dublin, and four nights at 02 Academy Brixton in London. A full list of confirmed dates can be found below, with tickets available 
here
.
UK TOUR DATES
Fri 6th May – Barrowland Ballroom, Glasgow
Sat 7th May – Barrowland Ballroom, Glasgow – SOLD-OUT
Mon 9th May – O2 Academy, Leeds
Tue 10th May – O2 Academy, Bristol – SOLD-OUT
Thur 12th May – Rock City, Nottingham
Fri 13th May – O2 Apollo, Manchester – SOLD-OUT
Tue 17th May – O2 Academy Brixton, London
Wed 18th May – O2 Academy Brixton, London – SOLD-OUT
Thur 19th May  – O2 Academy Brixton, London – SOLD-OUT
Fri 20th May – O2 Academy Brixton, London – SOLD-OUT
Sun 22nd May – Olympia Theatre, Dublin – SOLD-OUT
Mon 23rd May – Olympia Theatre, Dublin – SOLD-OUT
Wed 25th May – The Telegraph Building, Belfast
Fri 27th May – O2 Academy, Birmingham – – SOLD-OUT
ABOUT WILDERADO
Formed in the California mountains, but originally hailing from Tulsa, OK, Wilderado have been steadily building a passionate fan base and defining who they are since 2015. When they first came together, Maxim Rainer (lead vocals, guitar), Tyler Wimpee (guitar, vocals) and Justin Kila (drums) spent a summer in Latigo Canyon, a secluded part of Malibu, with longtime Sufjan Stevens collaborator James McAlister, immersing themselves in writing and recording. Those songs went on to form early EP releases with tastemaker indie labels IAMSOUND and National Anthem, which garnered more than 130 million streams, but more crucially provided the backbone to years of touring.
Following initial recording sessions at their one-time home and creative space named "The Misty Shrub" (the title of the first EP) in Latigo Canyon (the title of the second EP), the band returned to Tulsa to base themselves from their hometown. Since then, they've crisscrossed the USA a half dozen times playing with artists as diverse as Kings of Leon, Lindsey Buckingham and Christine McVie, Mt. Joy, and Rainbow Kitten Surprise, and have performed on the main stage at such festivals as Lollapalooza, Bottlerock and Austin City Limits.  Some time off from the road in 2020 meant that the band were able to focus on completing their debut eponymous LP, released October 2021 by Bright Antenna Records.
WATCH WILDERADO PERFORMING 'HEAD RIGHT' ON JIMMY KIMMEL LIVE! HERE