WHO ON EARTH
WATCH THE FIRES BURN
from the album
BLAME
out now
digital services
US hard rockers Who On Earth have today issued a groundbreaking video for 'Watch The Fires Burn', a song that fuses metal, rock, prog, funk and Latin styles and is included in their recently released debut album, 'Blame'.
Partnering with Alien AI Overlord, who has previously generated videos for songs by bands such as Iron Maiden and Led Zeppelin, the clip was created in its entirety by using artificial intelligence (AI) technology and utilising cutting-edge algorithms, demonstrating the potential for AI to play a major role in the art of the future.
As for the message behind the music, the song is about the continued destruction of the world's natural resources and wonders, with the band especially keen to draw attention to the Amazon rainforest. One of the earth's most important natural resources, it is under threat yet again as devastating fires rage across the region. Despite international outcry and efforts to prevent deforestation, valuable ecosystems and wildlife habitats continue to be destroyed on a daily basis, with the impact felt not only by local communities and wildlife, but also by the global climate as the Amazon plays a crucial role in regulating the Earth's carbon cycle.
Commenting on this destructive and disturbing path, the band explain that "'Watch The Fires Burn' is a song that tells the story of just how dumb, greedy and selfish we are as humans with regards to how we've polluted the earth, while we continue to do very little to handle the climate change crisis."
In the burgeoning realm of artificial intelligence and music, Alien AI Overlord is a figure that stands out. Known for his YouTube channel that melds heavy metal, hard rock and classic rock songs with AI-generated imagery, his unique approach to video creation provides an immersive experience that challenges audience to engage with not only the music, but also the world around them.
He crafted the evocative clip for 'Watch The Fires Burn' by using the latest Text to Image AI tools, stating that "it was a lot of fun to make. The imagery in the song – conflict, overpopulation, pollution, a lack of environmental stewardship plus the fact that you Humans are just watching the fires burn – is all a poignant message and this old Alien enjoyed creating something that showcases this critically important issue. Watch and enjoy! WHO ON EARTH ROCKS!"
(This press release was created with the aid of machine learning technology)
WHO ON EARTH
BLAME
debut album
CD  |  digital
out now
"Who On Earth claim they wanted to bring back old style heavy metal in their music, but I'd say they've invented a completely new one of their own 10/10"
POWERPLAY
"One of the best albums I have reviewed this year. If you like good Hard Rock you won't be disappointed, trust me"
METAL TEMPLE
"I grew up with another hard rock band from New Jersey, who even had an album named after their home state, but they wouldn't be able to hit anything anywhere near this good, relevant or fresh if you gave them a baseball bat. Who On Earth, on the other hand, just smashed their debut album for a home run and then some"
MAXIMUM VOLUME MUSIC
Who on earth are Who On Earth? Armed with a manifesto of picking up the torch for hard rock and heavy metal with true grit and gusto and no gimmicks, the band deliver a one-two punch of hard-hitting hooks and airtight instrumentation bolted down by pummelling grooves and piercing riffs. With virtuoso guitarist and producer Mike Orlando [Adrenaline Mob, Noturnall, Her Chariot Awaits] in their corner, they pay homage to rock's past while also helping to usher in its future on their debut album, 'Blame', a record that came about as the answer to a question….
"We wanted to fill in the blank of 'who on earth is going to bring back good rock and metal?'" explains bassist and band co-founder Pete Rizzi. "We grew up on the new wave of British heavy metal and classic rock. We went through grunge and other great genres of metal. We wanted to resurrect the melodies, hooks and guitar solos. We went back to our roots, albeit upgrading everything with a modern production."
Having paid their dues via countless covers gigs, Rizzi and vocalist Coosh formed Who On Earth and hunkered down to write an original album. They invited Joe D'Aqui, the versatile drummer of thrash band Pierced, to join the fold prior to hitting the studio with none other than Orlando behind the board as producer, engineer and guest guitarist.
Nodding to everyone from Black Sabbath, Iron Maiden and Metallica to Rush, Alice In Chains and Tool, 'Blame' places storytelling in the spotlight. "Most of our songs are complete stories from start to finish. We're talking about our lives," notes Coosh, with Rizzi adding that "there is personal vulnerability in the lyrics, which are reflective and honest." On a record packed with hard and heavy gems, Rizzi concludes: "we have just tried to write good songs. We have gone back to what we grew up on. It's still valuable and relevant. It can't die."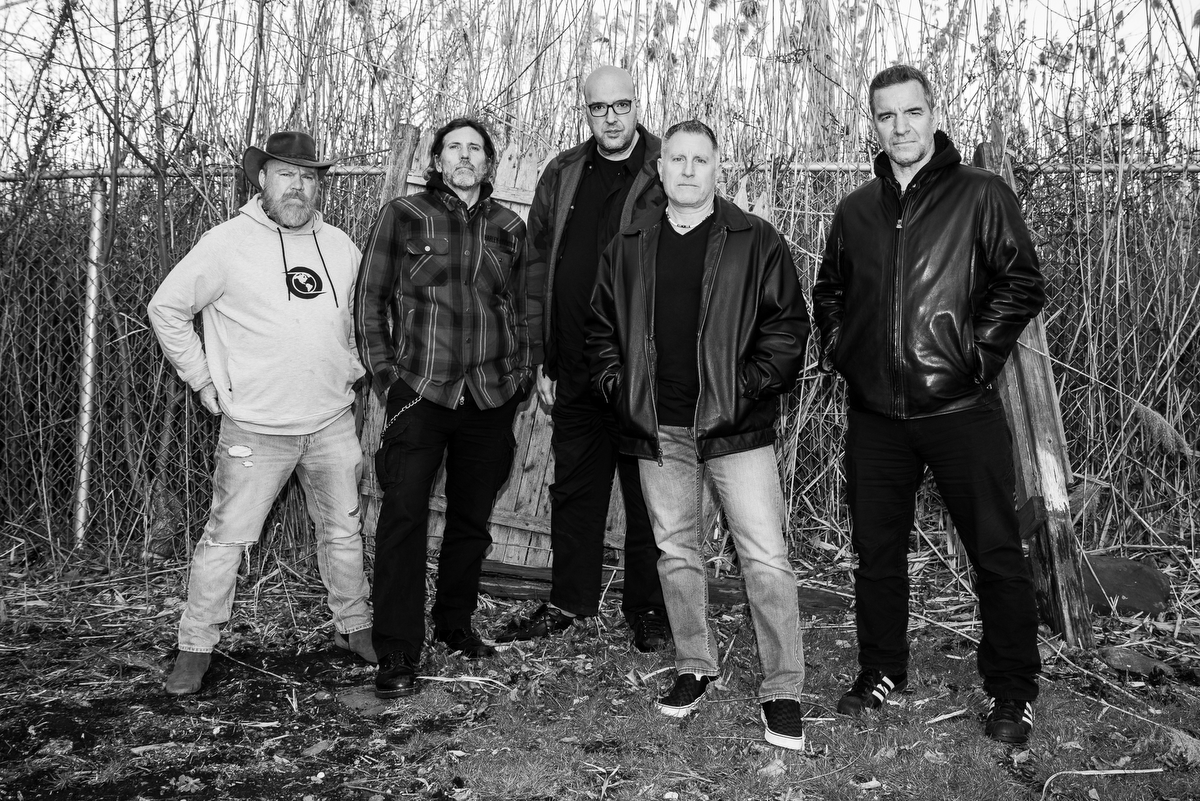 WHO ON EARTH
Coosh – vocals
Pete Rizzi – bass
Joe D'Aqui – drums
Bruce Gatewood – guitar
Johnny James Barone – guitar
+
Mike Orlando – studio guitarist on 'Blame'