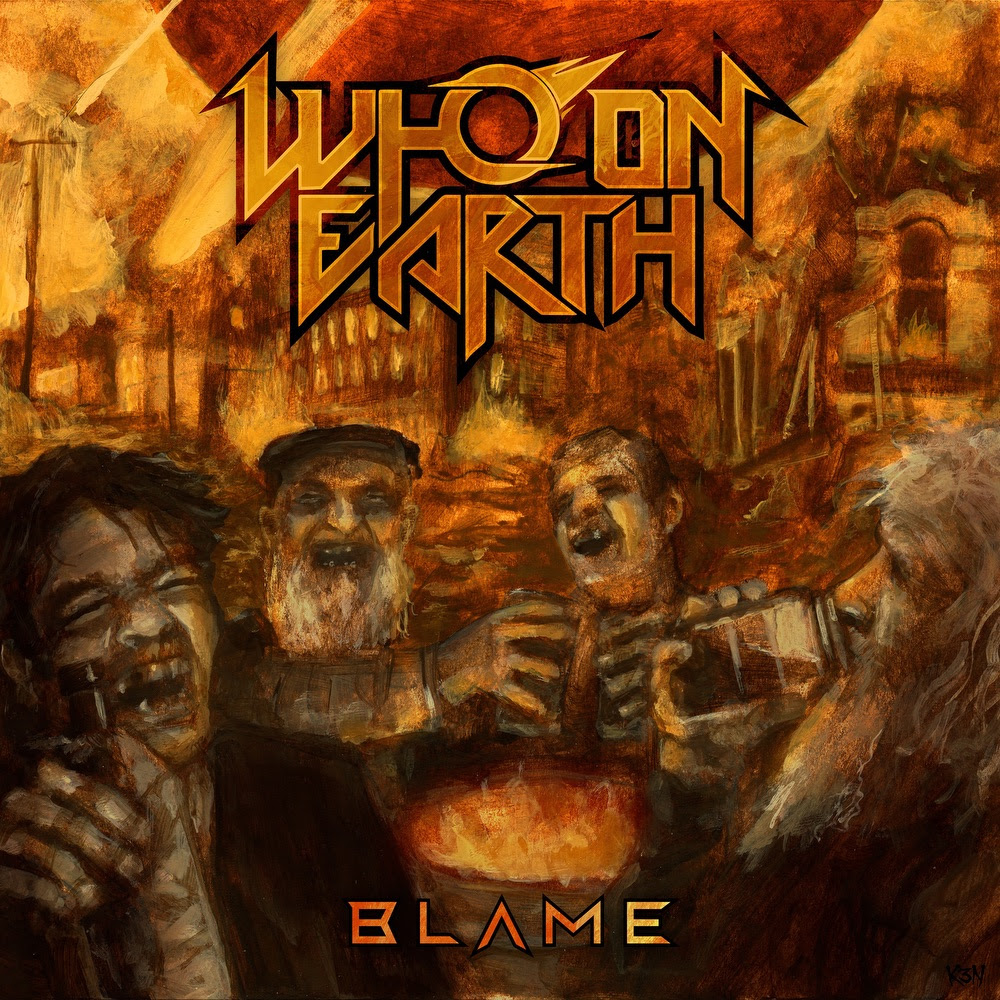 WHO ON EARTH Blame album cover
WHO ON EARTH
THE PRICE
new single
out 06.12.22
(Who On Earth)
from the album
BLAME
out 28.10.22 (digital)
out 17.02.23 (CD)
digital services
WHO ON EARTH Blame
CD pre-order
bandcamp
New Jersey-based US hard rock act Who On Earth have today released a new single and video for 'The Price', which is the opening song on their just-released debut album, 'Blame'. Produced by Mike Orlando (Adrenaline Mob, Noturnall, Her Chariot Awaits), the album is available digitally HERE, with a CD format to be issued on 17th February 2023.
A hard-driving track replete with foot-stomping verses and a powerful chorus delivered by the booming voice of lead singer Coosh, 'The Price' also boasts thundering war drums, flare-launching guitar shrills and a solo that narrates the pain of paying the price for 'sins of the past.'
Bassist Pete Rizzi explains that "'The Price' is a reminder that our actions have consequences, while the past has a habit of catching up with us. You can run but you can't hide. We can sit idly by or put things off, but eventually we have to face the music – whether that's individually or as a society. Who will step up and do something before it's too late?"
Coosh adds: "This is a no-holds-bar song that immediately grabs you by the shirt and screams in your face 'YOU'VE GOT TO LISTEN TO ME!' Haha. You can whistle past the graveyard for only so long before reality introduces itself, the consequences of our actions, or inaction…the bill comes due!"
Who on earth are Who On Earth? Armed with a manifesto of picking up the torch for hard rock and heavy metal with true grit and gusto and no gimmicks, the band deliver a one-two punch of hard-hitting hooks and airtight instrumentation bolted down by pummelling grooves and piercing riffs. With virtuoso guitarist and producer Mike Orlando in their corner, they pay homage to rock's past while also helping to usher in its future on their debut album, 'Blame', a record that came about as the answer to a question….
"We wanted to fill in the blank of 'who on earth is going to bring back good rock and metal?'" states Rizzi. "We grew up on the new wave of British heavy metal and classic rock. We went through grunge and other great genres of metal. We wanted to resurrect the melodies, hooks and guitar solos. We went back to our roots, albeit upgrading everything with a modern production."
Having paid their dues via countless gigs in the states bordering New Jersey in every dive bar and concert hall with a stage, Coosh and Rizzi have also torn up venues performing marathon covers sets as part of MadHaus. During 2021, the longtime friends chose to forego covers and hunker down to write an original album. They invited Joe D'Aqui, the versatile drummer of thrash band Pierced, to join the fold prior to hitting the studio with none other than Orlando behind the board as producer, engineer and 'stunt' guitarist.
With nods to Black Sabbath, Iron Maiden, Metallica, Rush, Alice In Chains and Tool, 'Blame' places storytelling in the spotlight. "Most of our songs are complete stories from start to finish. We're talking about our lives," reveals Coosh, with Rizzi noting that "there is a personal vulnerability in the lyrics, which are reflective and honest."
'The Price' is the fifth single released by the band in 2022, with 'Monster In A Jar', 'On The Brink', 'Down & Out' and 'Black Swan' having all been lifted from 'Blame'. On a record packed with further hard and heavy gems, Rizzi concludes: "we have just tried to write good songs. We have gone back to what we grew up on. It's still valuable and relevant. It can't die."
BLAME
TRACKLISTING
1  The Price
2  Black Swan
3  H8-Triarch
4  Down & Out
5  Unbeaten
6  We Don't Belong
7  Set Me Free
8  Monster In A Jar
9  On The Brink
10  Watch The Fires Burn
WHO ON EARTH
Coosh – vocals
Pete Rizzi – bass
Joe D'Aqui – drums
Bruce Gatewood –  guitar
+
Mike Orlando – 'stunt'/guest guitar on the 'Blame' album