VREID
premiere live video for "Milorg"
Norwegian Black & Roll veterans
VREID
are now premiering a live video for the song "Milorg", which was recorded during the band's unique livestream event, 'In the Mountains of Sognametal' in June.
The song can be viewed below via the websites of Eternal Terror (NO) and Ghost Cult Magazine (UK/US).
In other news, the band has finished writing their 9th full-length album. The recordings will start in autumn, with the aim to release the new record in the first half of 2021 via Season of Mist.
VREID will also be on the frontline for reopening the concert scene in Norway. On August 15th, the Norwegian black 'n rollers will perform a special show at the legendary Rockefeller venue in Oslo.  This will be the first metal show in the venue since the Covid-19 closure. On this night, VREID will also launch their first official beer crafted by the band's guitarist Stian "Strom" Bakketeig and Balder Brewery. The show sold out immediately, and an extra show has been added.
Founder and bass player Jarle 'Hváll' Kvåle comments: "These are strange and weird times for everyone. For VREID, we have done as we always do, march onwards. I have been working hard on new material for the last months. I started working on new stuff in the last years, but in these past months things have fallen into place and we will go into the studio soon. I have such a great feeling about the new material, expect an early 2021 release and expect a dark and raw brew.
Talking about brew, in August we launch our own VREID Beer. It's a cooperation with our local Balder Brewery and it's crafted by our own beer wizard Stian. We're launching the beer when we perform two shows at Rockefeller in Oslo, on August 15th. This will be the first metal show they do as part of their reopening and we can't wait to get back out on that stage.
This week things are happening too, as we release a video from the streaming session we did at my mountain farm. The response was completely overwhelming, so we decided to release a video for the track "Milorg". During autumn and winter we will have plenty of new an old:-) news for you all. Fingers crossed that we can return to touring in 2021. Stay strong, act reasonable and enjoy metal."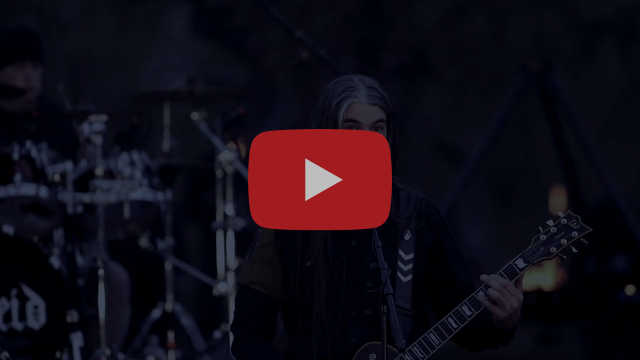 VREID – "Milorg" (Offcial Live Video)
VREID released their latest full length 'Lifehunger' in September 2018. Listen to the full album HERE. The artwork can be viewed below, together with the album details.
VREID
were formed in 2004. The Norwegian metal brigade rose from the ashes of WINDIR after the tragic perishing of the "Sognametal" legends with the declared mission of exploring new musical paths.
The Norsemen proved true to their words and have so far delivered 7 albums and one DVD, which each received high praise from critics and fans alike. VREID chose a course of constant evolution that is marked by thematically denoted phases regarding their often historically inspired lyrics.
This became particularly clear with albums 'I Krig' (2007) and 'Milorg' (2009), which both revolved around concepts dealing with resistance and liberation of Norway during World War II. With their following three records, VREIDreturned to their Norse roots, especially on latest full-length, 'Sólverv' which received high critical acclaim in 2015.
VREID have hammered out their success partly by being a heavily touring band. The four-piece performed more than 500 shows in 25 countries so far. Their everlasting march to conquer new territories has led the Norwegians to headline tours in Europe, North America, Japan, and India.
VREID's style is often referred to as black 'n roll and Metal Hammer UK described their music as "a unique time travel in metal" as elements of 70's rock, 80's classic metal, and Norwegian black metal are all clearly audible.
Now with eighth album 'Lifehunger', black 'n roll is back! With eight brand new tracks, VREID are ready for the next chapter.
Style: Norwegian Black 'n Roll
www.facebook.com/vreidofficial
Line-up
Sture: Vocals & guitars
Strom: Guitars
Steingrim: Drums
Hváll- Bass and keys
Guest Musician
Aðalbjörn 'Addi' Tryggvason (SÓLSTAFIR): vocals on "Hello Darkness"
Recording: Nabolaget studio
Producer: Jarle Hváll Kvåle / Anders Nordengen
Mix: Anders Nordengen, Nabolaget studio
Mastering: Ruben Willem
Cover art: Remi Juliebø of Deformat
Shop: https://redirect.season-of-mist.com/VreidLifehunger
Available formats
Digipak CD
Vinyl LP in various colours